18 Wedding Card Box Ideas For The Big Day
April 01, 2019
After a long day of dancing and celebrating, a new spouse isnt the only thing youll be taking home! Many guests will bring gifts in all shapes and sizes, including cards. An easy way to keep your cards organized is with a wedding card box on your gift table or in another easy-to-locate place.
A wedding card box can be a plain box decorated to match your theme or a unique case repurposed to hold well-wishes from your loved ones. From birdcages to handmade wooden boxes, there are plenty of creative wedding card box ideas from which to choose!
1. Log Card Box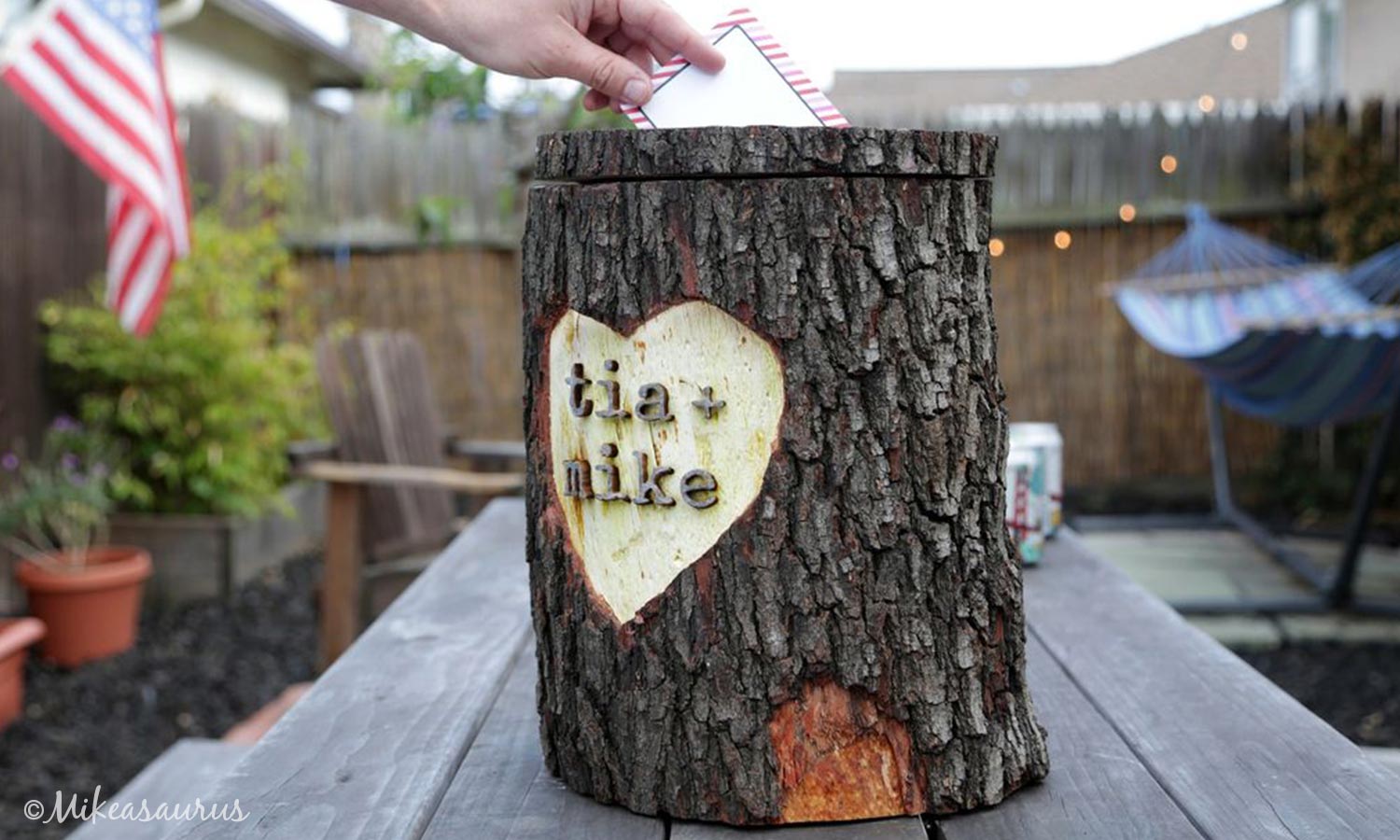 This DIY log card box by Mikesaurus on Instructables is too cute! Its perfect for outdoor weddings, rustic weddings or nature lovers. Plus, you can keep it as a garden decoration for years to come.
2. Painted Mailbox Card Holder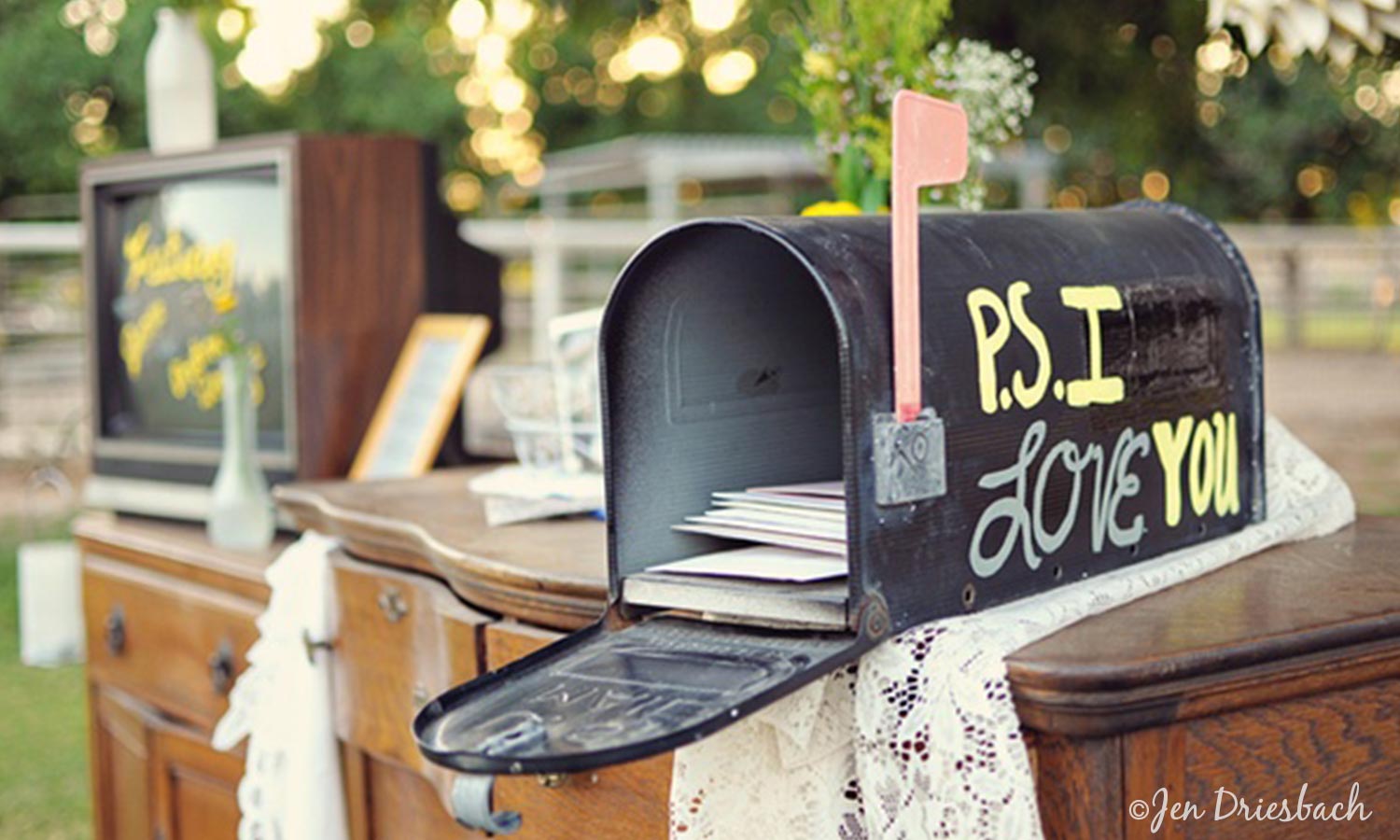 Are you aiming for a rustic feel? Opt for a personalized mailbox like the one that?Jen Driesbach captured. Write sweet messages in acrylic paint for a seriously adorable custom card holder.
3. Wire Card Basket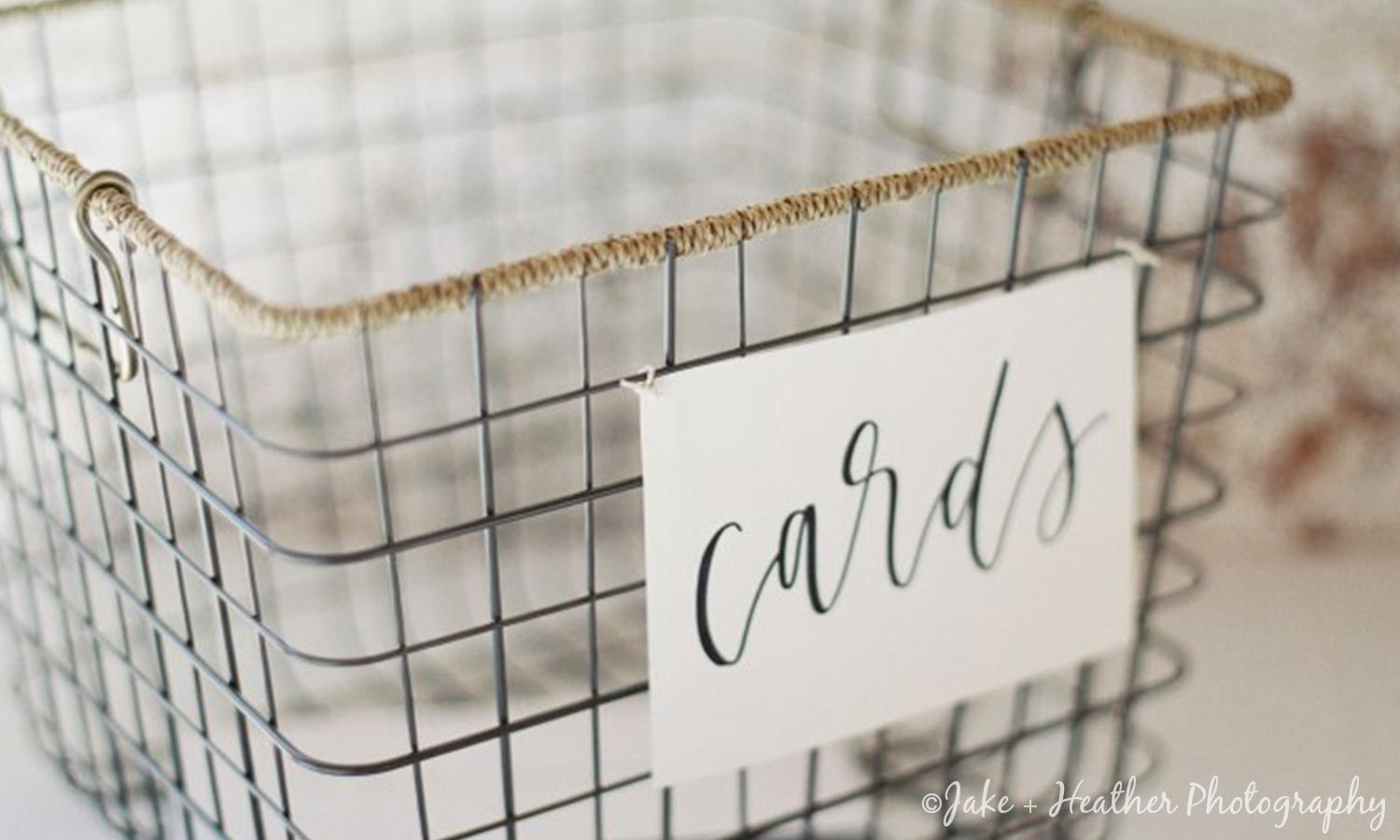 Jake + Heather Photography captured this extremely simple yet elegant card holder. All you have to do is attach a label to the basket, and this design is ready for the big day. It doesnt get easier than this!
4. Wooden Crate Card Holder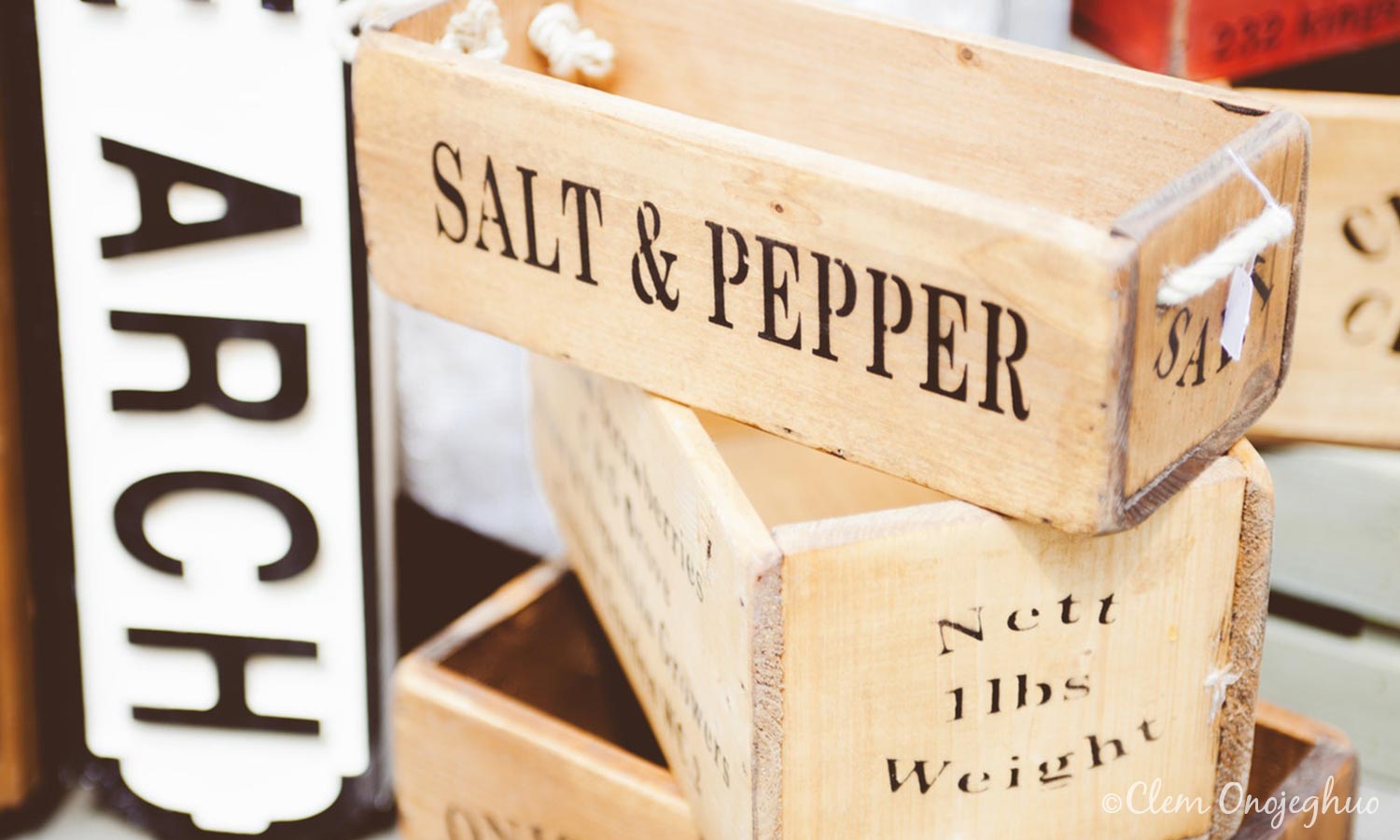 Dont be afraid to stray from the traditional. Vintage-style boxes that would typically be used as kitchen decor can easily double as card holders. These are great if you want a romantic, French countryside feel for your wedding day.
5. Floral Card Vases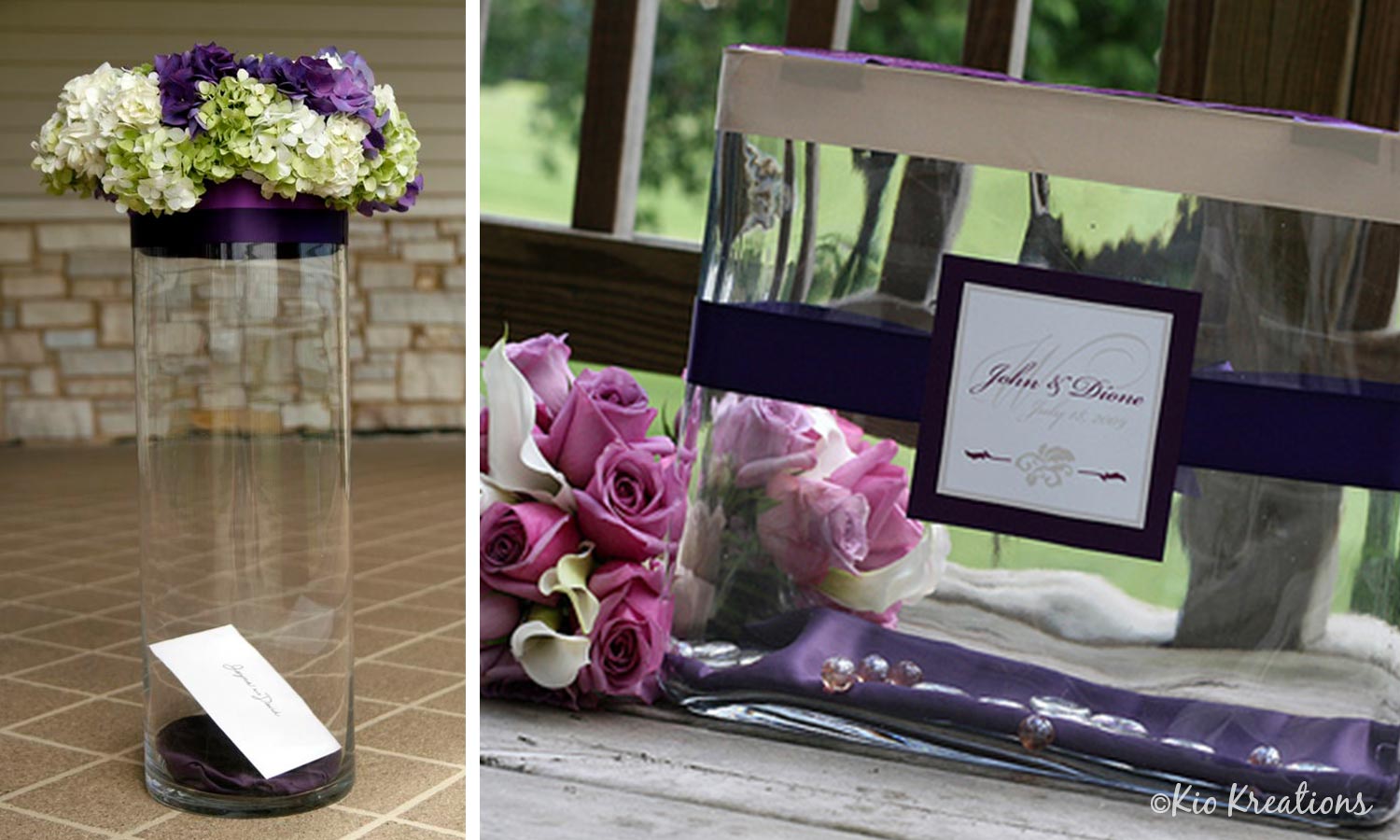 Glass vases will add class and elegance to your card holder display. These vases, designed by Kio Kreations, feature sophisticated purple ribbons and custom monograms. Use extra flowers to decorate the rim of the vase.
6. Wishing Well Card Holder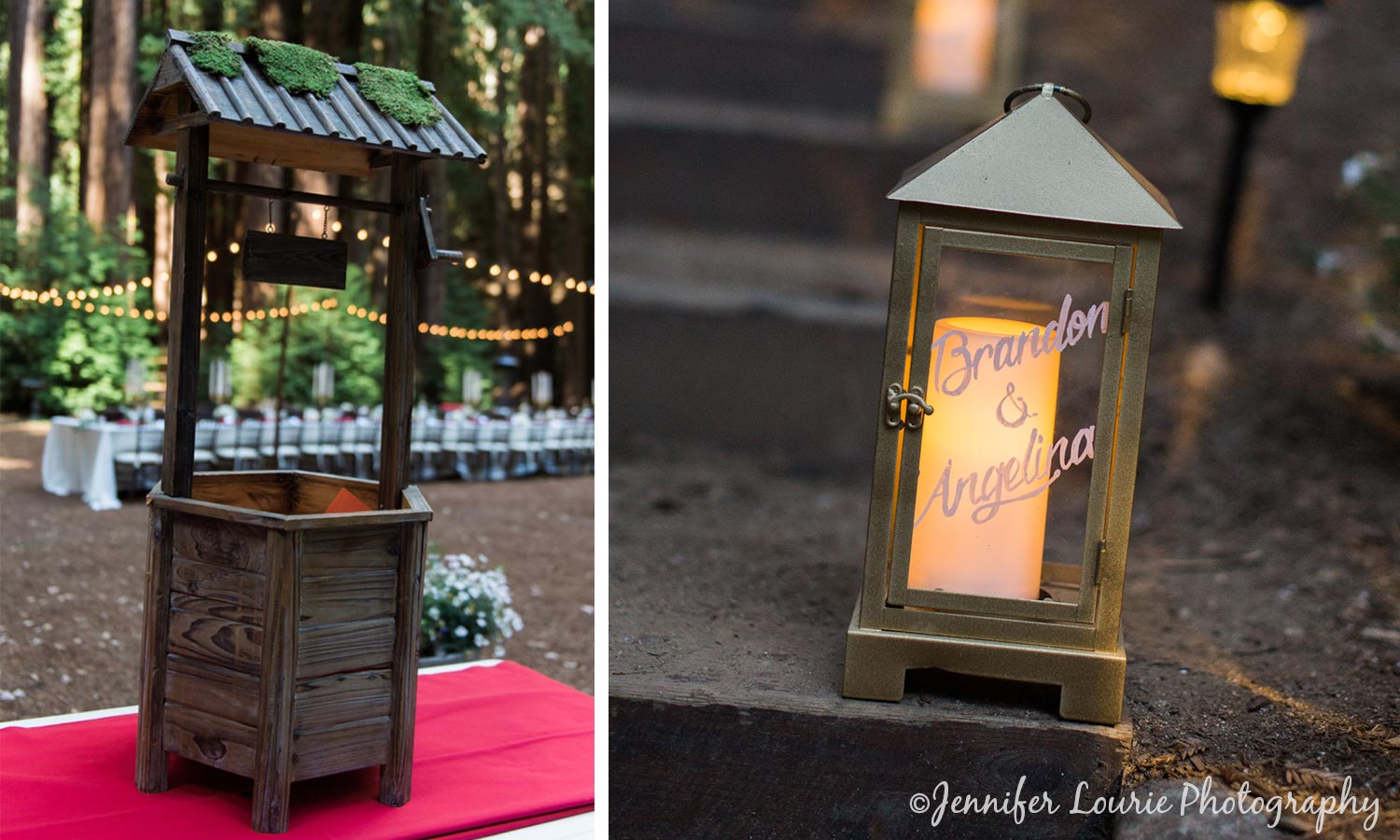 Have your guests place their gifts and well wishes into this wishing well style card holder! The cozy wood and moss details make this piece, photographed by Jennifer Lourie, right at home in a forest wonderland. Create an even cozier environment with fairy lights and lanterns lining your guests path.
7. Clothespin Detail Card Box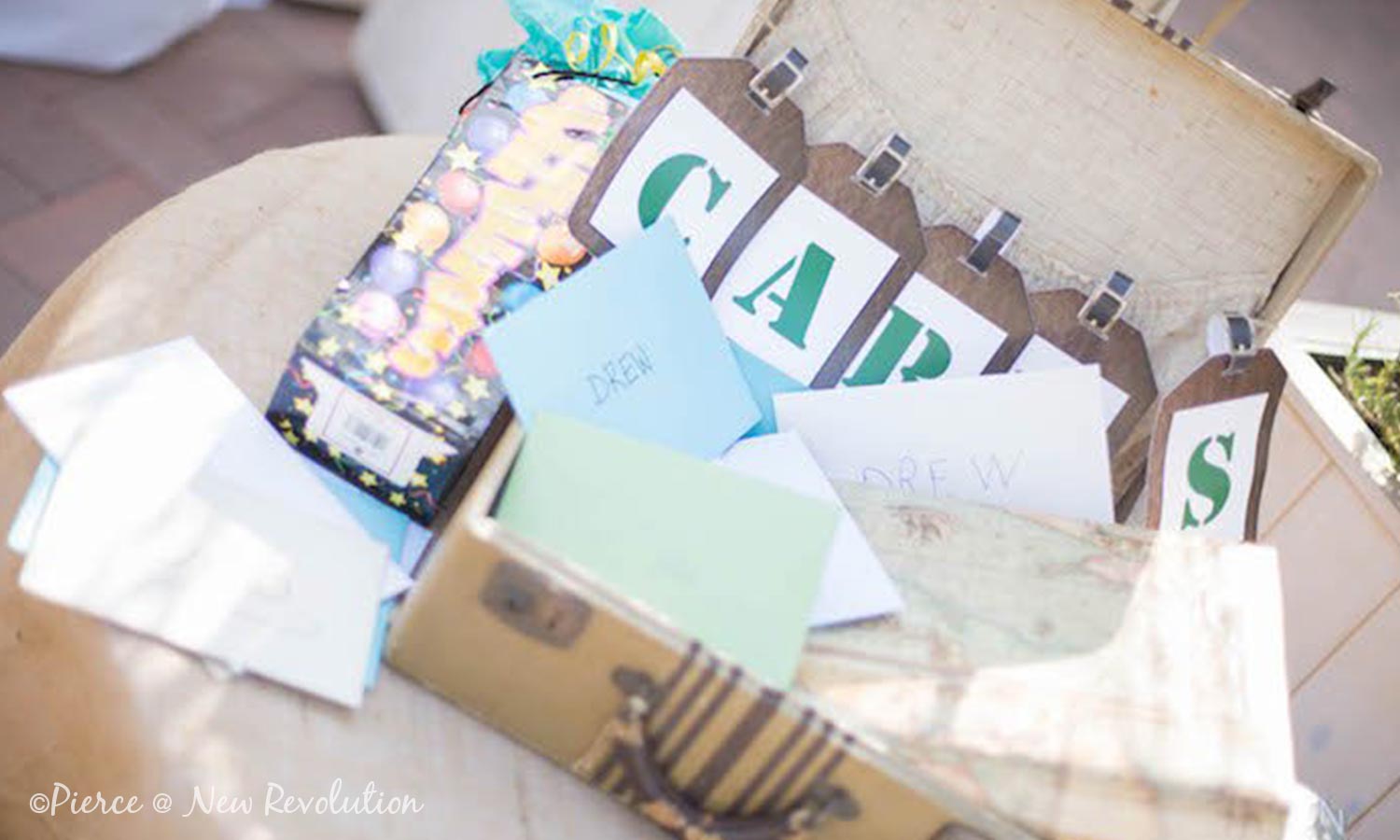 New Revolution Media took this shot of an adorable suitcase card box. Make sure your guests know where to place their gifts by recreating this clothespin and string detail displaying the cards sign.
8. Post Box Card Holder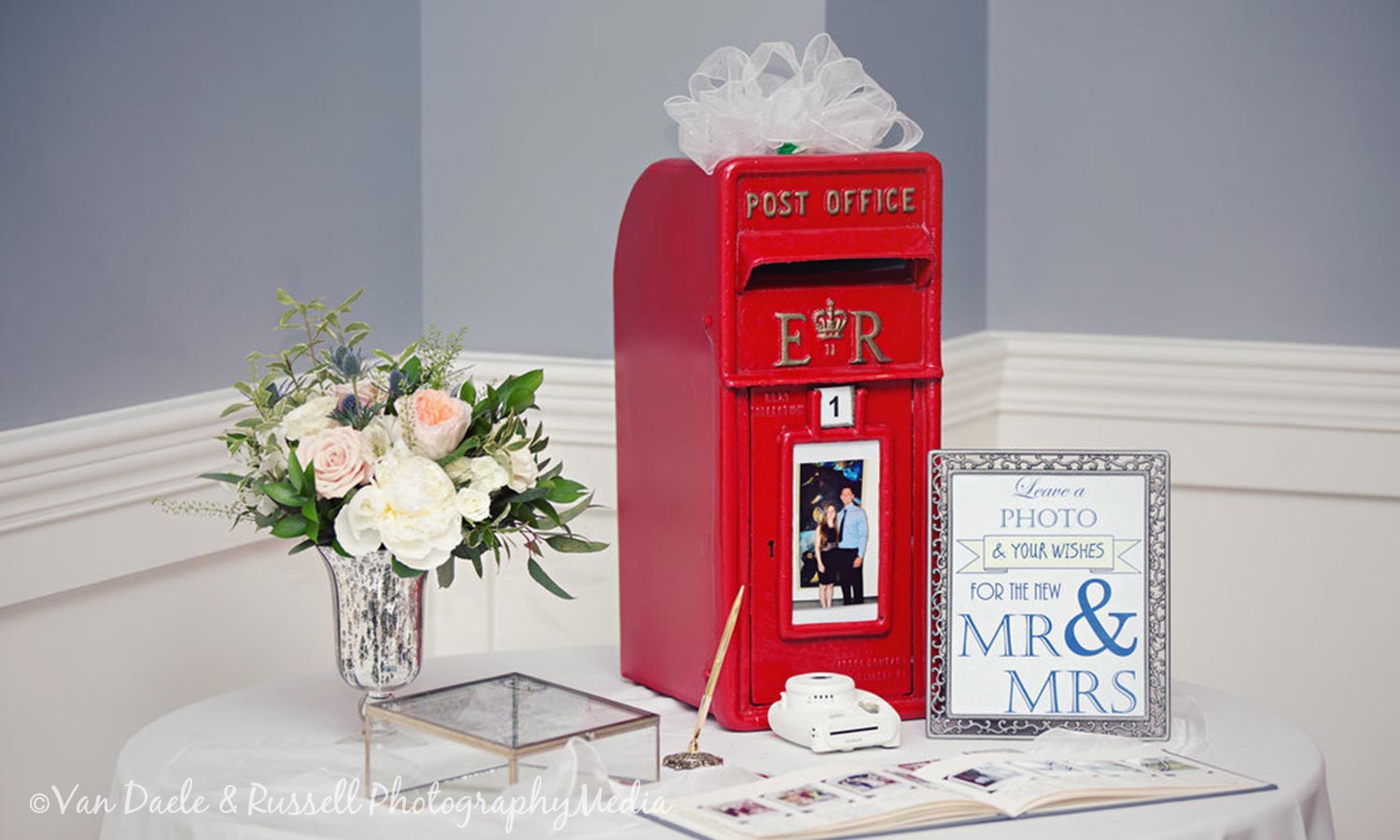 Stir up feelings of cobbled London streets with this post box card holder. Van Daele & Russell Photography captured this couples gorgeous display. This glossy red post box looks stunning against their muted blue and gray color palette.
9. Lobster Trap Card Box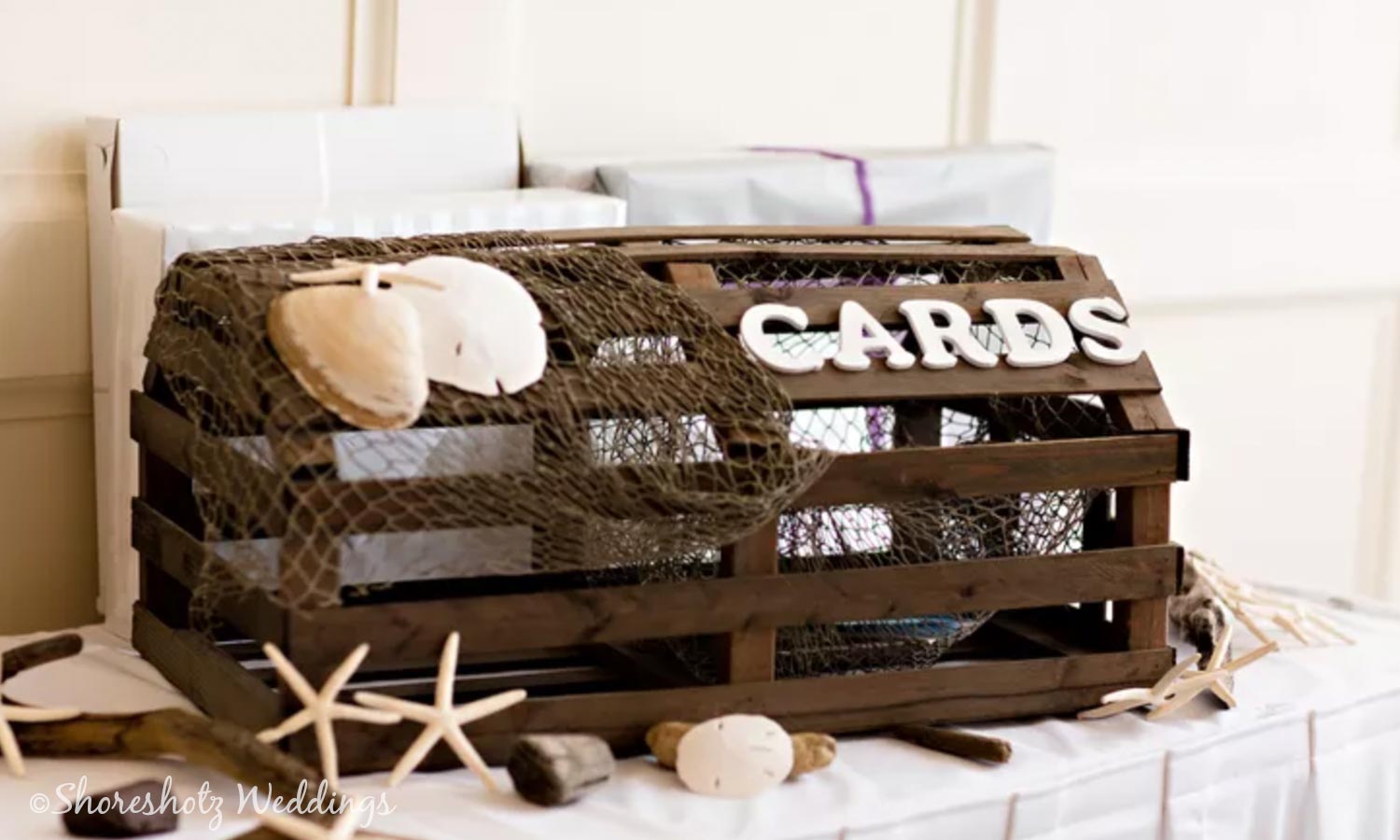 If your heart belongs to the sea, this lobster trap card box, captured by Shoreshotz Weddings, is for you. Decorate it with shells, netting and other beach treasures to pay your homage to the ocean.
10. Toy Bricks Card Box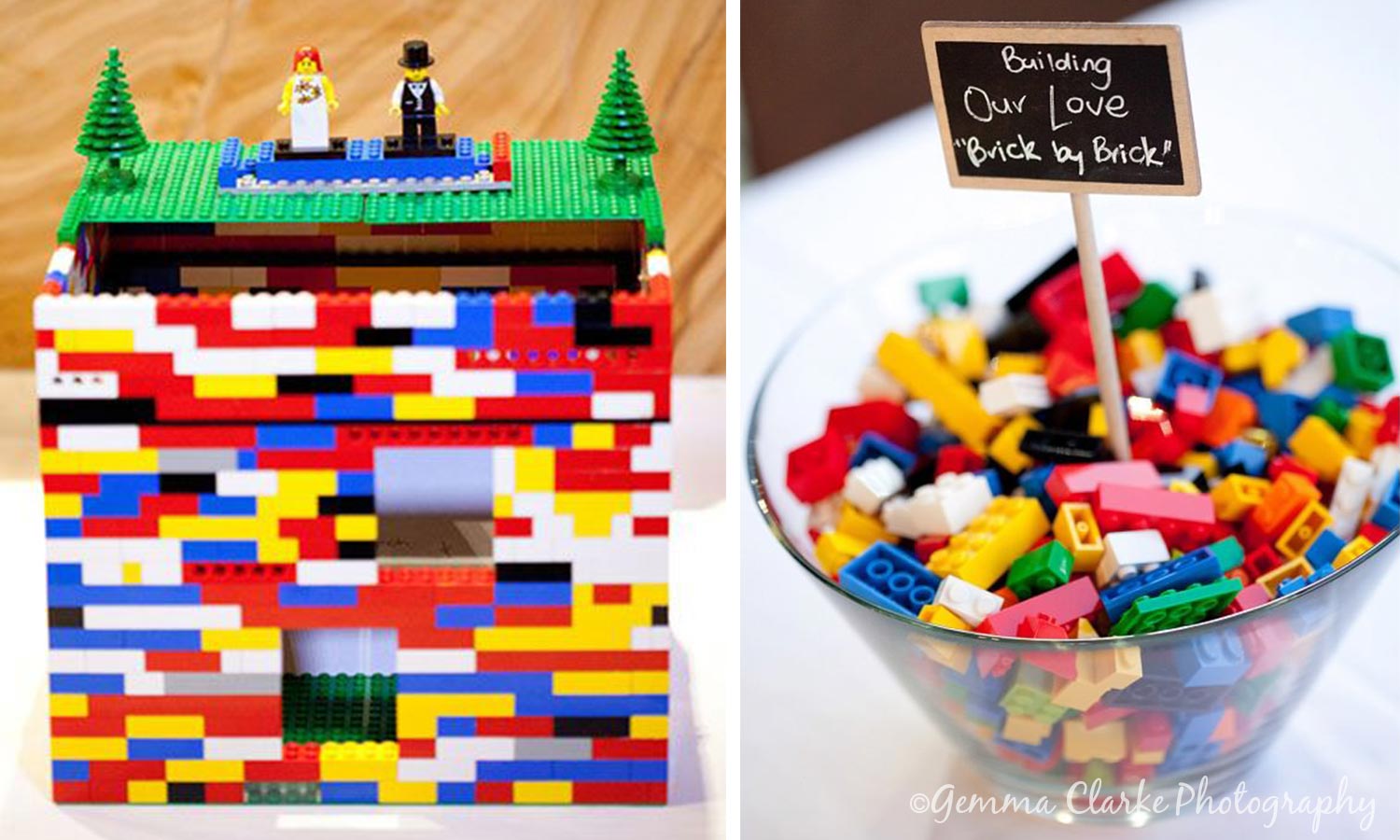 Show off your playful side by building a card box with colorful toy bricks, like this one from Gemma Clarke Photography. This is an adorable eye-grabber that will please young and old alike. This couple kept the theme going by offering their guests extra blocks to play with during cocktail hour.
11. Classic Card Box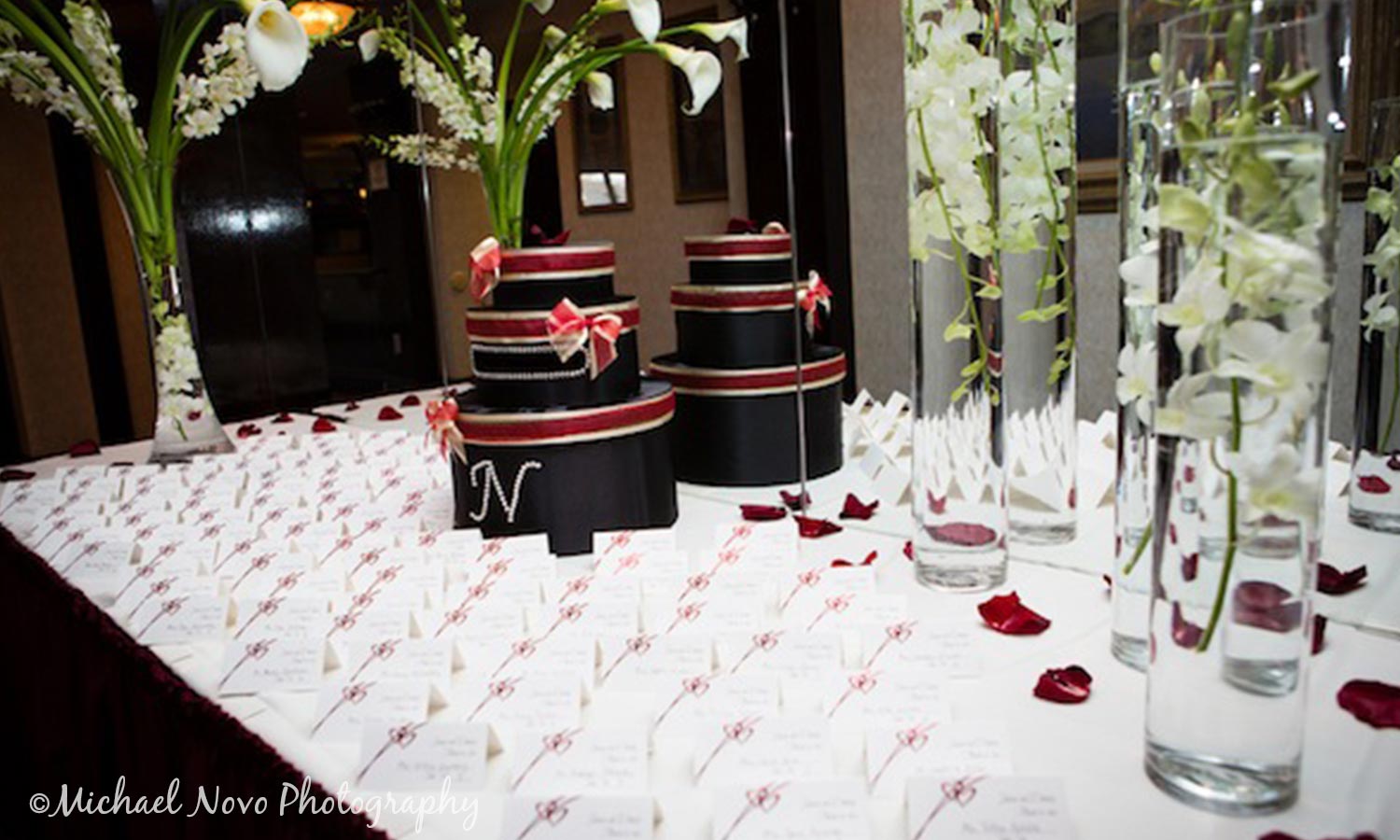 This display from Michael Novo Photography is a refined take on the wedding card box. The red and gold ribbon tastefully splits up the 3-tier design. It is complemented by subtle jewels outlining the envelope slit. For a traditional wedding, this is a must.
12. Colorful Card Box
Put a unique twist on the typical 3-tier card box by adding bright pops of color throughout. This DIY tutorial by Creative Green Living is a great place to start. Its simple and stylish design is easy to customize to your theme and colors.
13. Romantic Card Box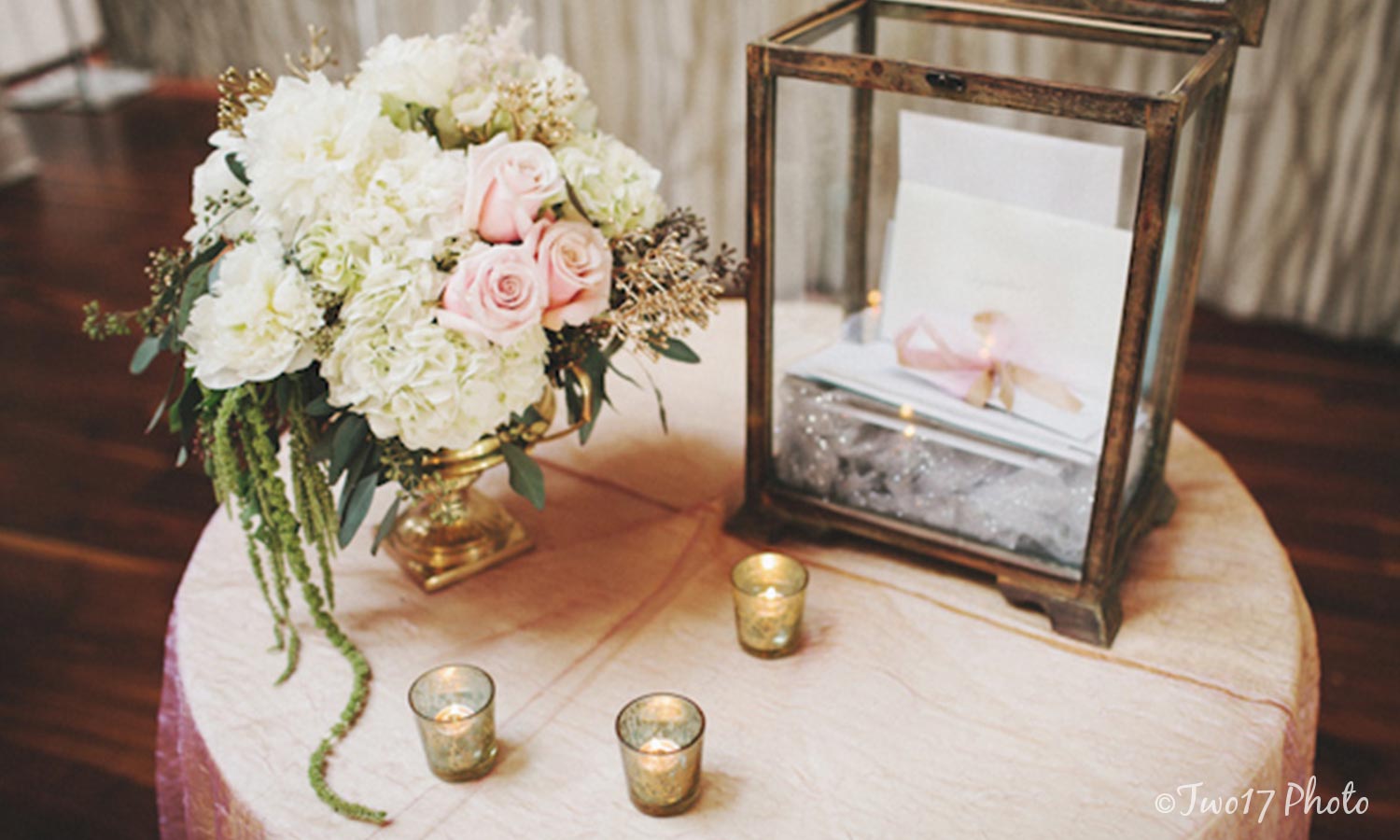 This couple achieved the perfect balance of sophistication and romance. The display, photographed by Two17 Photo, features a glass box card holder with copper detailing. Roses, hydrangeas and small candles add a soft, romantic glow to the table. Simply gorgeous!
14. Picnic Box Card Holder
This DIY project from The Country Chic Cottage uses an old picnic basket to gather cards. The wicker and burlap combo is perfect for rustic weddings. Decorate it with your engagement photos for a personal touch.
15. Home Sweet Home Card Box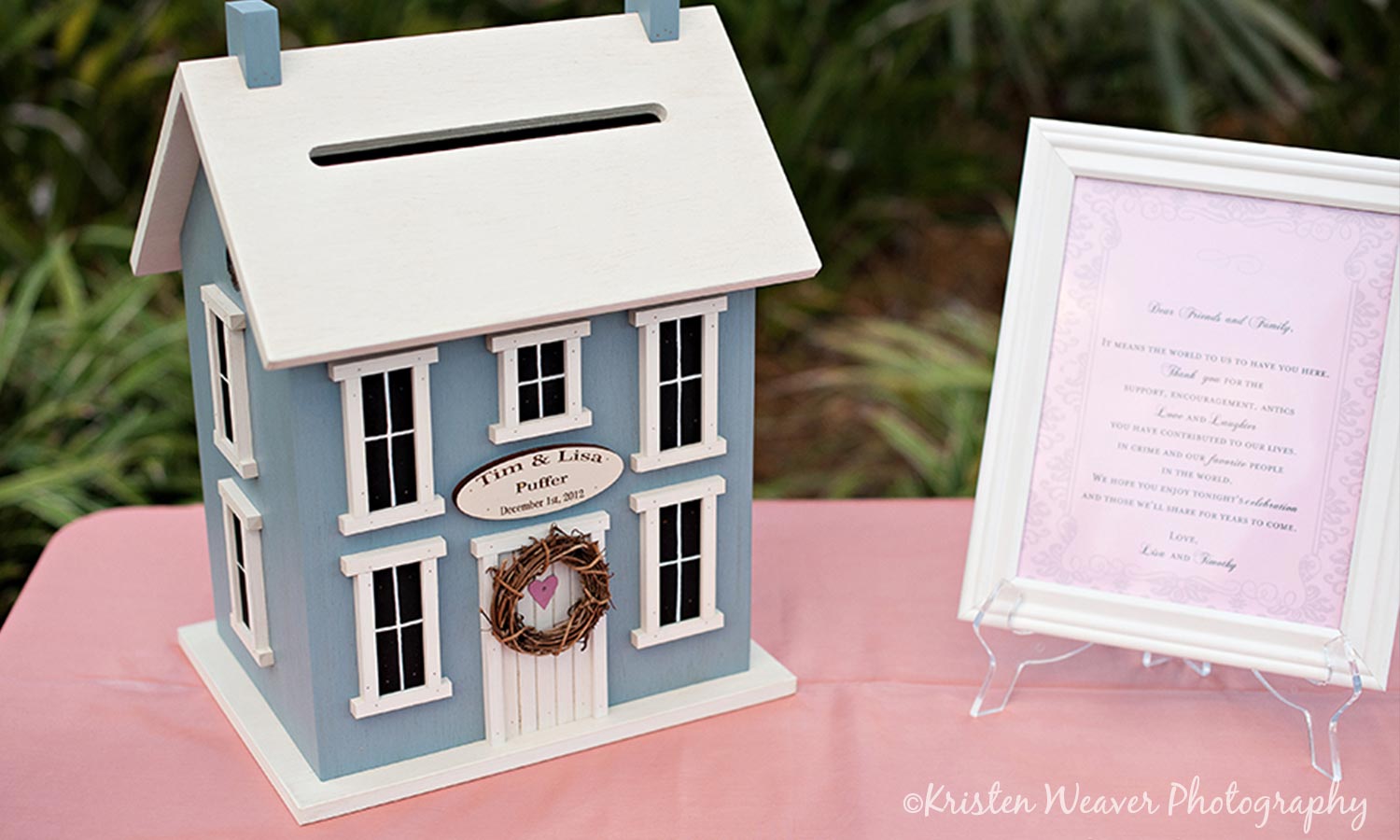 Who said a card box has to be just a plain old box? This mini cottage, photographed by Kristen Weaver Photography, takes quaintness to a new, adorable level. You can even add a little wreath or window boxes!
16. Vintage Suitcase Card Box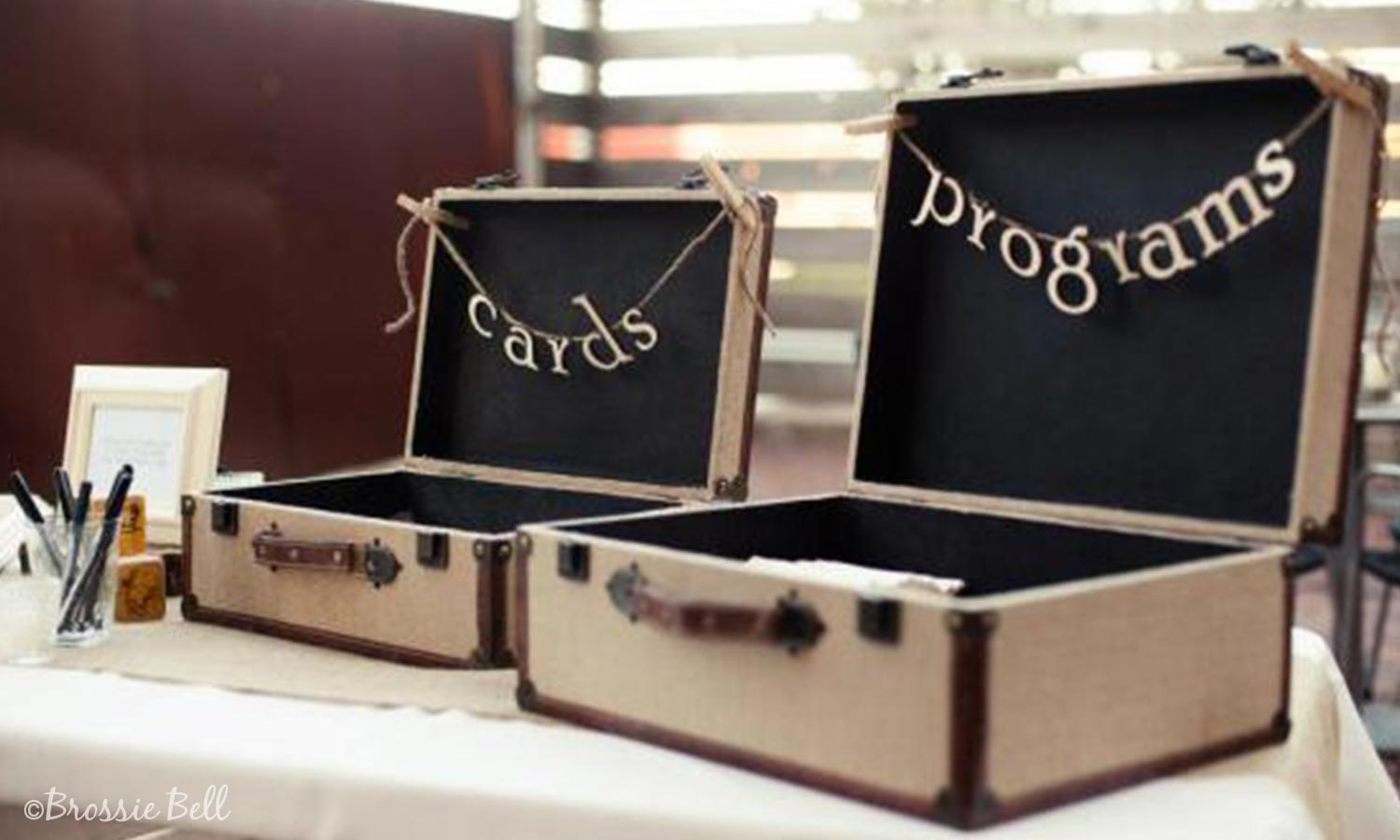 Flaunt your taste for all things travel with vintage suitcases like these ones from Brossie Bell. Once the night is done, toss your essentials in here and get to honeymooning!
17. Guitar Case Card Box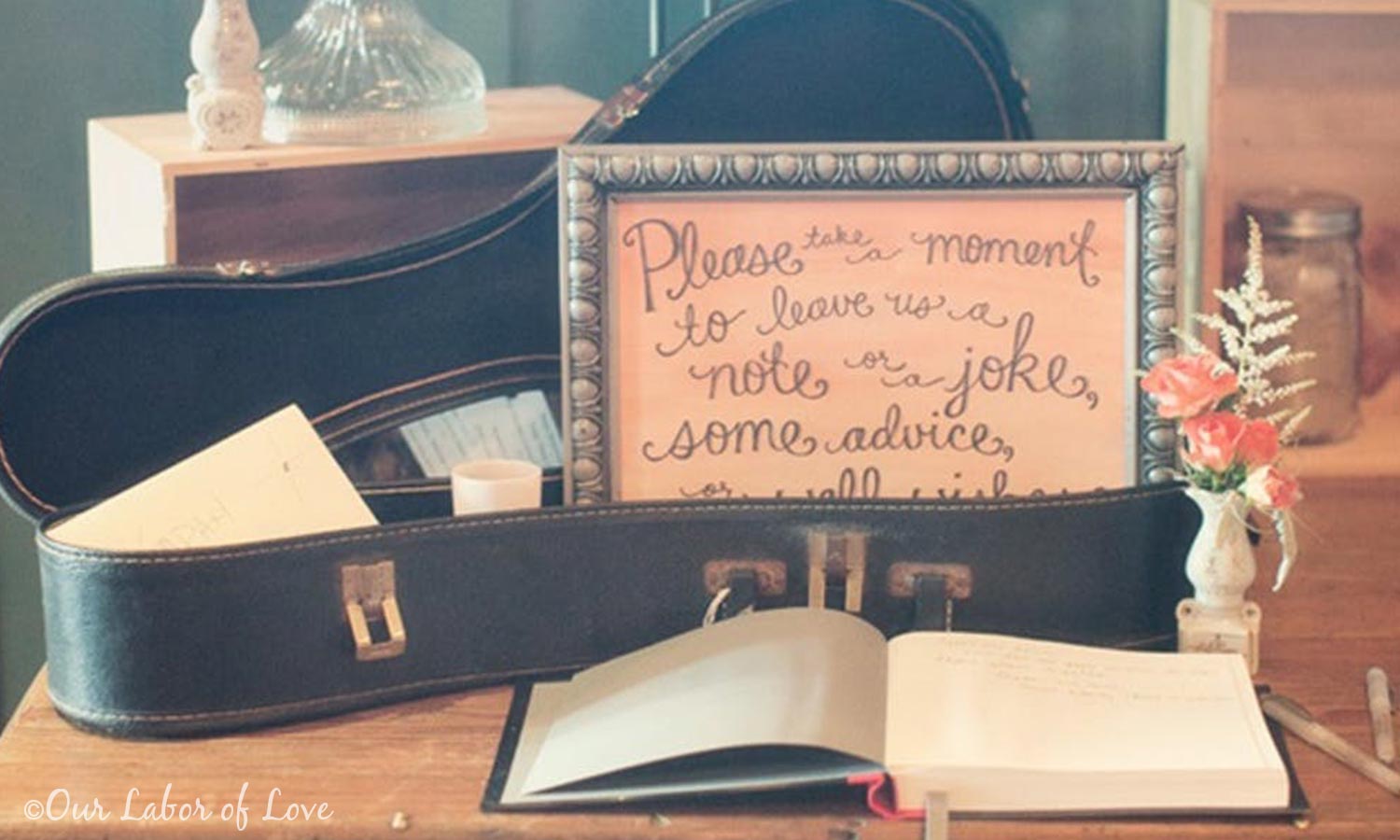 This card box, captured by Our Labor of Love, is ideal for all of the music lovers out there. The ample space in the guitar case leaves plenty of room for extra decorations, such as signs and bouquets.
18. Metallic Mailbox Card Holder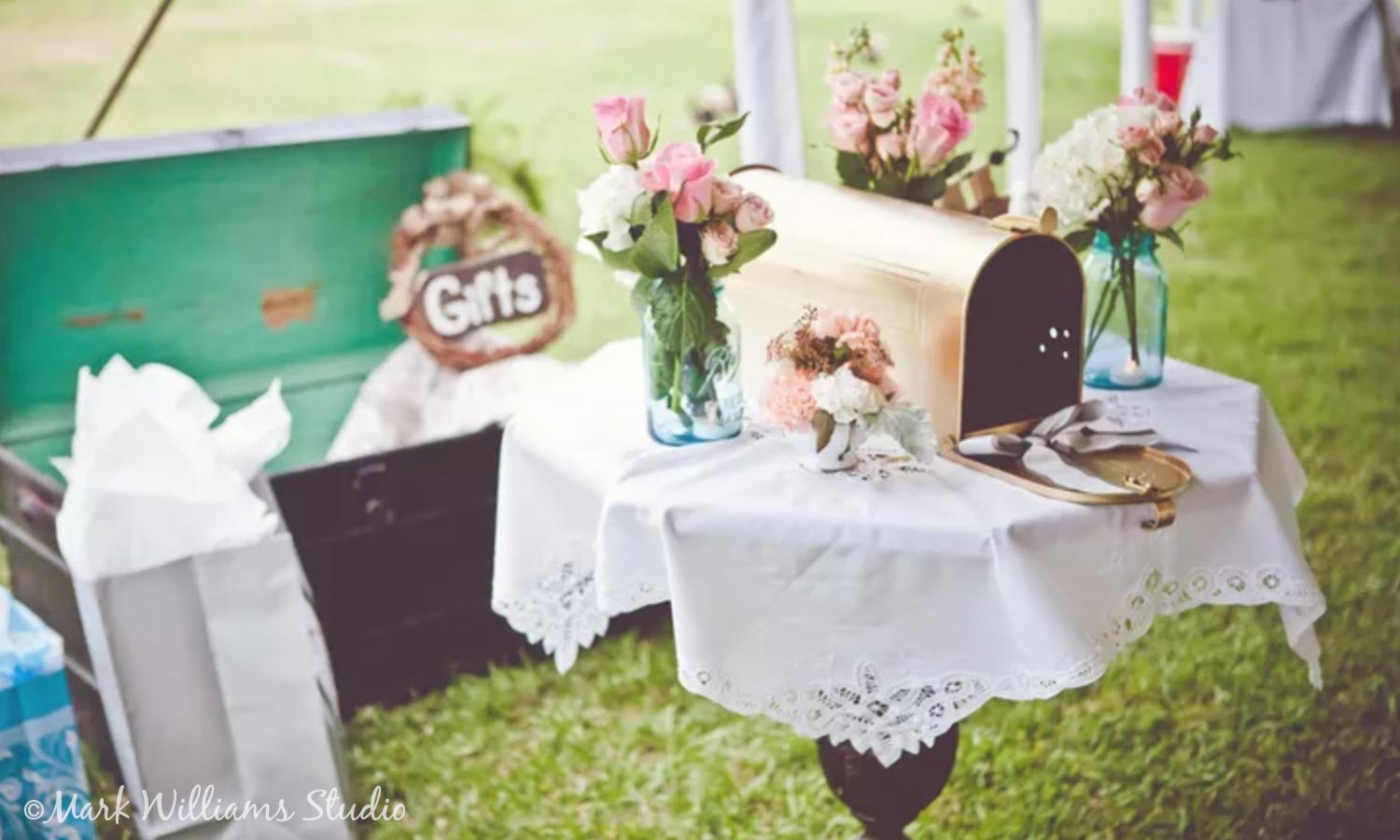 Spice up your gift table with a painted mailbox. This display, photographed by Mark Williams Studio, perfectly blends glamour and gold with a feminine tablecloth and blue tinted mason jars. If you opt to use a small table, add a box trunk to hold large wedding gifts.
Wedding Card Box Themes and Ideas
Think outside the box
Who says a wedding card box has to be, well, a box. Opt for an unconventionally shaped card holder made of plastic building blocks or use an old guitar case if youre music lovers.
Showcase your hobbies
Put your favorite hobby on display with a card box that represents you two as a couple. Are you the ultimate pair of globetrotters? Use a customized globe with a slot opening or a vintage suitcase to collect cards from your loved ones on this special day!
Add some glam
Dress up your box with rhinestones, feathers and soft, pearly colors. Delicate and feminine lettering can also add a whimsical touch.
While spending this important day with your loved ones is the greatest gift of all, its a good idea to have a special space for wedding gifts and cards. A wedding card box can not only add to the theme of your wedding, but also be incorporated into your home decor long after the day has passed. Choose a style that is unique to your personality as a couple. Whether you opt for a pre-made wedding card box or choose to make your own, be sure to choose one youll cherish for years to come!