Waffle Bar Ideas for Any Occasion
October 13, 2019
Whether you're celebrating a baby shower, a birthday or an occasion just-because, you can never go wrong with a gathering over the most important meal of the day. You guessed it, breakfast!
This year, why not host a breakfast at home? Its time to take your brunch game to the next level with a waffle bar thats sure to impress. With just a few simple supplies and styling tips, youll be on your way to hosting a delicious get-together before you know it.
To help you get inspired, weve put together a collection of waffle bar ideas. Browse through the styling tips, topping options and how-to steps below to get started. A waffle bar is a unique gift for anyone you're celebrating and sure to put a smile on their face and wow guests.
Exhale negativity, inhale waffles!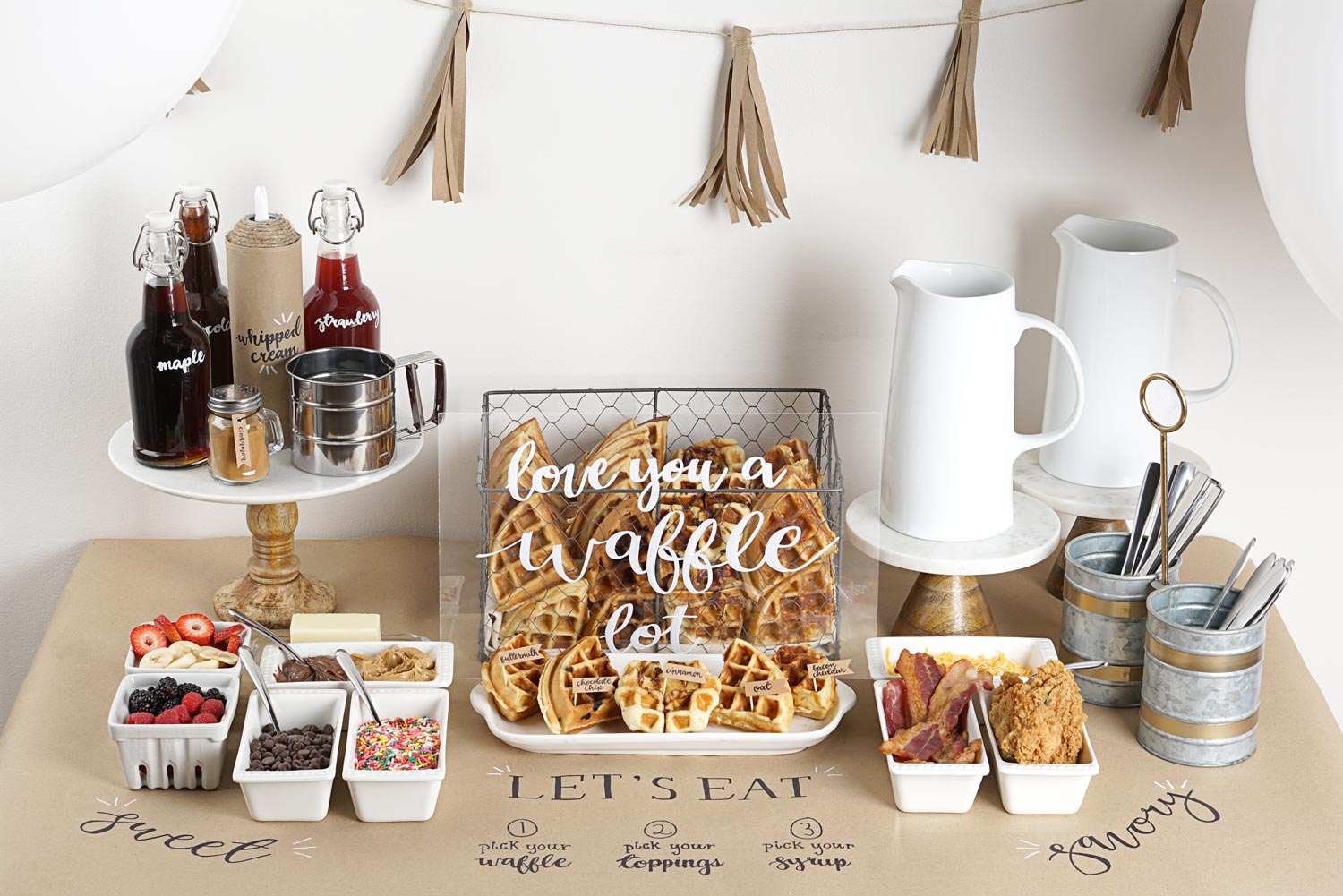 Waffle Bar Styling Tips
A waffle bar brunch wouldnt be complete without a few styling tips and tricks. Browse through the visuals below to get inspired!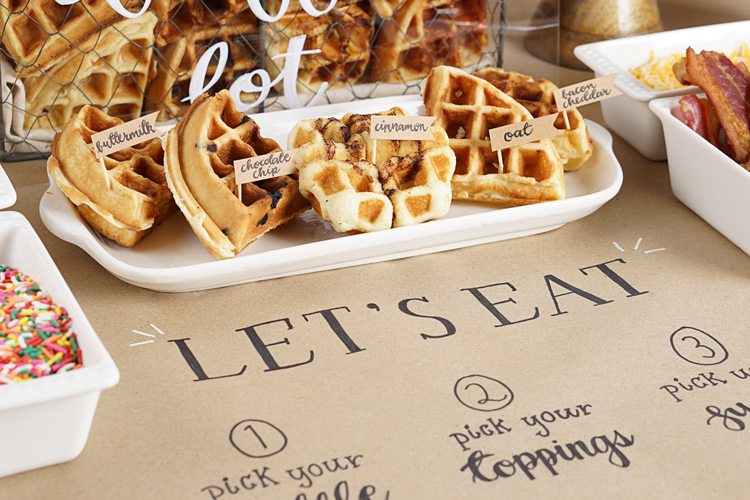 Create a unique table set up with craft paper and a permanent marker. Start by rolling out the craft paper to span the length of your table. Use a marker to guide your guests through building a perfect breakfast. Mark the paper with step-by-step instructions and arrows to what comes next. Think waffle, toppings and syrups galore! Waffles tend to get a little messy, but you wont have to worry about ruining a tablecloth with this paper alternative. Plus, itll make for a great conversation piece at the celebration.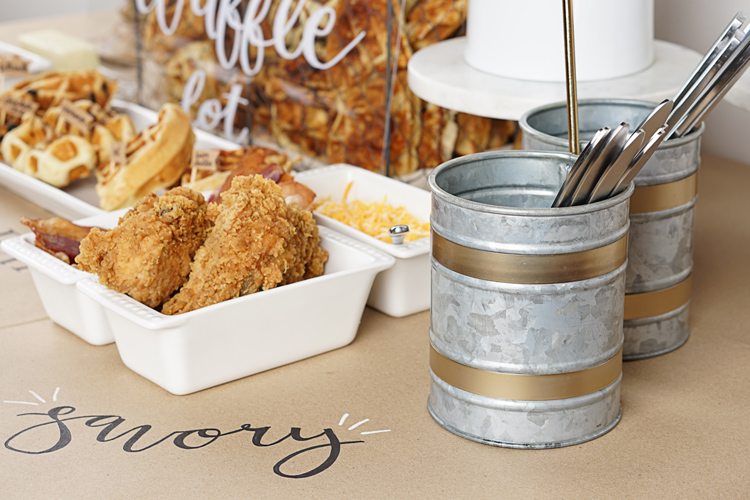 To maintain a cohesive feel, select a color scheme and incorporate those elements throughout your waffle bar. Since the craft paper is brown, a natural color palette seems fitting, but dont hesitate to add pops of color. We decided to go with brushed metal elements to achieve a rustic farmhouse feel.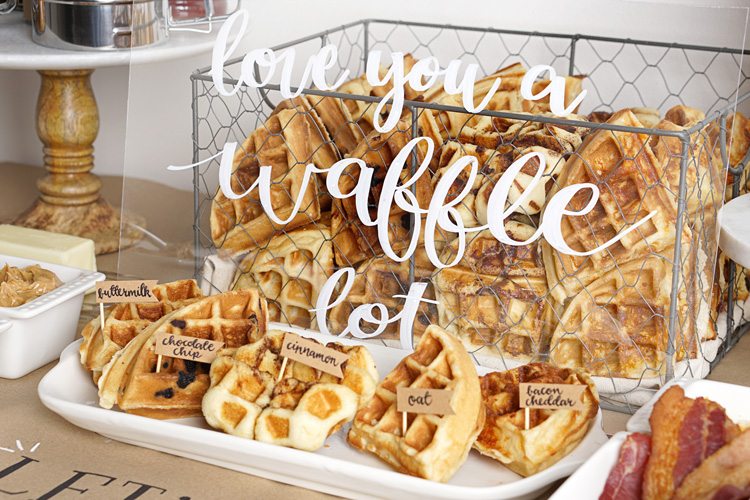 Create a festive backdrop for your waffle bar by using wood signage or a chalkboard message. Personalize your backdrop with a special sentiment for the guest of honor or incorporate a fun saying about waffles.
Exhale negativity, inhale waffles.A balanced diet is a waffle in each hand.I love you a waffle lot!
Sometimes its the smallest details that make the greatest impact. Matching servingware and handwritten elements will pull your waffle bar together. We went with cream-colored dishware and incorporated fun kitchen goods like berry baskets and dessert stands to give the waffle bar character.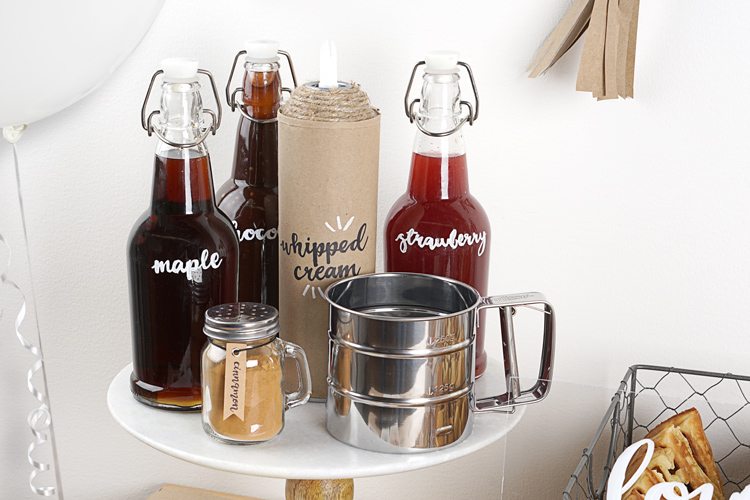 Display toppings on dessert stands to give your waffle bar some height. This will make it easier for your guests to see all of their options. It will also ensure that your brunch bar makes a statement!
Waffle Bar Essential Menu Items
It wouldnt be a waffle bar without a variety of waffles and an assortment of syrup options! Whether youre interested in savory choices or something packed with sweetness, these waffle bar menu items will make your mouth water and wow your guests.
Were taking the essential items to the next level with different flavors and add-ins. Browse through the suggested supply list and make note of the items you want included in your waffle bar.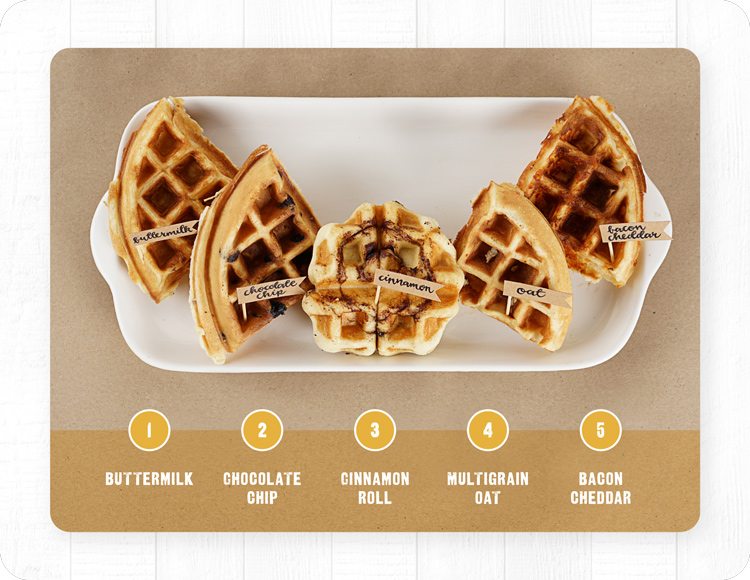 Consider featuring different types of waffles. Providing options that are both savory and sweet will ensure that all your brunch guests leave happy. Plus, who doesnt like options? We suggest a few of the waffle contenders below:
Classic ButtermilkChocolate ChipCinnamon RollMultigrain OatBacon Cheddar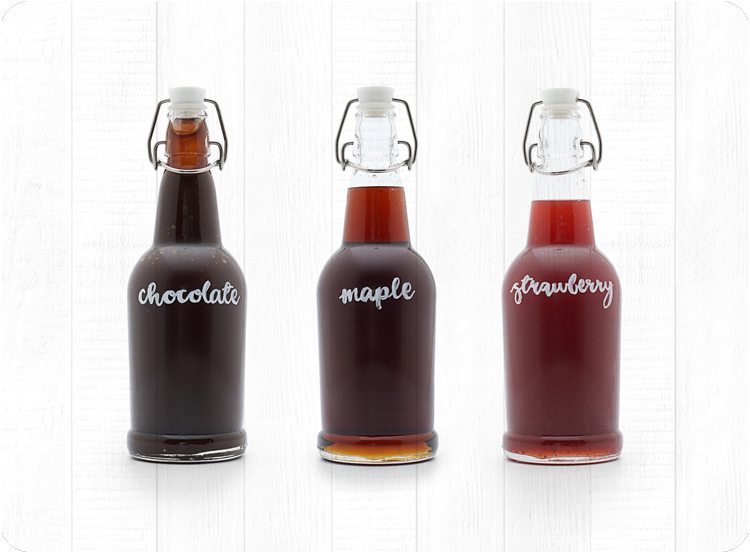 You cant forget the syrup! Syrup is a quintessential waffle topping. Theres a flavor for every type of breakfast person, so consider incorporating a few of the following in your own waffle bar.
Chocolate SyrupMaple SyrupStrawberry Syrup
Waffle Toppings for a Complete Waffle Bar
No waffle is complete without a few delicious toppings. Theres nothing like grabbing the can of whipped cream and adding a glob larger than your face to a stack of waffles. With everything from chocolate chips to fried chicken, a bar thats jam packed with a variety of selections will only make for more fun.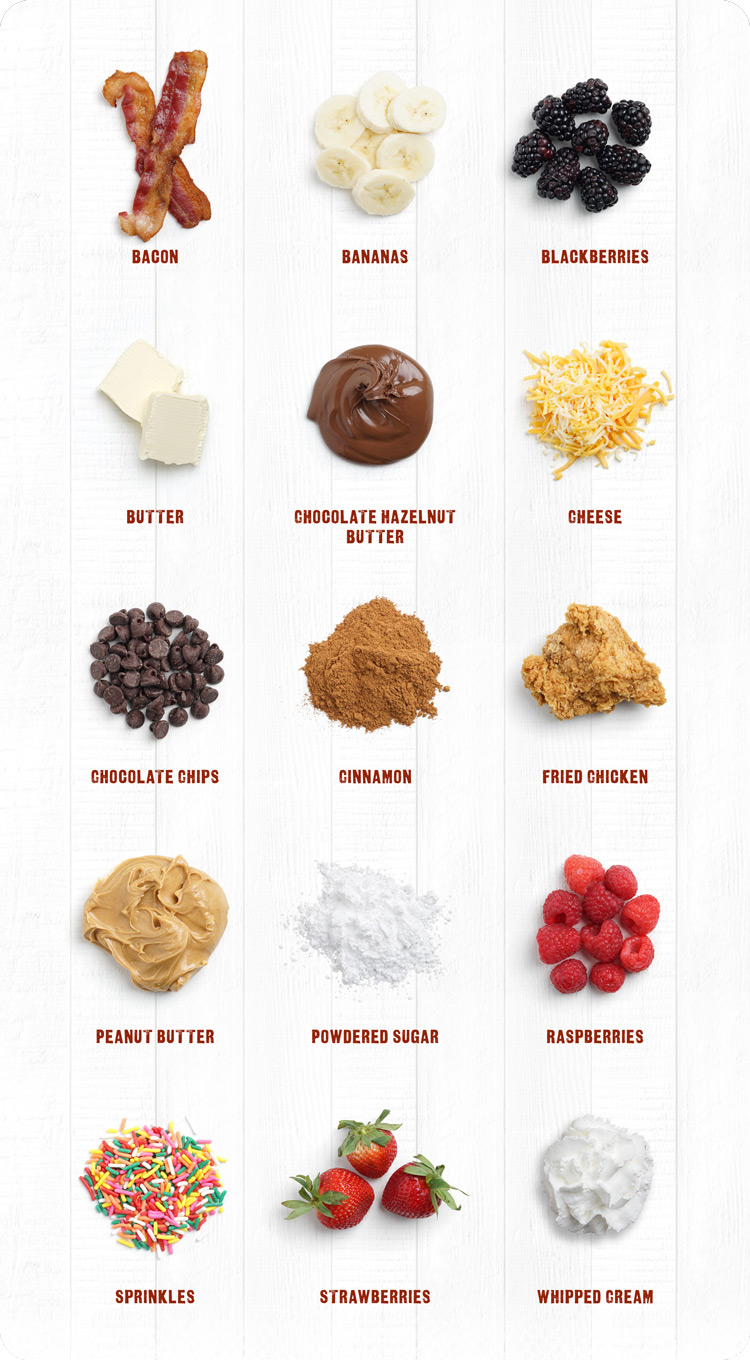 5 Great Waffle Bar Combinations
Whip up a few signature waffle bar recipes just for your celebration and create fun names for the dishes. For example, a cinnamon roll waffle topped with whipped cream and fresh blueberries would only taste better with the name, Sin-na Bun Fun.
These yummy duos will not only inspire your guests to try special combinations, but also feature some of the tried and true waffle toppings. Display your favorite waffle bar combinations on a menu and create some personalized signage for the celebration. The little details will make all the difference.

No matter how youre celebrating this year, one thing thats certain is that mom deserves a day thats over the topand a waffle bar piled high with sweets and toppings shouts over the top! Download the full infographic below and share. If youre looking for more party tips, take a look at our guide on how to build your own bruschetta bar or these wine tasting party ideas.
Dont forget to browse through our wide selection of gifts to find the best gift ideas for mom.