This Rhubarb Pie Is the Seasons Must-Make Dessert
November 28, 2018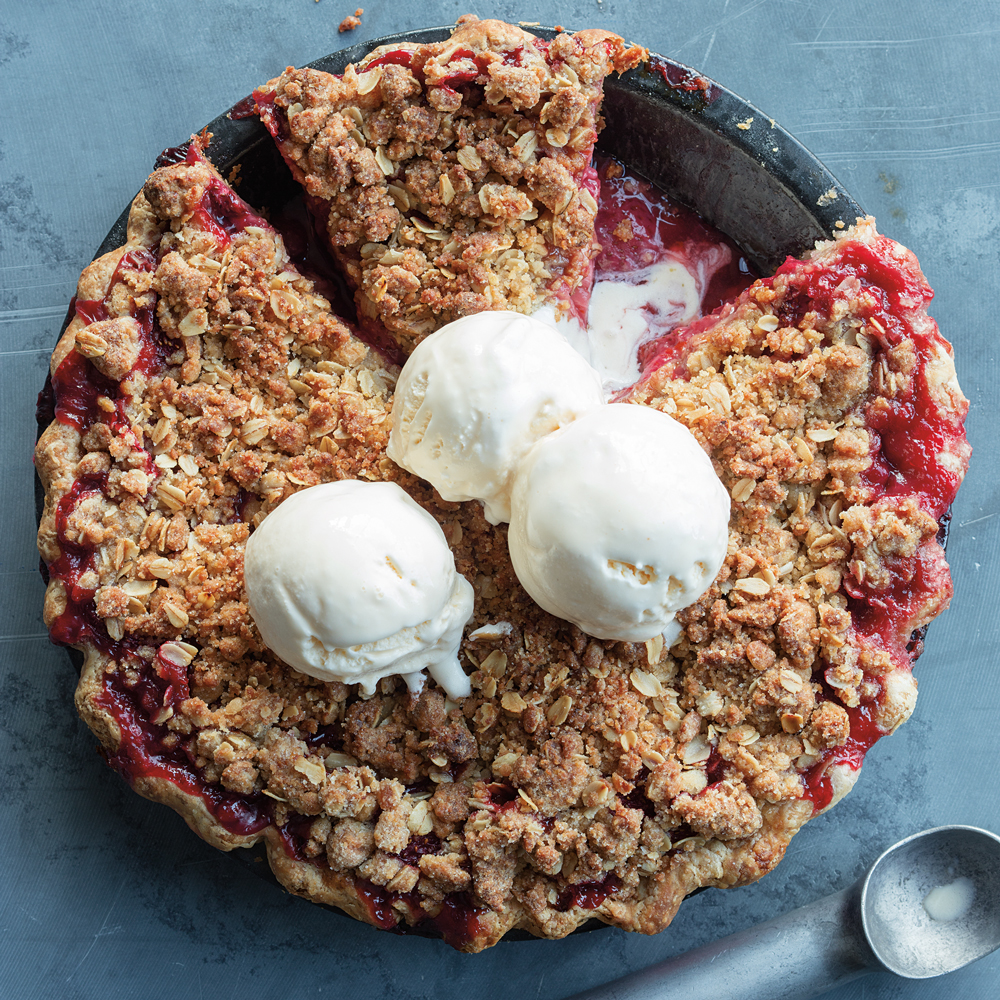 This rhubarb pie, which is topped with crunchy oat-based streusel, is the season's must-make dessert. Whether you decide to go with a strawberry-rhubarb combination, all rhubarb or even all berries, this pie is one sweet way to celebrate spring and its sweet fruits.
Strawberry-Rhubarb Crumble Pie
Ingredients
1 rolled-out round
basic pie dough
For the topping:
1/3 cup (2 oz./60 g) all-purpose flour1/3 cup (1 oz./30 g) rolled oats1/3 cup (2 1/2 oz./75 g) firmly packed light brown sugar1/2 tsp. ground ginger1/4 tsp. kosher salt1 tsp. grated orange zest1/2 cup (4 oz./125 g) unsalted butter, melted and cooled1 cup (8 oz./250 g) sugar1/3 cup (1 1/2 oz./45 g) cornstarch1 tsp. kosher salt3 pints (1 1/2 lb./750 g) strawberries, stemmed, cored and thickly sliced1 1/2 lb. (750 g) rhubarb, trimmed and cut into 3/4-inch (2-cm) pieces1 tsp. grated orange zest2 tsp. fresh orange juiceVanilla ice cream for serving
Directions
1. Fit the dough round into a 9-inch (23-cm) pie dish. Trim the overhang to 1/2 inch (12 mm), fold the edge under itself and decoratively flute or crimp. Pierce the bottom of the crust all over with a fork and freeze for 30 minutes.
2. While the dough is freezing, make the topping: In a medium bowl, whisk together the flour, oats, brown sugar, ginger, salt and orange zest. Stir in the melted butter. Refrigerate until ready to use.
3. Preheat an oven to 375F (190C).
4. In a large bowl, whisk together the sugar, cornstarch and salt. Add the strawberries and rhubarb and stir to combine. Let stand for 20 minutes, then drain off the excess liquid. Stir in the orange zest and juice. Pour the filling into the crust. Sprinkle with the crumble topping and place the pie dish on a baking sheet.
5. Bake until the crust is golden brown and the filling is bubbling, 45 to 55 minutes, covering the top and edges with aluminum foil if they brown too quickly. Let cool on a wire rack for at least 4 hours, and preferably overnight, before serving. Serve with vanilla ice cream. Serves 8 to 10.

For this and more than 35 ideas for sweet and savory pies check out?The Pie Cookbook?our all-inclusive guide to making pies by The Williams Sonoma Test Kitchen Cooks