These Easy Chicken Pies Are About to Become Your New Best Friend
March 22, 2019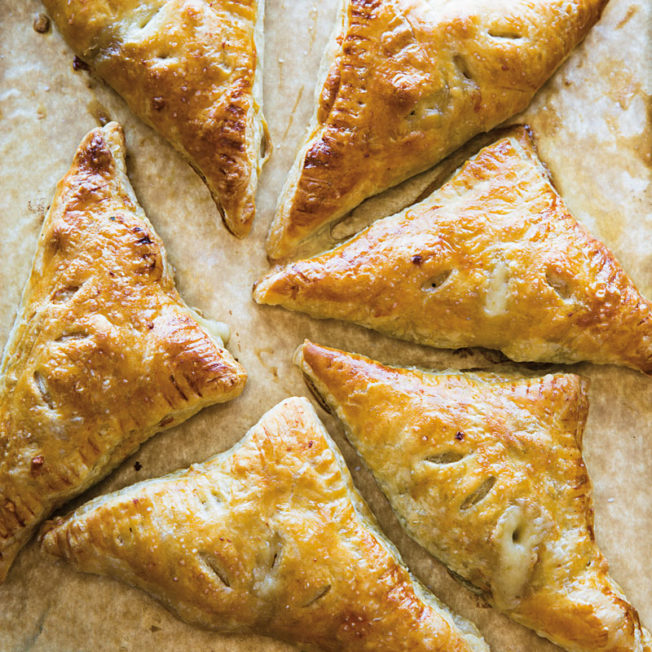 Is this the weekend you decide to do something for your (hungry) future self?
Everyonebusy working moms and dads, high school kids, and tiny totsgets hungry with no notice sometimes, right when the refrigerator is bare.
Making meatballs, pot pies, and lasagnasfor the freezer is fine and good, but making those big-batch, hands-on recipes can take timelots of time. Enter these delightful, super-savory chicken, spinach and cheese pockets. They employ a tried-and-true lazy-cook standby, frozen puff pastry dough, which you simply fill with Gruyre, spinach, and chicken. (Use rotisserie, if you need to cut that corner, too).
You can make them for dinner tonight, and make an extra passel to pack into lunch boxes and eat as snacks later. They can be assembled and frozen for up to two months. After crimping the turnovers' edges, place them on a baking sheet in a single layer and freeze for at least 2 hours. Once frozen, stack them in a sealable plastic bag. To cook, brush them with a beaten egg and bake for 25 to 28 minutes.
Call them chicken piesand watch kids devour them. Serve them with a big green salad to a hungry partner.Or just hog them all yourself, over time, and admire your consideration foryour future self.
Chicken, Spinach and Gruyre Turnovers
Ingredients
2 small skinless, boneless chicken breasts, about 3/4 lb. (375 g) total weight, or 1 1/2 cups (9 oz./280 g) shredded rotisserie chicken1 Tbs. olive oil2 Tbs. chopped shallots1/2 lb. (250 g) fresh spinach leaves, tough stems removedKosher salt and freshly ground pepper2 Tbs. heavy creamAll-purpose flour for rolling2 sheets frozen puff pastry (one 17 oz./530 g package), thawed1 large egg, lightly beaten1/4 lb. (125 g) Gruyre cheese, shreddedDijon mustard for serving
Directions
1. If using chicken breasts, place them in a saucepan with cold water to cover by 1 inch (2.5 cm) and 1/2 tsp. salt. Bring to a boil over high heat, reduce the heat to medium-low, and simmer until the chicken is opaque throughout, about 18 minutes. Drain and let cool. When cool enough to handle, shred the chicken. Set aside.
2. Preheat an oven to 400F (200C). Line a baking sheet with parchment paper.
3. In a fry pan over medium-high heat, warm the olive oil. Add the shallots and saut until soft, about 2 minutes. Add the spinach, season with salt and pepper, and saut just until wilted, about 3 minutes. Stir in the cream and cook just until combined, about 1 minute.
4. On a floured work surface, cut the puff pastry sheets in half to make 4 rectangles. Brush the edges with the egg. Pile the cooked chicken, spinach, and cheese on half of each of the rectangles, leaving a 1/2-inch (12-mm) border. Fold the uncovered half of each rectangle over to cover the lower half. Crimp the edges with the tines of a fork. Using the tip of a sharp knife, cut a few small slits in the top of each turnover. Brush the tops with egg and place on the prepared baking sheet. Bake until golden brown, 22 to 24 minutes. Let cool slightly and serve with mustard on the side. Serves 4.

Find ways to make hectic suppers into fun, relaxed gatherings that
the whole family can enjoy in our cookbook School Night, by Kate McMillan.