There's a Secret Trick to this Unbelievably Tender Chicken Dinner
April 18, 2018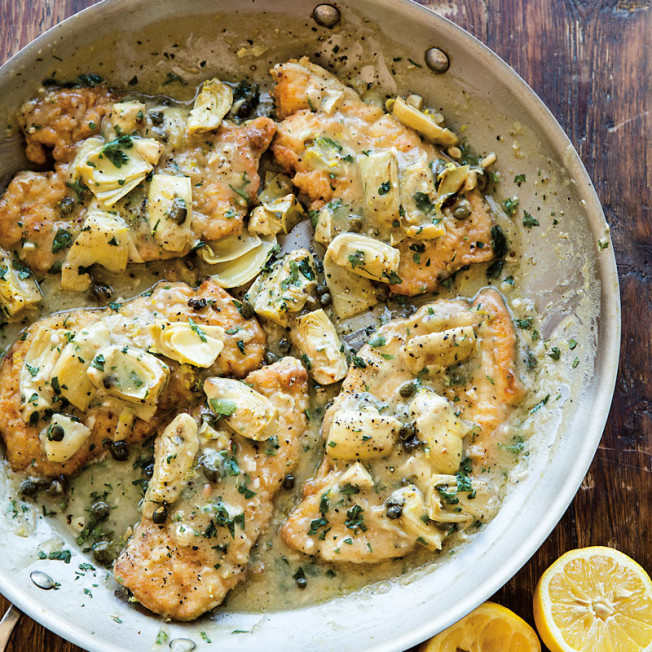 Whitewine, butter, garlic, lemon, capers.
Some ingredients just go together over and over again, including the components of this marvelous chicken piccata. Use those same ingredients to sauce a pasta: delicious. Reduce them in a sauce to pour over seared cod: fabulous.
Alwaysremember, though, just how fantastic chicken piccata is when you have the rightrecipe. This is that recipe.
If there is a tricky part to this recipe, it is pounding the chicken breasts flat. That's it. And what's better than a workout as part of dinner prep? Wielding a meat mallet, a rolling pin, or even a heavy can takes the edge off a tough Monday at work or an afternoon spent with a screaming toddler. We promise. The result of all your labor are ?-inch thick chicken pieces, which you want because they'll cook evenly and quickly. (That's key to making this a weeknight-friendly mealabout 30 minutes, soup to nuts.)
Another thing to love about this recipe is that the resulting dishes are minimal. There's no fussy wiping of pans or transferring of ingredients. Everything cooks in the one pan. A good, large frying pan or cast-iron skillet is your pal for this one, and you could even plate the whole thing in a cast-iron skillet and let guests help themselves if you wanted to do a chicken piccata feast with friends.
Theelement that puts the recipe over the top in deliciousness is not the parsleythat'sfor looks and a fresh bouquetbut something that comes from a jar: artichokehearts. You can get them at Trader Joe's, Whole Foods or your own grocery storethese days. They're worth stocking up on, because boy, are they tastyfuss-free,tender as can be, and easy to quarter. It's a way to add a serving of vegetablesto each portion without rinsing, dicing, or spooning out the furry centers.
Andyou can't talk about chicken piccata without talking about that sauce. When wasthe last time you had it cooked correctly at a restaurant? When it's perfect, it'screamy without the cream, bright from lemon, savory from chicken broth and aromaticfrom white wine. Capers add a tart note to each bite, and are an ideal foil forthe buttery, barely-crisp-on-the-edges chicken.
Thebest chicken piccata, we're pretty certain you'll agree after trying thisrecipe, is your own.
Chicken Piccata with Artichokes
3 boneless, skinless chicken breasts, about 1 1/2 lb. (750 g) total
1/2 cup (2 1/2 oz./75 g) all-purpose flour
Kosher salt and freshly ground pepper
3 Tbs. olive oil
2 Tbs. unsalted butter, at room temperature
2 garlic cloves, chopped
1 jar (6 oz./185 g) artichoke hearts, rinsed, drained and quartered
1 cup (8 fl. oz./250 ml) dry white wine
1/2 cup (4 fl. oz./125 ml) low-sodium chicken broth
Juice of 1 lemon
2 Tbs. capers, rinsed and drained
1 Tbs. chopped fresh flat-leaf parsley
Butterfly the chicken breasts and cut them in half. Working with one chicken breast half at a time, place the chicken between 2 pieces of plastic wrap and, using a meat pounder or other heavy, flat object, gently pound to an even thickness of about 1/4 inch (6 mm).
Pour the flour onto a large plate and season it well with salt and pepper. Dredge the chicken in the seasoned flour, shaking off the excess. In a large fry pan over medium-high heat, warm 2 Tbs. of the olive oil until very hot but not smoking. Working in batches as needed to avoid crowding, add the chicken and cook, turning once, until golden brown on both sides and opaque throughout, about 4 minutes per side. Transfer to a plate and set aside.
Return the pan to medium-high heat; do not wipe the pan clean. Melt 1 Tbs. of the butter with the
remaining 1 Tbs. olive oil. Add the garlic and artichoke hearts and saut just until the garlic is soft, about 1 minute. Stir in the wine, scraping up any browned bits on the bottom of the pan. Bring to a simmer and cook until the liquid is reduced by half, about 3 minutes. Stir in the broth, lemon juice and capers. Reduce the heat to medium, bring to a gentle simmer and whisk in the remaining 1 Tbs. butter. Cook, stirring occasionally, until the sauce thickens slightly, about 5 minutes more. Stir in the parsley. Taste and adjust the seasoning.
Return the chicken to the pan and turn to coat each piece with the sauce. Cook just until the chicken is warmed through, about 2 minutes. Serve immediately. Serves 6.

For more fresh ideas about how to prepare chicken, whether for a
quick family meal or an impressive weekend spread, check out our
Chicken Night: Dinner Solutions for Every Day of the Week.
Wine Pairing This dish pairs well with soft, minerally, medium-full-bodied whites like the 2013 Drnberg Endlos Grner Veltliner, Nieder?sterreich Reserve from ourWine Club.