The 55 Best Valentine Gifts for Him
May 08, 2019
Valentine's Day is the perfect time to give your man a gift, but what if you don't know what to get him? We know that finding a romantic gift for him can be tricky, so we're here to help!
Whether your guy is athletic or techie, a family man or a total foodie, we've curated the perfect gift for him. Simply choose his personality type and the amount you want to spend, and our generator will give you Valentine's Day gift ideas that he's sure to love.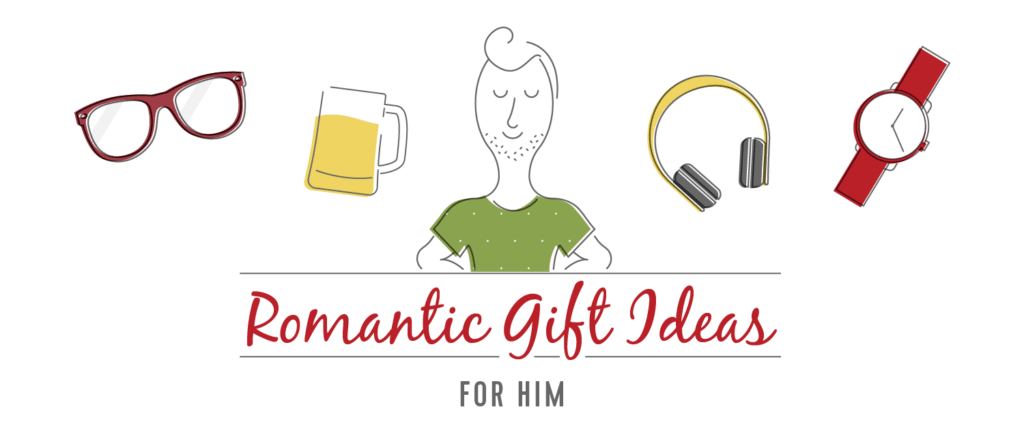 Terry Robe
Make this soft robe part of a romantic home spa day, complete with massage!
Bottle Opener
Customize this cool beer opener with a pet name you two share.
Canvas Leather Travel Cord and Case
This canvas case keeps his cords out of knots. Add a cheeky note that says "I'm tangled up in you."
Organic Snacks Gift Box
If the fastest way to his heart is through his stomach, this snack box will leave him starry-eyed.
Carved Heart Art Canvas
Recapture that youthful puppy love feeling with this art piece.
Gourmet Popcorn
Gourmet popcorn + rom-com + red wine = the ultimate Valentine's movie night!
Keep it Chill Stemless Wine Set
Use these high-tech wine glasses for a flirty night in.
Travel Destination Maps
This custom map set comes with pins to plan his travels. Use them to plot your next romantic getaway!
Simply Beer Snacks Basket
Gift this snack set with bags of candy hearts. The perfect Valentine's treat!
Monogram Wooden Watch
Give him this classy watch with a note that says you'll adore him 'till the end of time.
NFL Sports Love Wood Wall Plaque
Say I love you in the language he speaks best: football. Bonus points if you follow up with a flirty backyard game!
6 Months of Plants
Let these plants be a symbol of your always-growing love.
His and Hers Pillowcases
Show him you love nights in together with this cozy pillowcase set.
Picnic Backpack
Taking him on a Valentine's picnic? Make it even more magical with this couple's backpack.
Personalized Map Pin Wall Art
Commemorate the spot you first kissed with this custom map pin. So cute!
Personalized Hometown Puzzle
Long distance valentine? This puzzle will make him feel close to home. Tip: Write sweet nothings on the back of each piece.
Monogram Artisan Candle
These monogram candles have serious romantic dinner vibes. Use them for a date night in.
Beer Mug
This sports fan mug will appeal to his rugged side, but that doesn't mean it can't be romantic! Fill it with candy hearts before giving it to him.
Mr. and Mrs. Mug Set
If your valentine is also your husband, gift him this sweet mug set. Plan a flirty coffee date to go with it!
Shaving Kit
A note that says " you clean up well, valentine" adds flirt factor.
A warm scarf
If you know how to sew, stich a sweet sentiment into the corner of this toasty gift.
A weekend away
A B&B in the countryside will always be an enchanting choice.
Gourmet chocolates
Give him a box of chocolates, but remind him that he's sweet already!
Cologne
Nothing's as sexy as a guy who smells great. Cologne will always be a romantic gift!
Sunglasses
Get your valentine a pair of shades and tell him he's the apple of your eye!
Luggage
Get your traveling man a nice suitcase. Fill it with love notes & candy.
Framed Photo
He'll love a cute picture of you two. Write a sweet inscription on the back to make it special.
A heartfelt letter
Hide a lovey-dovey letter somewhere he won't expect it!
Dinner at a nice restaurant
Make your night out flirty and over the top by buying him a boutonnire.
A gift card for his daily grind
Sneak a gift card for his favorite cafe in his wallet. Attach a heart shaped sticky note that says "I love you a latte!"
Tickets to a concert
Get him concert tix. Promise that you'll slow dance with him on the accoustic songs.
A bottle of champagne
Champagne makes for a passionate night. Tie it with a red bow to up the flirt factor.
New sports gear
Your athletic guy will adore new gear. Spritz it with your perfume so he always thinks of you.
Art supplies
Buy your artsy man craft supplies. Use them to make each other handmade valentines!
Beer making kit
Get your beer lover a cool kit. Cook a candlelight dinner to go with his homemade libations.
Loungewear
Give him something comfy to crash in: perfect for your rom-com and cuddle sesh.
Personalized passport holder
Make this classy gift heart-worthy with an affectionate inscription.
Board game
Why not bond over a classic board game? Play with a bottle of wine and see where the night takes you.
Headphones
Make sure there's a romantic playlist to go with this classic guy gift!
Running Shoes
Put a note on the shoe box that says "you've been running through my mind!"
Camping Trip
Take your valentine on a picturesque camping trip. Make it clear that you'll be cuddling by the fire.
Camera
Gift him a quality camera. Create a gallery of your loveliest couple photos!
Book
Get him a book on his favorite subject. Slip a love poem between the pages and wait for him to find it.
Sports memorabilia
Matching couples jerseys are a total touchdown.
BBQ tools
Get your foodie new BBQ supplies. While he grills, set up a romantic spot to eat under the stars.
Hat
Get your love a stylish new hat. Take him on a romantic night out to show it off.
Wallet
Gift him a good quality wallet, but don't forget to sneak a love note inside!
Whiskey
Gift him top-shelf liquor tied with a velvet bow. Follow up with a flirty drinking game!
A cooking class
Buy a cooking class for you and your valentine, then go home and make a candlelight meal.
Gardening tools
If your love is into gardening, make sure he has the best tools. Gift them with a bouquet of roses to make it sweet.
Donuts
Show your love by bringing him donuts. Pink frosting and red sprinkles required!
A photo quilt
Cozy up your man's cave with a quilt of cute couple pics.
Army Knife
An army knife is a classic guy gift. Have it engraved with a sweet saying to make it Valentines-worthy.
Custom candy hearts
Personalize candy hearts with his name. Slip them in his coat pocket to find on Valentine's morning.
Video game
Instead of movie night, make it a romantic video game night. Don't forget the wine and chocolate!
Now that youve found the perfect personalized Valentine's gifts for him, its time to think about the ladies in your life. If you need some inspiration on what to bring to your Galentine's Day celebration,?browse our gifts for her?or head to our romantic gifts for her generator for inspiration. Have a lovely Valentine's Day!