The 40 Best Valentine Gifts For Her
June 28, 2019
Whether you've been with your girl for two months, two years, or even a lifetime — a romantic gift never goes unnoticed. The key to choosing a romantic gift for her is to simply give her a gift that suits her personality. There are many gift options ranging from an extravagant weekend getaway to a pretty accent for the home.?Consider something edible by using a flowers and chocolate delivery service for the perfect paired gift. Whatever Valentine's gifts you choose, just make sure you do it with love.
---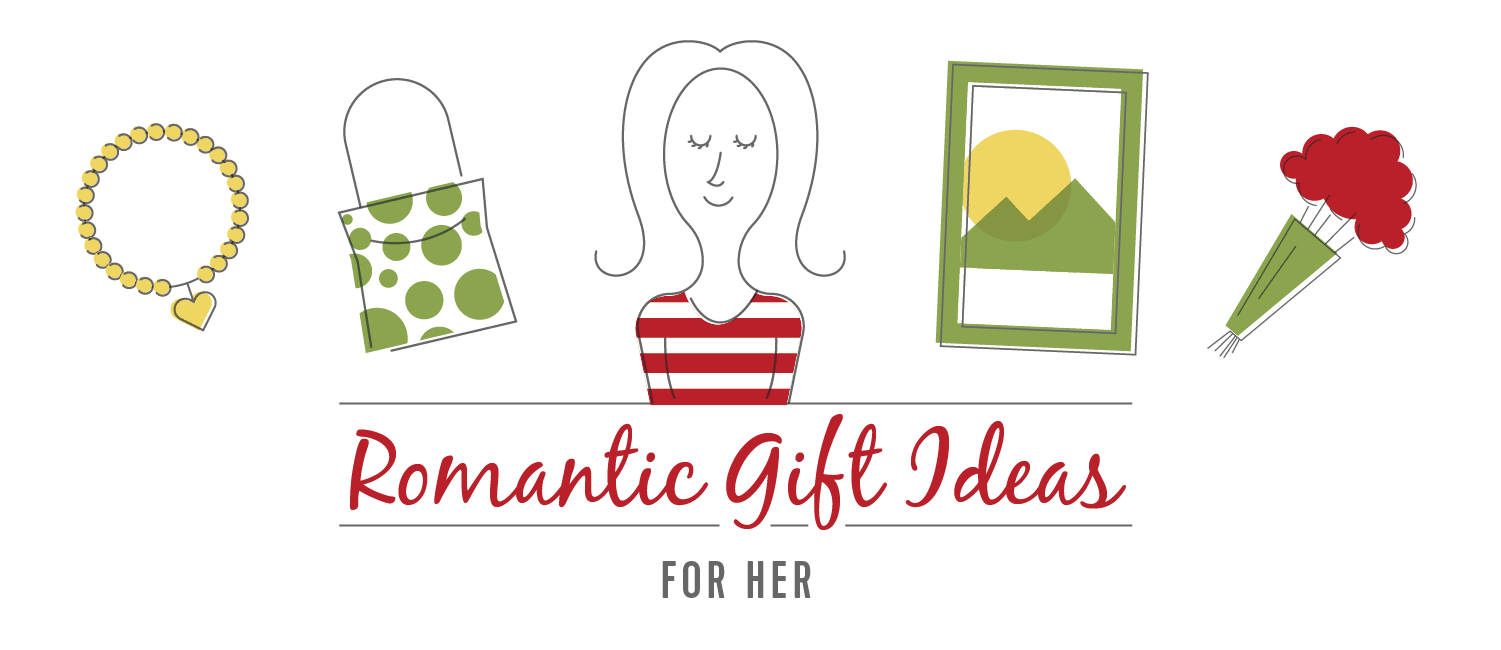 ---
Ice Bucket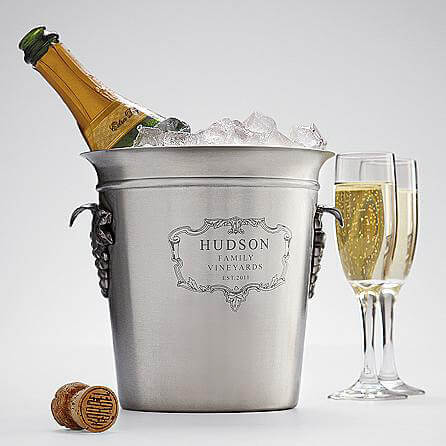 Plan a beautiful dinner for her and pop the champagne. Personalize this ice bucket with your last name and enjoy it every anniversary.
Couple's Key Dates Pillow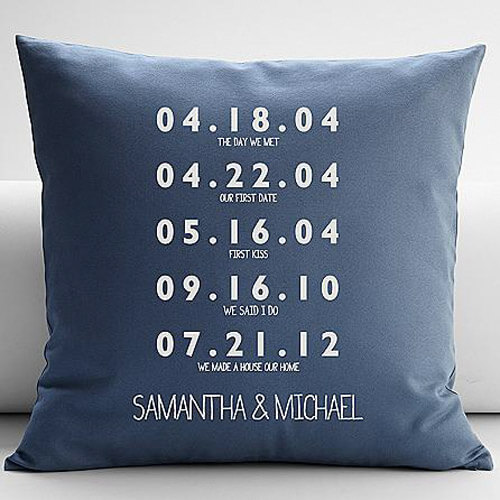 She may think you forget every important date, show her how important they are to you as well. This couple's key date pillow will make her smile and reminisce.
Vintage Lock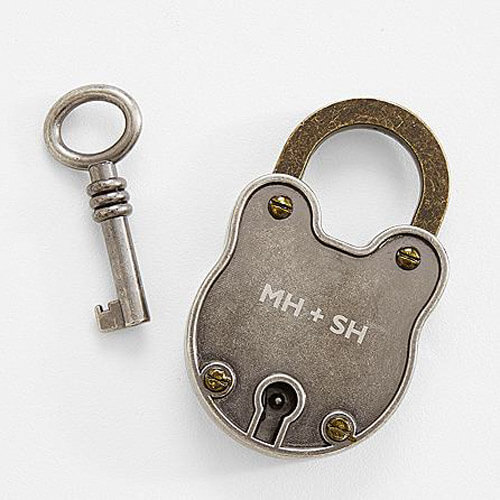 Sweep her off her feet with this beautiful vintage lock, inspired by Paris' Pont Des Arts.
Long Strand Pearl Necklace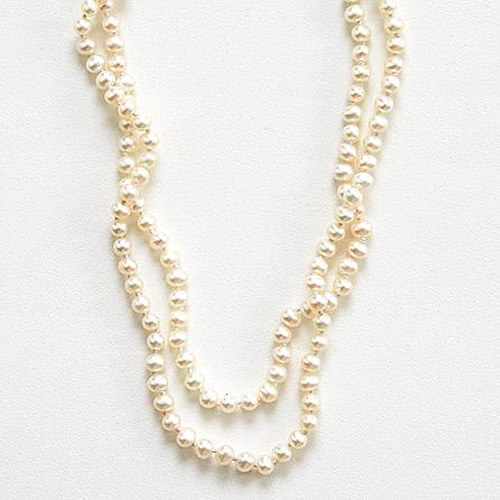 Pearls are classic and elegant. Get this long strand pearl necklace to go with her personality.
Soul Mate Glass Block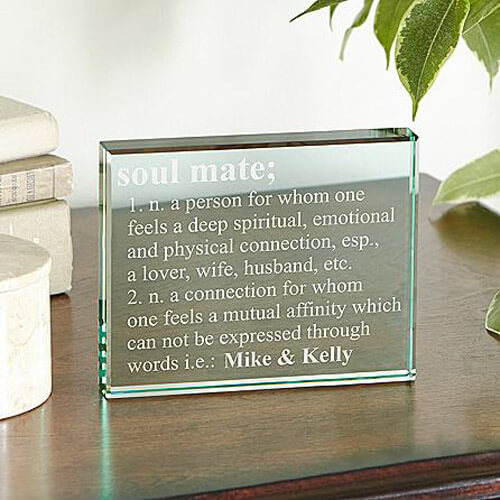 This glass block is perfect for her desk or her home and will bring a smile to her face.
Infinity Love Bracelet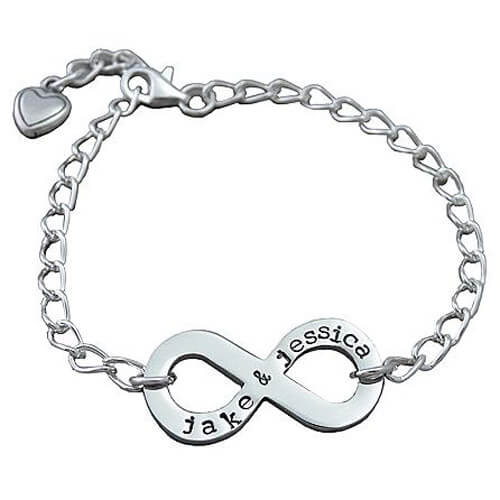 Show her you love her forever with this infinity love bracelet, accented with a romantic dangling heart. A keepsake that will make her smile for years to come.
Personalized Scent
There are millions of perfumes out there, but how romantic would it be to create her very own scent?
Couple's Key Chain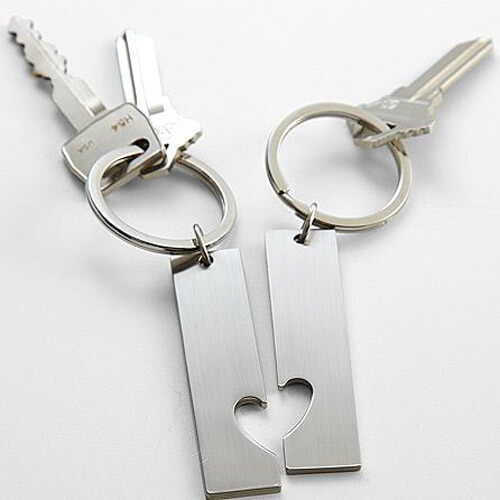 Keys are used every day, so everytime she looks down at this couple's keychain, she'll be reminded of you!
Wall Art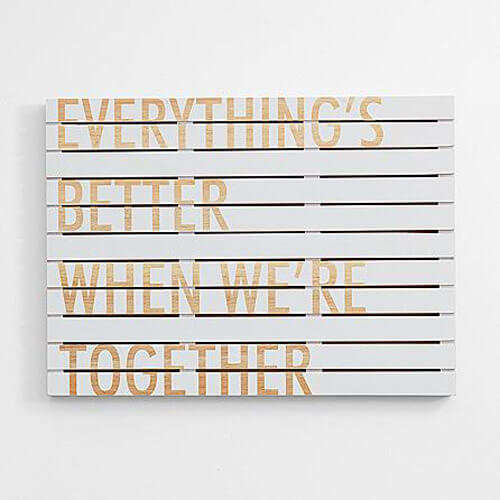 Sometimes simple gifts are the best gifts. This can hang in her room, so that she is reminded how much she is loved.
Turntable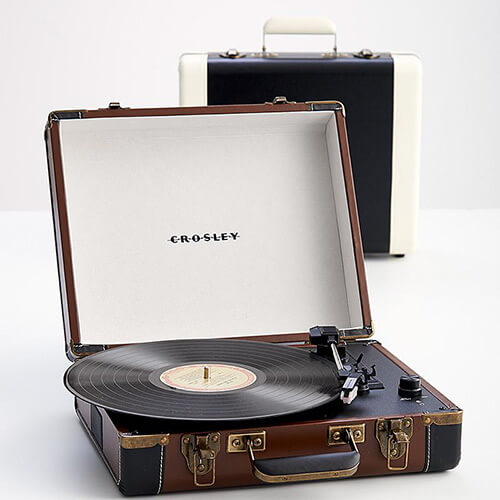 Pair this turntable with some of her favorite albums and you'll be dancing all night long!
Reasons I Love You Chalkboard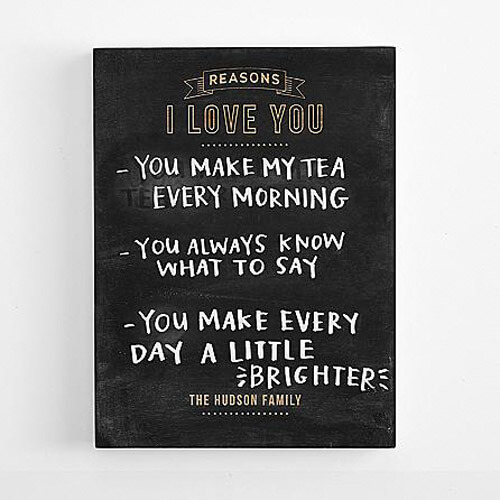 There are a million reasons why you love her, why not tell her on this "reasons why I love you chalkboard".
Picnic Travel Cooler
Fill this cooler with her favorite wine and snacks and plan a date for the both of you under the warm sun.
Couple's Wood Diagram Cutting Board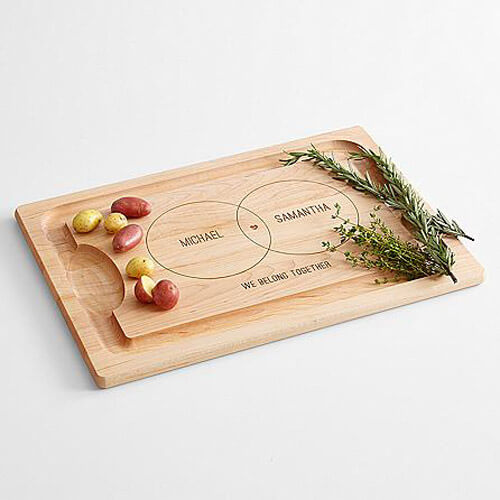 If you both like to cook together, surprise her with this couple's cutting board.
Stemless Glass Wine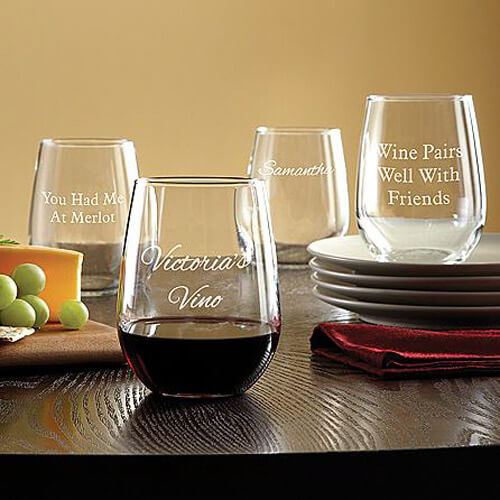 If you have an important date or quote, write it on this stemless wine glass -- for extra romance, include her favorite wine.
Apothecary Gift Set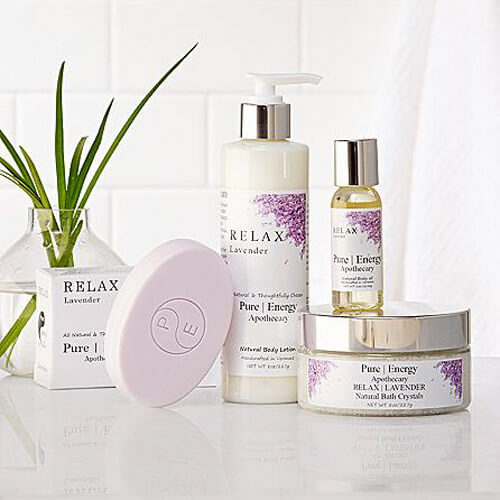 Help her relax in lavender fragrance with this apothecary gift set which includes bath crystals, soaps, oil and body lotion
Candles
One can never have too many candles. Perfect for every room. Pick her favorite scent.
Flowers
Think outside the box and get her a different flower for every month you've been together. The result will be a beautiful and very colorful bouquet!
Weekend Getaway
A wine tasting, adventurous or foodie weekend will make the girl in your life smile from ear to ear.
Handbag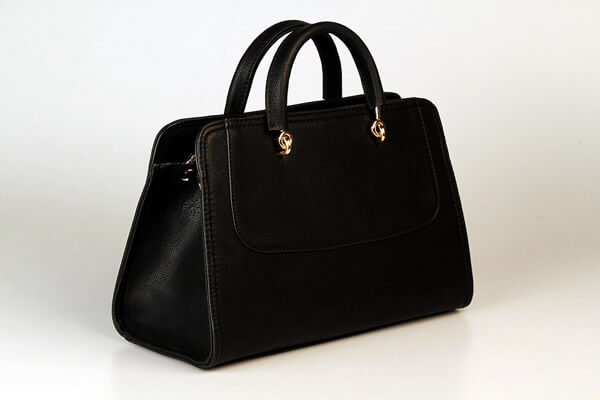 It may not seem romantic at first, but if you get her a bag she has mentioned or pay attention to her style, she will be blown away.
Sleepwear
Whether you choose sexy lingerie or comfie cozies, she will love that you took the time to pick these out.
Picture Frame
A beautifully framed pic is truly a classic gift your lady will enjoy -- perfect for her desk or home.
Plane Ticket
If your lovely gal is long distance, surprise her with a plane ticket to come see you!
Lipstick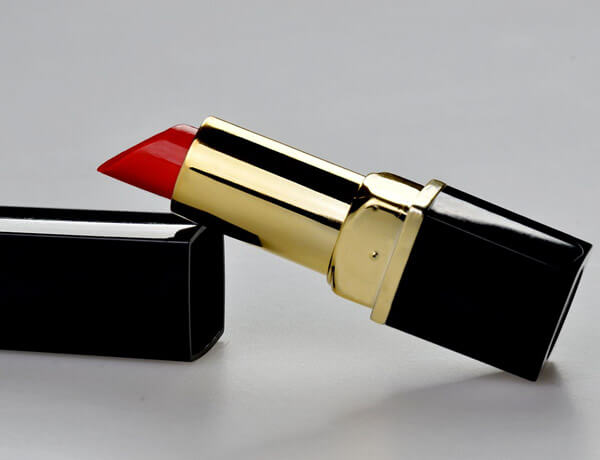 There's nothing sexier than red lipstick. Pick a shade that is perfect for her.
Poem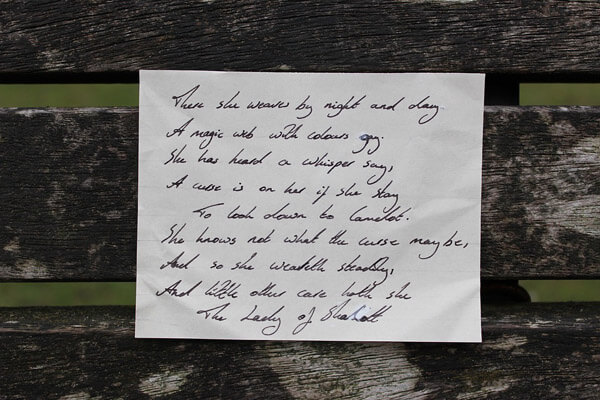 You cannot get more personal than this! Perhaps it's about the first day you met or the day you married her.
Sunset Cruise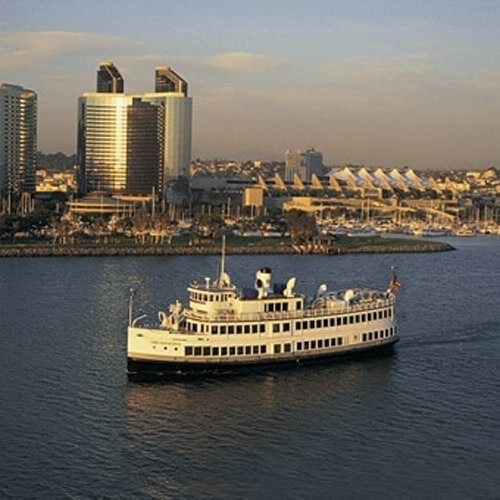 A dinner, brunch or sunset cruise will set the mood perfectly. Give her a lasting memory.
Picture Album
With all the technology in the world, we forget the simple things like a printed photo. Create an album for her with her favorite pictures and places, so that she can reminisce.
Staycation
Don't have time to jet out? Plan a fun night in your city. Perhaps a tour, a nearby winery and a cozy little bed and breakfast.
Watch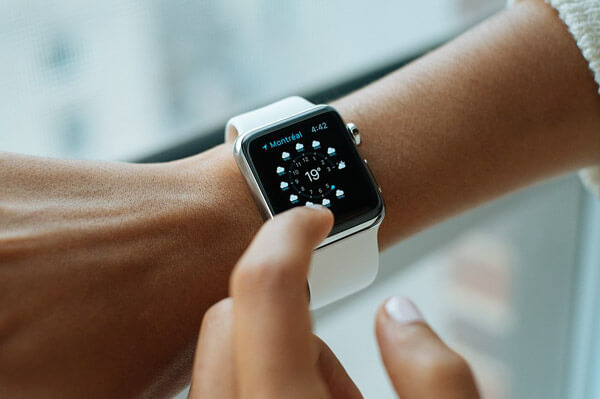 A beautiful gold or smart watch is the perfect gift any day of the year. Engrave a thoughtful message on it as a sweet reminder.
Vinyl
If you have a favorite song or artist, a vinyl record is the perfect nostalgic gift.
Dessert
Does she love cupcakes, brownies, or a special treat from a special place? Wrap it up and personally bring it to her. Make sure you get two!
Love Certificates
Make fun coupons with messages like "will make dinner" or "will go wash car". It can get as simple or extravagant as you'd like.
Photo Shoot
Plan a day of pampering, makeup and hair and hire a photographer. It can be individual or couple's!
Scarf
Protect your loved one from the winter's cold with a beautiful cashmere scarf. Pick out her favorite color.
Wallet
Help her stay organized with a leather wallet. If you find one that holds her phone, even better!
Now that you've seen all the options available, will you go with simple or extravagant? Either way, she will be thrilled! If you still need more ideas, head on over to our?romantic ideas for her?and personalize the perfect memorable gift. If you still need more ideas, check out these flowers for Valentine's Day or head on over to our romantic ideas for her and personalize the perfect memorable gift.