Ros Sangria: The Best Make-Ahead Party Drink of All Time?
May 18, 2019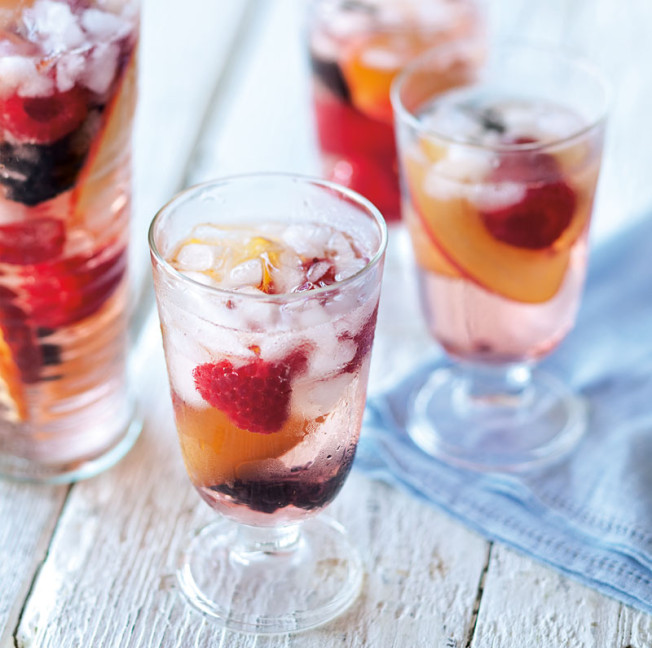 This stress-free, make-ahead twist on the Spanish staple of sangria makes for the perfect warm-weather refreshment.
You may be most familiar with its blood-red and ivory-white versions of the drink, since sangria's name derives from the Spanish word for "blood." But inexpensive ros lends a certain glamour to this drink. We'd be hard-pressed to find a cocktail springier and brighter than this combination of ros, Cointreau, brandy, fresh raspberries, and fresh citrus juices. (Haven't had ros and grapefruit juice together before? Just trust us: It works!)
Best of all, this recipe is super adaptable. If you're more of a peaches-and-blackberries sort of fruit person, swap those in instead. And don't spend too much on the base bottle of ros itself. Think "cheap and cheerful," but not too dry.
Mix everything up in advance, stash it in the fridge, and keep it chilled all afternoon on a day when you're expecting weekend guests. Sure, you could hand people a frosty beer when they stop by, but this sangria is next-level refreshing.
Ros Sangria with Citrus and Raspberries
Ingredients
1 bottle (750 ml) ros wine1 cup (8 fl. oz./250 ml) fresh grapefruit juice1/2 cup (4 fl. oz./125 ml) fresh orange juice3 oz. (90 ml) Cointreau3 oz. (90 ml) brandy2 oz. (60 ml)
simple syrup
1 small lemon, cut into 1/2-inch (6-mm) slices1 orange, cut into 1/2-inch (6-mm) slices4 cups (1 lb./500 g) raspberries3/4 cup (6 fl. oz./180 ml) soda water
Directions
1. In a large pitcher, combine the wine, grapefruit juice, orange juice, Cointreau, brandy and simple syrup and stir until blended. Stir in the lemon and orange slices and the raspberries. Refrigerate for at least 1 hour or up to 8 hours.
2. Pour the soda water into the sangria and stir to combine. Pour the sangria into ice-filled wine glasses. Serves 8.

For updates of our favorite classic cocktails infused with today's fresh ingredients, check out our book Cocktails: Modern Favorites to Make at Home, by the cooks of the Williams Sonoma Test Kitchen.