Master This Dish and You'll Never Want to Order it Out Again
March 20, 2019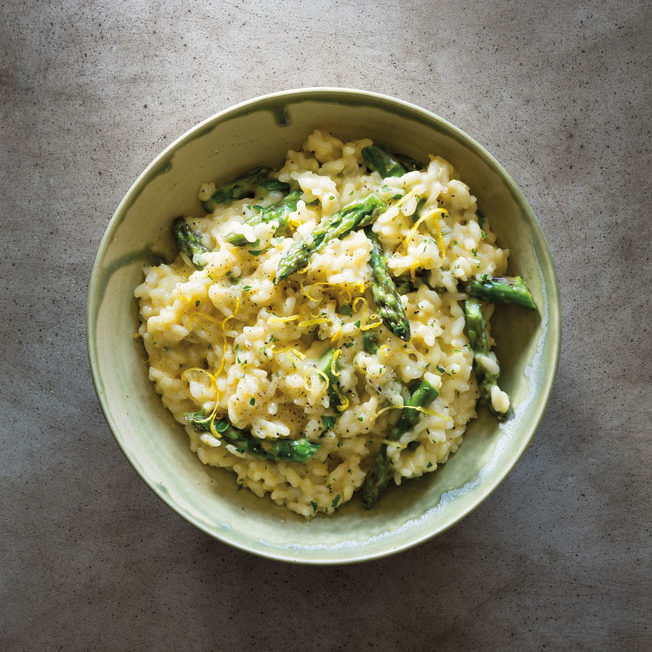 Risotto is probably one of those dishes you only order when you're out. That means you're at the chef's mercy. Does she know to keep all the liquids warm? Will she toast the little grains of rice beforehand? And will she use top-notch asparagus and freshly zested lemon if she's making the gorgeous risotto shown here?
It's time to take matters into your own hands on the risotto front, and start making your own at home. It's not nearly as hard to master as you might think, and it's enormously gratifying to cook it well and quickly for a weeknight supper. The devil is in the details of its preparation, so just make sure to wait until you have about 45 minutes of hands-on time to spare.
The perfect spring dish with extra-tender asparagus front and center, lemon is its ideal foil. Though it's an Italian dish, French elements make cameos here to great effect. Think: white wine, thyme, shallots, butter and a just a splash of heavy cream.
The result of time well spent over the stove is the sort of guest-worthy meal you could break out on a Saturday, too. Give your vegetarian friends a break from pasta primavera; they'll love you for it. And know that this is the sort of entre that carnivores swoon for, too.
Creamy Lemon Risotto with Asparagus
Ingredients
1 lb. (500 g) asparagus, ends trimmed1 Tbs. unsalted butter1 Tbs. extra-virgin olive oil1 shallot, finely chopped3 fresh thyme sprigs2 cups (14 oz./440 g) Arborio or Carnaroli riceFine sea salt and freshly ground pepper1/4 cup (2 fl. oz./60 ml) dry white wine6 cups (48 fl. oz./1.5 l) chicken broth, heated to a simmer2 tsp. finely grated lemon zest1/2 cup (4 fl. oz./125 ml) heavy cream1/2 cup (2 oz./60 g) grated Parmesan cheese2 Tbs. fresh lemon juice2 Tbs. minced fresh flat-leaf parsley
Directions
1. In a microwave-safe bowl, combine the asparagus and 2 Tbs. water. Cover loosely with plastic wrap and microwave on high until the spears are crisp-tender, about 2 minutes. Alternatively, place the asparagus in a steamer basket and set over a saucepan of simmering water. Cover and steam until the spears are tender-crisp, 3 to 4 minutes. Cut into 1-inch (2.5-cm) pieces and set aside.
2. In a large, heavy saut pan over medium heat, melt the butter with the olive oil. When the butter has melted, add the shallot and cook, stirring often, until starting to soften, about 5 minutes. Stir in the thyme sprigs and cook until the shallot is softened and translucent, about 3 minutes longer.
3. Add the rice and 1 tsp. salt to the pan, stirring to coat the grains of rice with the butter and oil. Raise the heat to medium-high, pour in the wine and stir until absorbed. Reduce the heat to medium and add a ladleful of the hot broth. Cook, stirring often, until the broth is absorbed. Reduce the heat to medium-low if necessary to maintain a gentle simmer. Continue to cook the risotto, adding the broth a ladleful at a time and stirring until it is absorbed, until the rice is tender but still pleasantly chewy, about 20 minutes.
4. Stir in the reserved asparagus, lemon zest, cream, and cheese. Then stir in the lemon juice and a final ladleful of broth to achieve a creamy texture. The risotto should not be too stiff or too runny; it should mound softly on a spoon. Sprinkle with the parsley, season with pepper and serve immediately. Serves 4.

`
Find more recipes like this one in our enticing collection of authentic dishes made modern, Rustic Italian, by Domenica Marchetti.