How to Write a Thank You Note
March 25, 2019
Around the holidays, were reminded how thoughtful our friends and families are. They host parties, provide housing for out-of-town guests, and give awesome gifts. With so many forms of communication, its easy to send a quick email or text to thank people for their generosity, but taking the time to write a handwritten note is so much more meaningful.
Thank you notes show your friends and family that you appreciate what they did for you, and that you took the time to sit down and and reflect on their kindness. However, writing a thank you note can be tough. What do you say? Is your note too short? Are you rambling? Do the words show how appreciative you actually are?
To help you craft the perfect note, weve put together some tips and examples on how to write a thank you note. There are six steps you should follow when crafting your thank you: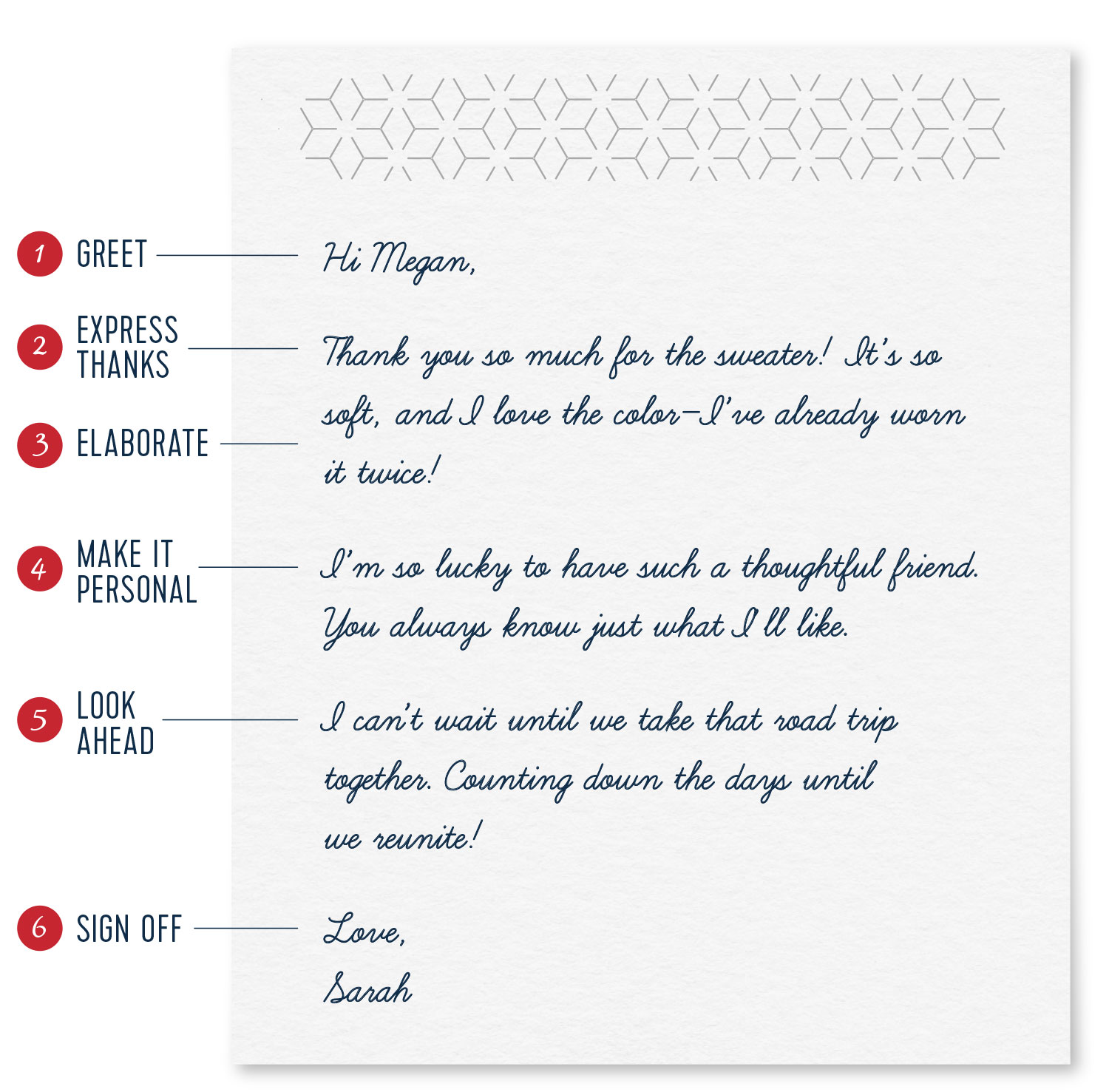 Greet

Start your note off by addressing the recipient. Make sure that their name is spelled correctly. If you are thanking a whole family, address each member.

The greeting can be formal or casual depending on your relationship with the recipient. Here are a few examples:

Dear – This is the most formal greeting. It is best used if you are addressing someone that you respect (like an older relative) or someone you arent as close to.Hi – This is a more conversational greeting. Its commonly used with people you are more comfortable with.Hey there – This is the most casual greeting. It can be used when thanking close friends and family.

Express thanks

Tell the recipient what youre thankful for. There are many ways you can express this beyond just saying thanks.

Thank you for ________________.I so appreciate _______________.Im grateful that _______________.

Elaborate

Explain what you like about the gift or why you enjoyed the event they hosted. If they gave you money or a gift card, explain what you plan to do with it. Make sure you show the thank you note recipient that you appreciate how thoughtful they were.

I really like how _____________________.Im going to use this for _______________.I had so much fun ___________________.

Make it Personal

Go a step further and remind them what you value about them, not just the gift they gave or the event they hosted. If you have a lot of history with the thank you note recipient, you can recall a memory that the gift reminded you of.

Im so blessed that you _______________________.Your gift reminded me of that time __________________.Youre always so ________________________.

Look Ahead

Let them know that youre thinking of them and looking forward to when you can reconnect. You can mention when you hope to see them again or extend an invitation of your own.

I hope to see you when ________________________.Lets get together soon and _____________________.I cant wait until _______________________.

Sign off

End with a warm salutation and a signature. The salutation can vary depending on how close you are to the recipient.

Sincerely – This is not as personal as other salutations, and is good for people you arent as close to.Thanks again – This gives you the opportunity to restate your thanks, and is a good closing to any thank you letter.Love always – This is the most affectionate closing and should be used with close family members and friends.

Reasons to Send a Thank You Note

It is polite to send thank you notes not just for gifts, but also for peoples help and hospitality, and after a job interview. According to a survey by AYTM, gifts and events are what people most commonly send thank you notes for. However, if you really appreciate someones help, dont hesitate to send them a note!


Thank You Note Dos and Don'ts

Before you get started, here are a few more thank you note tips. Remember, you dont have to write a lengthy thank you note to show your appreciation. A sincere, personalized note is just as meaningful.

Thank You Messages

Now that you know what a good thank you note consists of, youre ready to get started! If youre still not sure exactly how to express your thanks, weve put together thank you note examples. They are organized into four categories — general thank you messages, thank you messages for gifts, thank you messages for hospitality, and thank you messages for help — so you can find something thats just right for your note.

Thanks a million!Youre the best.You always know how to make me smile.Im so touched by your thoughtfulness.You made my day.Im blessed to have you in my life.I appreciate your kindness.Im so grateful for you.Thanks for thinking of me!From the bottom of my heart, thank you.

You always know just what I need.I love the ____________. It reminds me of ____________.I was so excited to get ___________________.You have such great taste!I cant wait to use __________________.Your ____________ made me feel so special!Your gift was so thoughtful. I love it!I cant thank you enough for ____________.

Thanks so much for hosting! I had a great time catching up.Thanks for inviting me!Your ______ was so much fun! Ill always remember __________.Im so happy that I could spend ________ with you.Thanks for making me feel right at home!You always throw such good ___________. Glad I could be part of it.I had such a wonderful time!I always have a blast when were together.

Im so grateful that ___________. I couldnt have done it without you.Thanks for taking the time out of your busy schedule.It was so nice of you to _______________.Thank you so much! I owe you one.Thanks for always being there when I need you.Thanks for your help! Im so lucky to have you in my life.Your help meant the world to me!You have no idea how much ___________ meant to me.