Here Are Seven Winning Winter Soups to Make This Week
March 18, 2019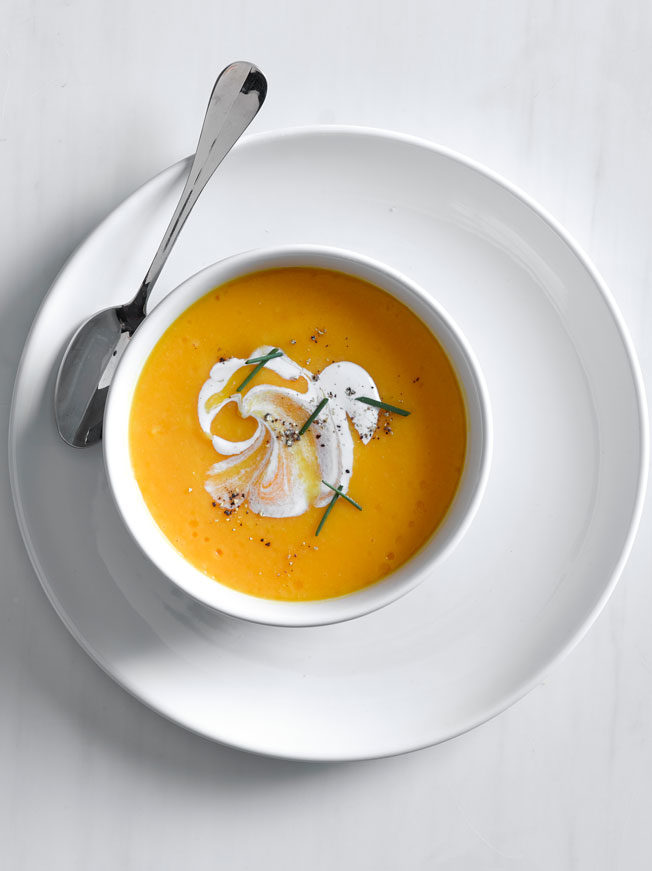 Soup is easier than ever to make thanks to modern technology. High-powered blenders and immersion blenders make it easy to concoct dreamily smooth soups, and slow cookers and pressure cookers make for (arguably) superior, simpler broths.
Here are seven tried-and-tested recipes we absolutely love. There are a few options for vegans and vegetarians, soups loaded with protein, a tasty lasagna soup that boggles the mind, and a carrot-ginger soup as pretty as a sunset. (You'll be posting all about it on Instagram.) It's time to get blending!
Chickpea and Turkey Meatball Soup

We love recipes that involves setting aside half for later, thus saving us on a harried weeknight! This is one of many such recipes on the site: Bite-size turkey meatballs are packed with fresh oregano, grated Parmesan, Panko and a bit of garlic. You can freeze one portion for a rainy (or franticno judgment!) day. A simple garlic, onion, chickpea and mustard greens broth is a tasty, aromatic foil to the plump meatballs.
Butternut Squash Soup With Crispy Prosciutto

Butternut squash, crisp prosciutto, and pears? Sign us up. We love that this recipe uses prosciutto just as a garnishone you could skip if pork isn't your thing. This recipe is straightforward. Roast the squash for the soup, blend it with butter, milk and ginger, and puree it with buttery pears. Top it with pear slices and bits of crunchy prosciutto, and it's just the thing to trick kidsor yourselfinto eating a vegetable-centric meal.
Carrot-Coconut Soup With Fresh Ginger

This sunny carrot-coconut soup is as pretty as it is delicious. It bursts with bright notes of ginger, orange, and carrot. Coconut milk lends it an unctuous creaminess, and a garnish of crme fraiche and chives take it to the next level. We could see serving big bowls of this with fresh bread for supper, or making it as a first course for guests. It's that lovely.
Cauliflower-Kale Soup with Crispy Kale Topping

Pureed kale may not sound foxy, but emerald-green and silky-smooth, it can be just stunning in flavor and presentation. This soup has a base of caramelized roast cauliflower and just enough olive oil for a creamy texture. A handful of pine nuts on top deliver the finishing crunch you want. This is a luxurious vegan dish.
Lasagna Soup With Ricotta and Basil

Love lasagna but don't want to deal with the layering of noodles and high maintenance it entails? Lasagna soup to the rescue. It's got all the flavors you cravegarlic, sausage, Parm, tomatoes, ricotta, mozzarella, basilbut you can prepare it in less than an hour. Pre-made sausages are key; you simply spin them with healthy spinach to make tiny meatballs for your soup. (We love, too, time-saving steps like using the same hot water to cook spinach and pasta.)
Barley-Leek Soup With Mini Chicken Meatballs

If you call the barley in this soup rice (with your fingers crossed behind your back), you might persuade a child to give it a go, especially when they see it contains meatballs. Sophisticated enough to please an adult palate, but with all the elements kids likechicken broth; meatballsthis recipe is adaptable for the whole family. (Maybe save that green thing garnish for just the adults' bowls!) If you haven't had mushrooms and chicken together for a while, this dish will remind you why you love that combo so much.
French Onion Soup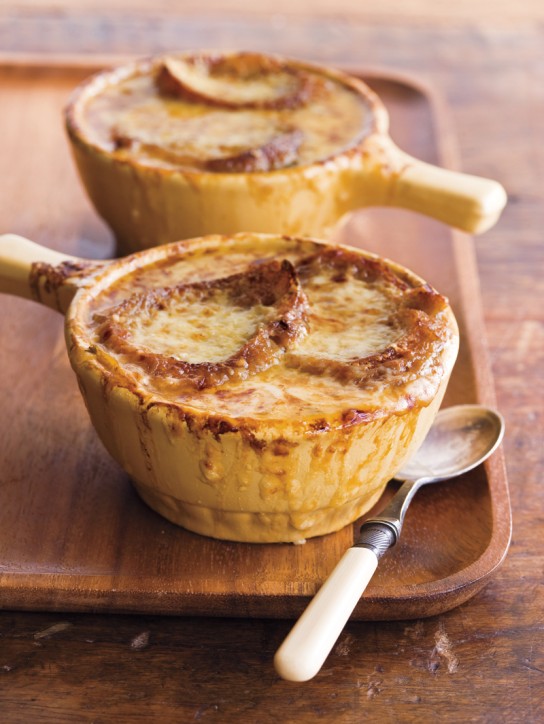 Have you not made French onion soup yet this winter? Time's a-wasting! Stunningly simple to prepare, this dish takes a moment to pull togethera little more than an hourbut most of that is hands-off time. If you're around the house anyways, it's easy. And boy, is it good: Fresh thyme, good beef stock and Gruyre, white wine, butter, and all the French flavors you crave show up here. (Plus, you can use up stale leftover baguette!) It's a showstopper of a meal that fits in one bowl, with gooey, lacy cheese that will haunt your dreams.