Free-Form Blackberry-Apricot Tart
July 08, 2019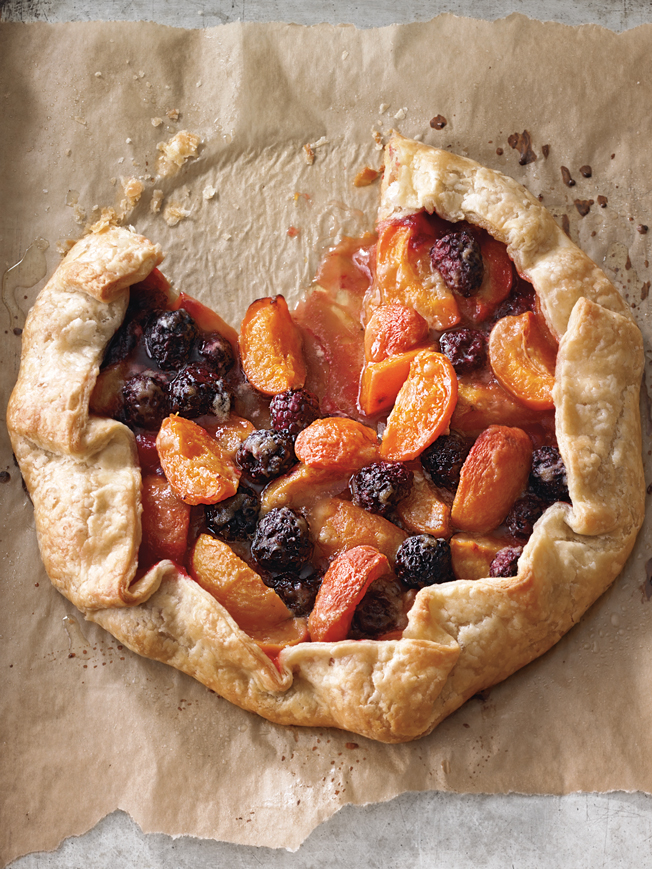 When apricots start arriving at the farmers' markets in the late spring, we like to take advantage of their brief season as often as possible, including with this simple dessert. Blackberries add a touch of sweetness to this beautiful tart.
Free-Form Blackberry-Apricot Tart
Ingredients
For the crust:
2 cups (10 oz./315 g) unbleached all-purpose flour, plus more for dusting1/2 tsp. granulated sugar1/4 tsp. fine sea salt3/4 cup (6 oz./185 g) cold unsalted butter, cut into 1/2-inch (12-mm) dice1/3 cup (3 fl. oz./80 ml) ice water1 lb. (500 g) fresh apricots, pitted and quartered1 cup (4 oz./125 g) blackberries2 Tbs. unbleached all-purpose flour1/3 cup (2 1/2 oz./75 g) firmly packed light brown sugarPinch of freshly grated nutmeg1 tsp. unsalted butter, cut into small pieces1 Tbs. half-and-half or whole milk
Directions
1. To make the crust, in a food processor, combine the flour, granulated sugar and salt and pulse to mix. Scatter the butter cubes around the bowl and process just until the mixture resembles coarse crumbs. With the motor running, drizzle in the ice water and process just until a ball of dough begins to form. Turn the dough out onto a lightly floured work surface and pat it into a disk. Wrap tightly in plastic wrap and refrigerate for at least 1 hour or up to overnight. Remove the dough from the refrigerator about 20 minutes before you plan to roll it out.
2. Preheat an oven to 375F (190C). In a large bowl, combine the apricots and blackberries. In a small bowl, stir together the flour, brown sugar and nutmeg and sprinkle over the fruit. Fold in gently.
3. On a lightly floured work surface, roll the dough out into a 15-inch (38-cm) round. Carefully transfer the dough round to a large baking sheet. Pile the fruit mixture in the center, leaving a border of about 2 inches (5 cm) free of fruit. Dot with the butter. Fold up the edges of the dough to create a pleated border, partially covering the fruit. Brush the crust with the half-and-half.
4. Bake the tart until the crust is golden brown and the exposed fruit is browned in spots, 30 to 35 minutes. Cut into wedges and serve warm. Serves 6.

`
Find more recipes like this one in our enticing collection of authentic dishes made modern, Rustic Italian, by Domenica Marchetti.