Buttermilk Fried Chicken
April 12, 2019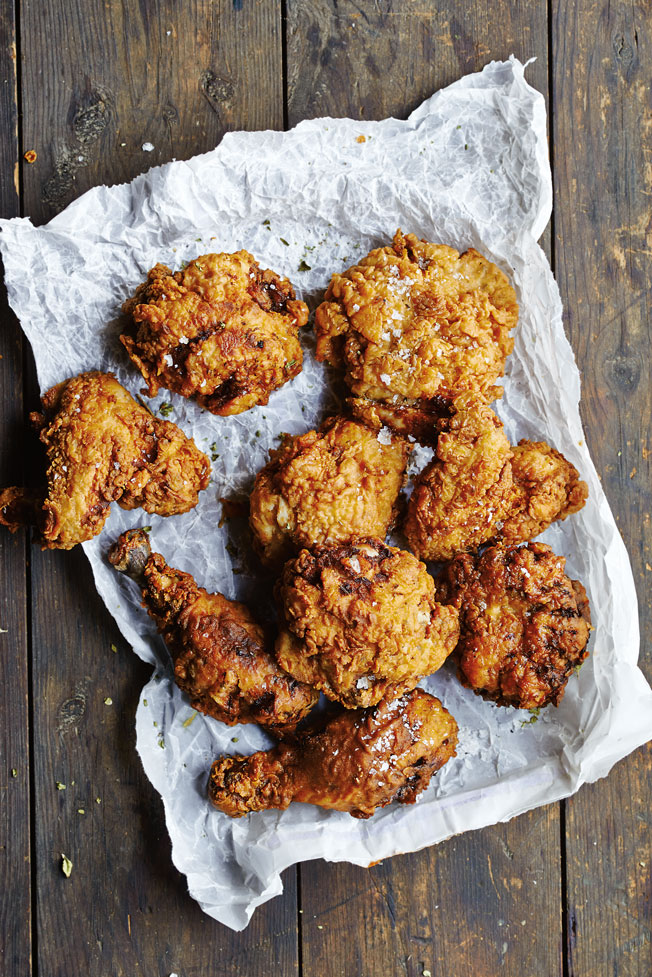 Happy National Fried Chicken Day, when we can all indulge ourselves in a big platter of crispy, tender, golden brown chicken. This version will disappear in a flash at any potluck or picnic. Immersing the chicken pieces in the buttermilk brine for several hours gives the chicken loads of flavor and helps keep the meat moist as it fries. The acid in the buttermilk also helps to tenderize the chicken.
Buttermilk Fried Chicken
Ingredients
4 cups (32 fl. oz./1 l) buttermilk1/3 cup fine sea salt2 tsp. dried oregano2 tsp. dried thyme2 tsp. dried rosemary2 tsp. dried sage1 tsp. granulated garlic1/2 tsp. cayenne pepper1 whole chicken (about 3 1/2 lb./1.5 kg)Canola oil for deep-frying1 1/3 cups (7 oz./220 g) all-purpose flour1 tsp. baking powder1/2 tsp. freshly ground black pepper
Directions
1. To make the buttermilk brine, in a large bowl, whisk together the buttermilk and 1/3 cup salt. In a mortar, using a pestle, crush together the oregano, thyme, rosemary and sage (or pulse in a spice grinder) until finely ground. Whisk the ground herbs, garlic and cayenne pepper into the buttermilk mixture. Cut the chicken into 2 thighs, 2 drumsticks, 2 wings and 2 breast halves, reserving the back and giblets for another use. Cut each breast half crosswise to make 4 breast portions, for a total of 10 chicken pieces. Add to the buttermilk brine, making sure that the chicken is submerged. (If it isn't, transfer everything to a smaller bowl.) Cover and refrigerate for at least 4 hours or up to 6 hours.
2. Pour oil to a depth of at least 3 inches (7.5 cm) into a large, heavy saucepan and heat over high heat to 350F (180C) on a deep-frying thermometer. Set a large wire rack on a rimmed baking sheet and place near the stove. Have ready a second rimmed baking sheet. While the oil is heating, in a large bowl, whisk together the flour, baking powder and 1/2 tsp. black pepper. Remove half of the chicken from the buttermilk brine, letting the excess brine drip back into the bowl. Add the chicken to the flour mixture and toss to coat evenly, then transfer to the second baking sheet.
3. When the oil is ready, in batches to avoid crowding, carefully slip the chicken pieces into the hot oil. The temperature will drop, but adjust the heat to keep the oil bubbling steadily at about 325F (165F). Deep-fry the chicken pieces, turning them occasionally with tongs, until they are golden brown and show no sign of pink when pierced at the thickest part, about 12 minutes. Using a wire skimmer, transfer the chicken to the rack to drain. Repeat with the remaining chicken. Serve warm. Serves 4.

Find tantalizing recipes for timeless favorites in Williams Sonoma
Comfort Food: Recipes for Classic Dishes & More,?by Rick Rodgers.