8 Mocktail Recipes to Celebrate Any Season
April 14, 2019
You hear the clink of a glass as the room begins to quiet gradually. Here comes a toast!
Raising a glass is the perfect way to celebrate any occasion. We make toasts, we give speeches and we drink with friends and family to commemorate lifes milestone moments. Alcohol and socializing go hand in hand, but what if youre looking for a festive refreshment without the booze?
A mocktail might be the perfect alternative. Its time to shake one up. Whos in?
Before we dive right into a few of our favorite mocktail recipes, lets clarify what a mocktail is.
What is a Mocktail?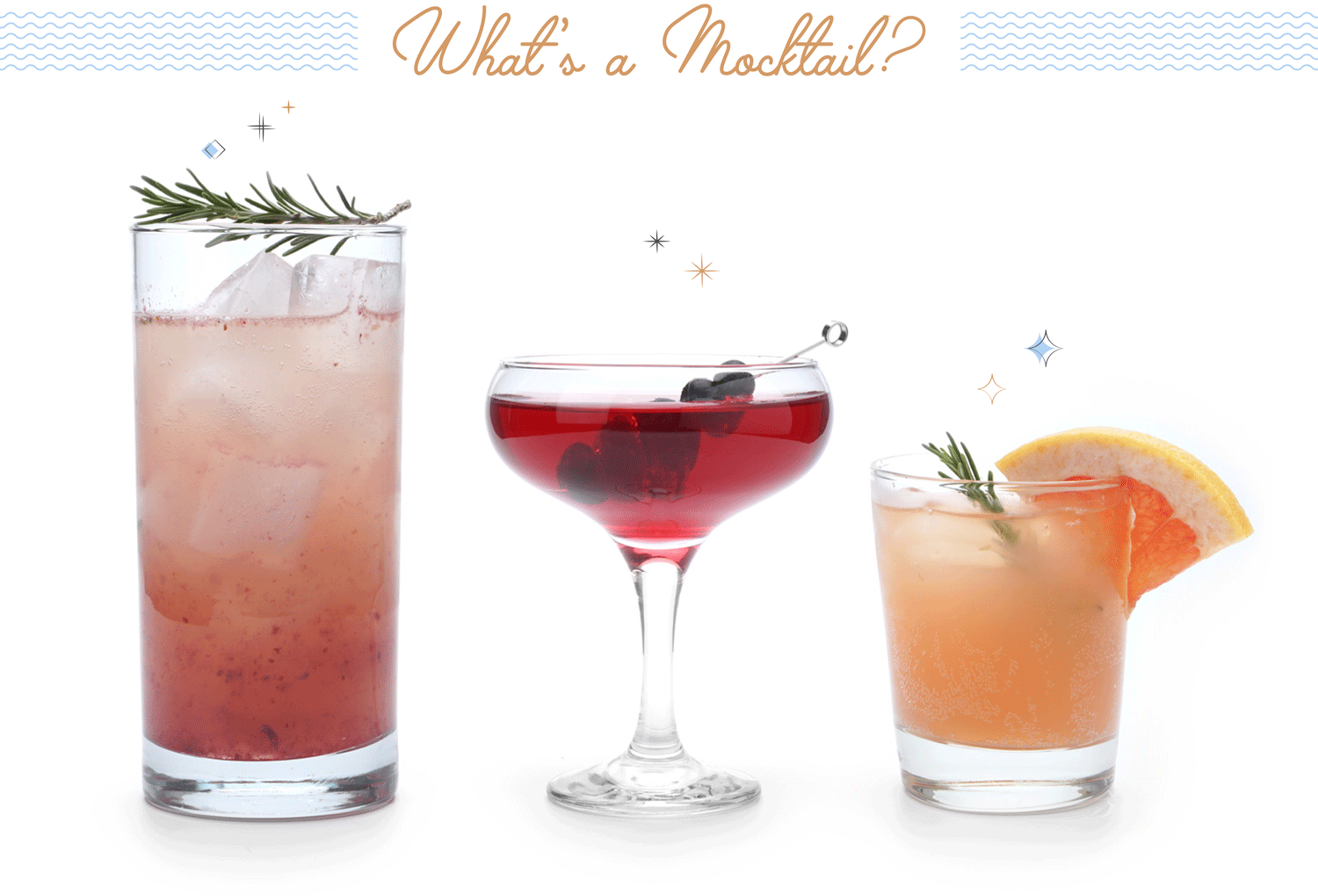 A mocktail is a non-alcoholic drink consisting of a mixture of fruit juices or other soft drinks. Dont let the non-alcoholic part discourage you, these beverages are anything but mock-worthy. With classy garnish and true cocktail flavors, youll be able to get everyone in on the fun.
Whether youre expecting a little one on the way, hosting an event with guests who prefer not to drink alcohol or are looking to avoid a headache yourself, these fun faux cocktails are just what youre looking for.
The best mocktails are the ones that offer your favorite flavors and taste as good as the real thing. To help you shake things up, weve curated a list of the best mocktail recipes for celebrating any season. Browse through the mocktail recipes below, save your top choices, grab your preferred glassware and get started!
Mocktail Recipes for Summer
Light, refreshing and sweet are all flavors that should be present in your summertime mocktails. Not only are these drinks a great way to cool down those hot summer days, but also celebrate a getaway.
Rosemary Blueberry Smash
The Rosemary Blueberry Smash is a lush summertime mocktail that will remind you of sand between your toes, sunkissed skin and vacation mode. This sparkling refreshment is sure to be the talk of any event!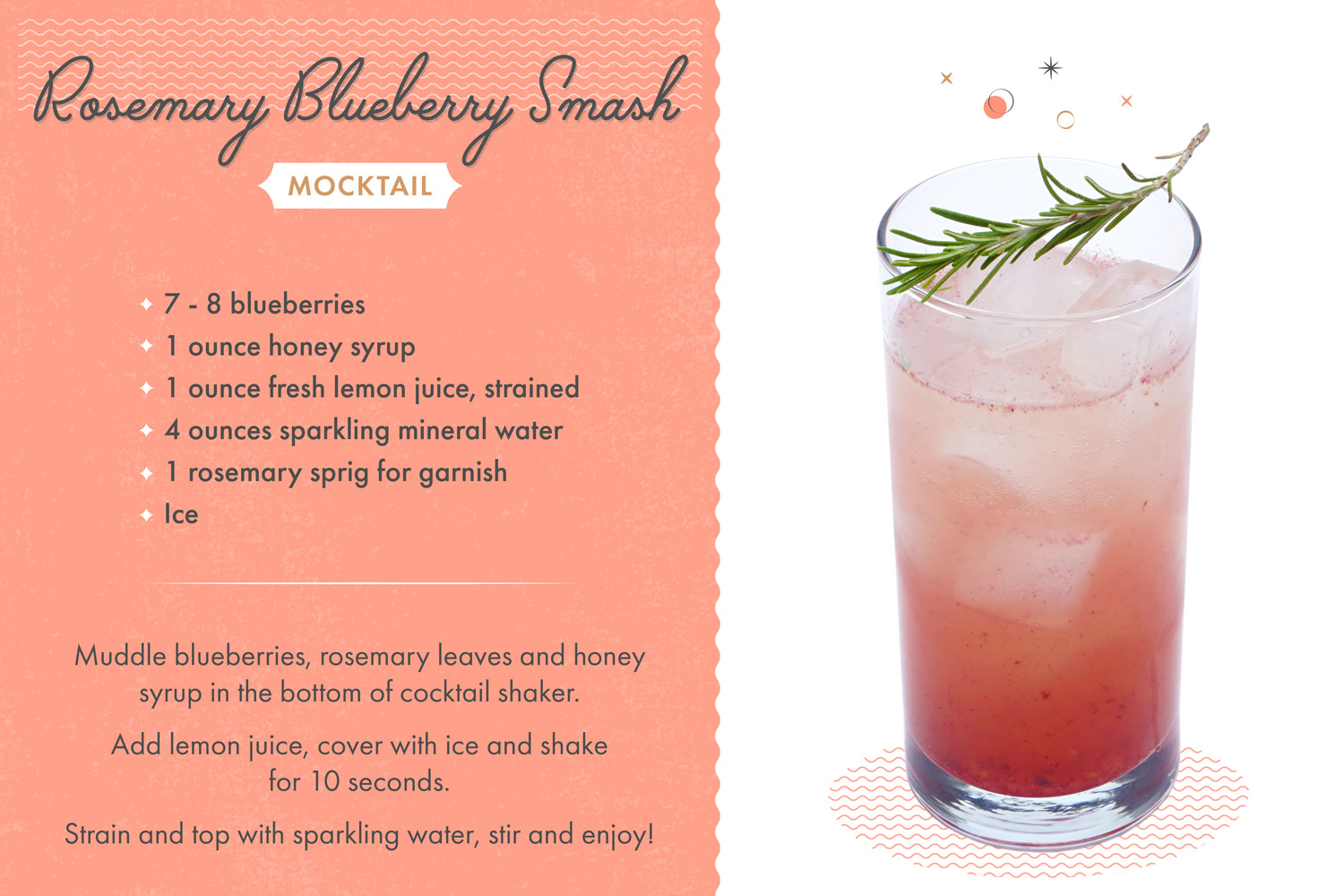 Serves: 1
Ingredients:
7-8 blueberries1 ounce honey syrup1 ounce fresh lemon juice, strained4 ounces sparkling mineral water1 rosemary sprig for garnishIce
Directions:?
Muddle blueberries, rosemary leaves and honey syrup in the bottom of cocktail shaker.Add lemon juice, cover with ice and shake for 10 seconds.Strain and top with sparkling water, stir and enjoy!
Coconut Cucumber Cooler
Escape to the islands with the Coconut Cucumber Cooler. Coconut water is not only trendy, but is also really good in a mocktail, who knew? These refreshing flavors are great for your next beverage menu and are the perfect replacement for standard soft drinks or juices. Whip up a pitcher of this tasty drink for your next summer party and dont forget to bring a personalized gift for the hostess.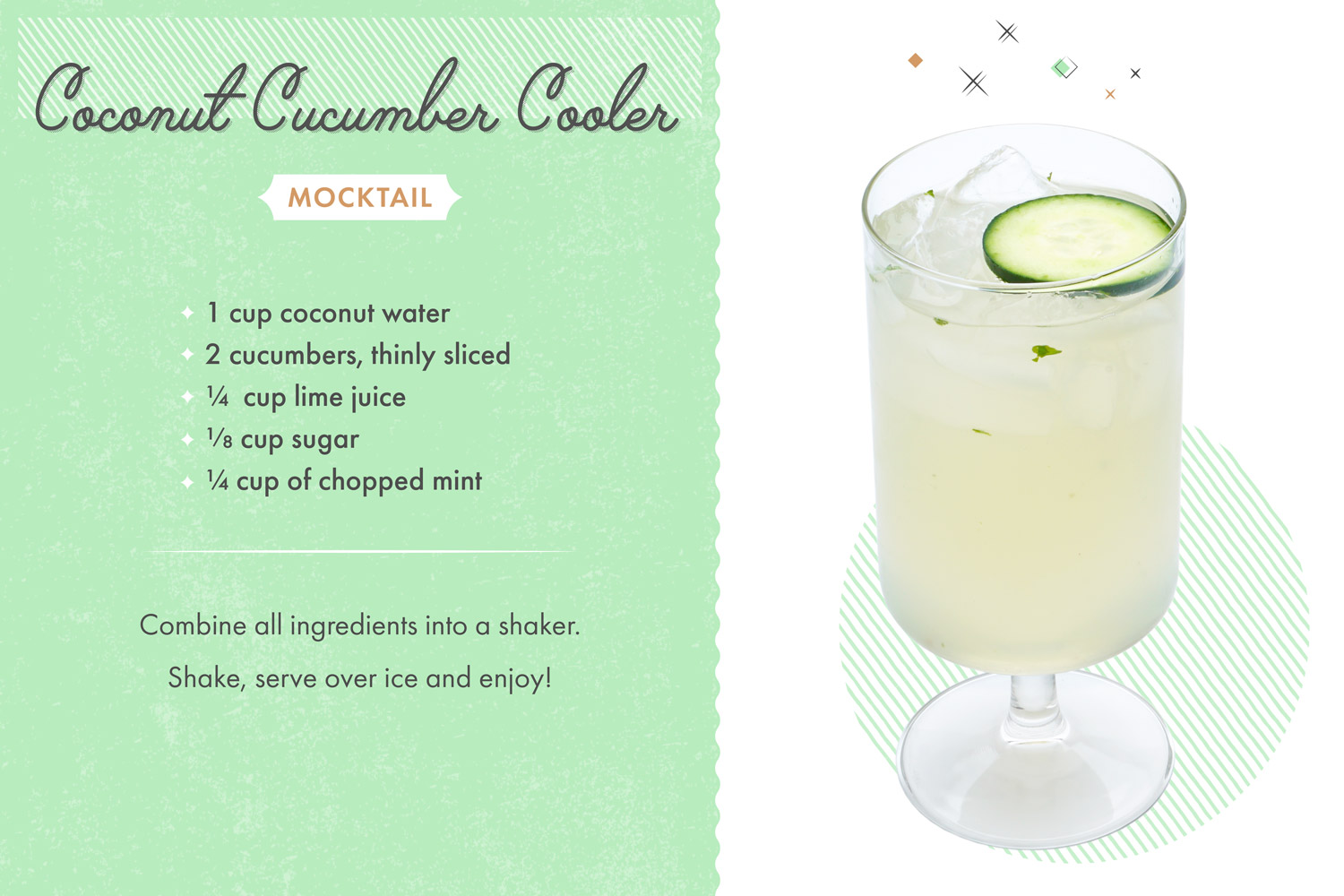 Serves: 1
Ingredients:
1 cup coconut water2 cucumbers thinly sliced? cup lime juice? cup sugar? cup of chopped mint
Directions:
Combine all ingredients into a shaker.Shake, serve over ice and enjoy!
Mocktail Recipes for Spring
Flowers and sunshine are essential to any successful springtime. Whether you're hosting a spring party with your girlfriends or a family gathering, these spring mocktails are sure to be the star of the event. We've included a spin on a classic cocktail as well as a fruity fizz mocktail!?
Virgin Moscow Mule
This mocktail is a spin on a traditional cocktail, more often than not recognized by the glass it comes in. Our mocktail Moscow mule recipe is simple to create and easy to enjoy. Celebrate these refreshing flavors anytime!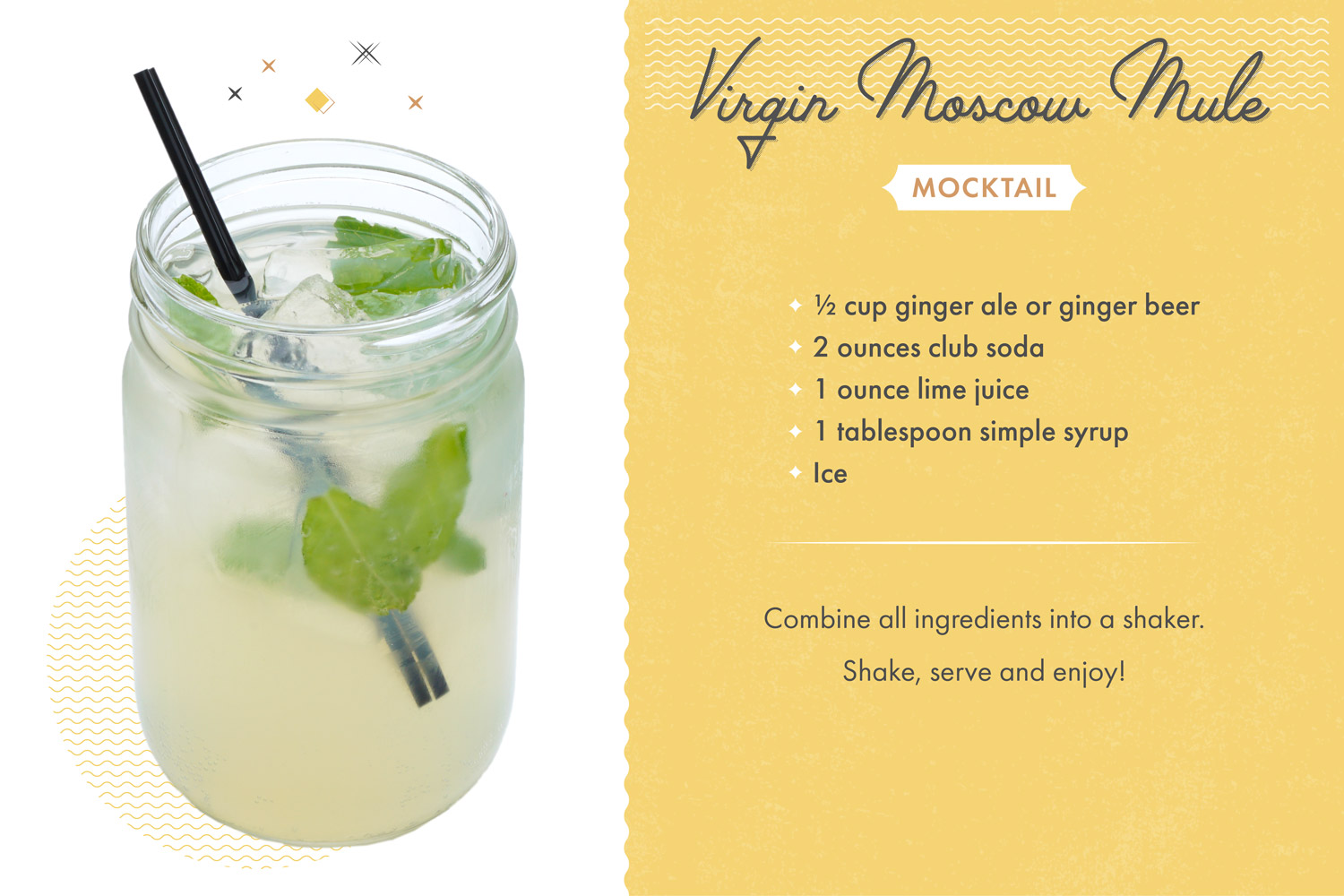 Serves: 1
Ingredients:
? cup ginger ale or ginger beer2 ounces club soda1 ounce lime juice1 tablespoon simple syrupIce
Directions:
Combine all ingredients into a shaker.Shake, serve and enjoy!
Paloma Fizz
The Paloma Fizz mocktail offers fruity notes and colors that are perfect for this season. Dont miss out on the savory hints of a rosemary sprig. Note: this drink is best enjoyed in the company of loved ones.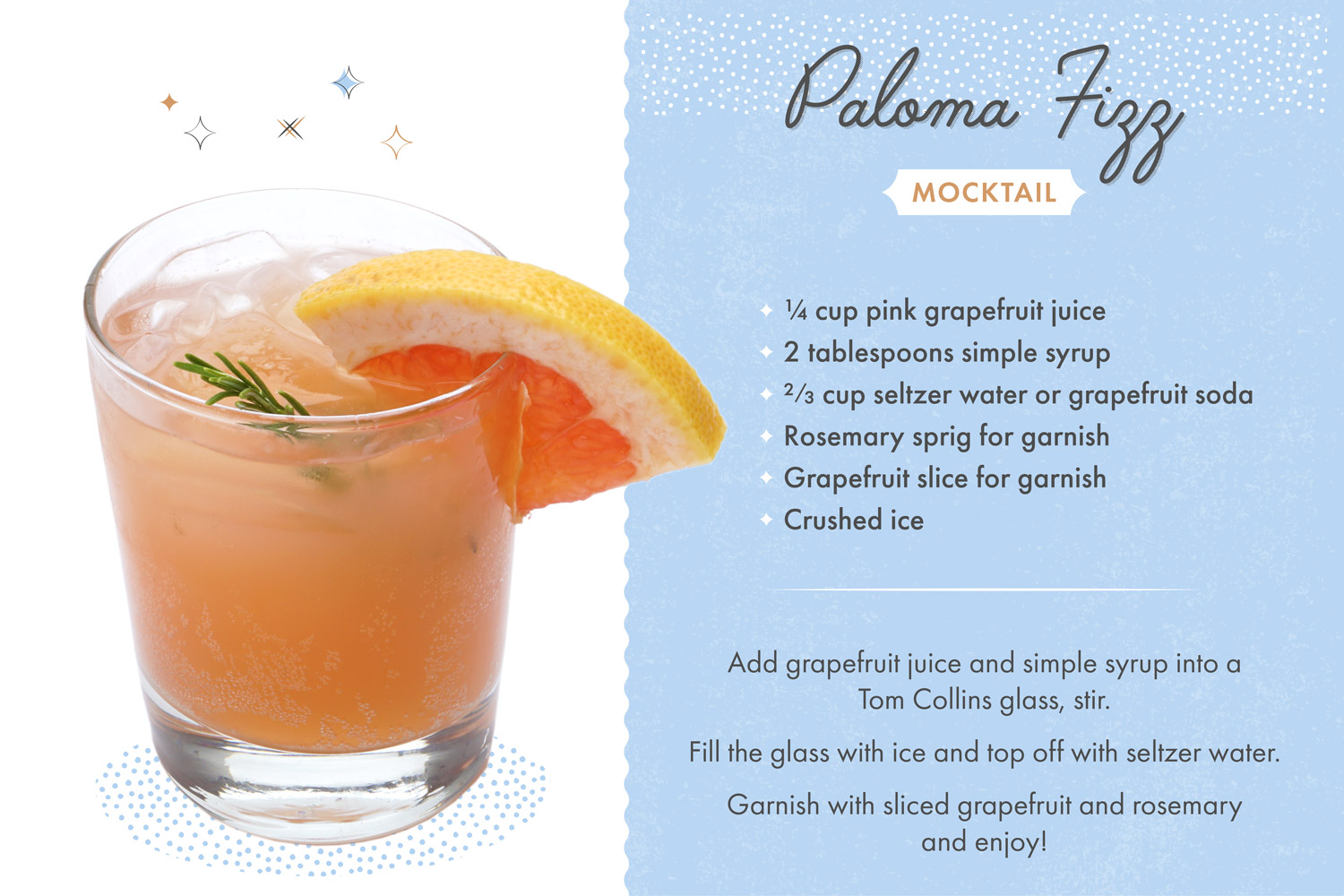 Serves: 1
Ingredients:
? cup pink grapefruit juice2 tablespoons simple syrup? cup seltzer water or grapefruit sodaRosemary sprig for garnishGrapefruit slice for garnishCrushed ice
Directions:
Combine grapefruit juice and simple syrup into a Tom Collins glass, stir.Fill the glass with ice and top off with seltzer water.Garnish with sliced grapefruit and rosemary and enjoy!
Mocktail Recipes for Fall
As the leaves begin to change, you can celebrate the flavors of the autumn season with a delicious mocktail. These recipes will have you ready to cozy up with your loved ones and partake in seasonal celebrations. Whether youre apple picking, pumpkin carving or getting lost in a corn maze dont forget to bring a mocktail along with you.
Mock Sangria
A mock sangria is full of flavor and perfect for enjoying with your loved ones. You can make a pitcher of this for a large group and utilize any extra fruit you might have in the kitchen.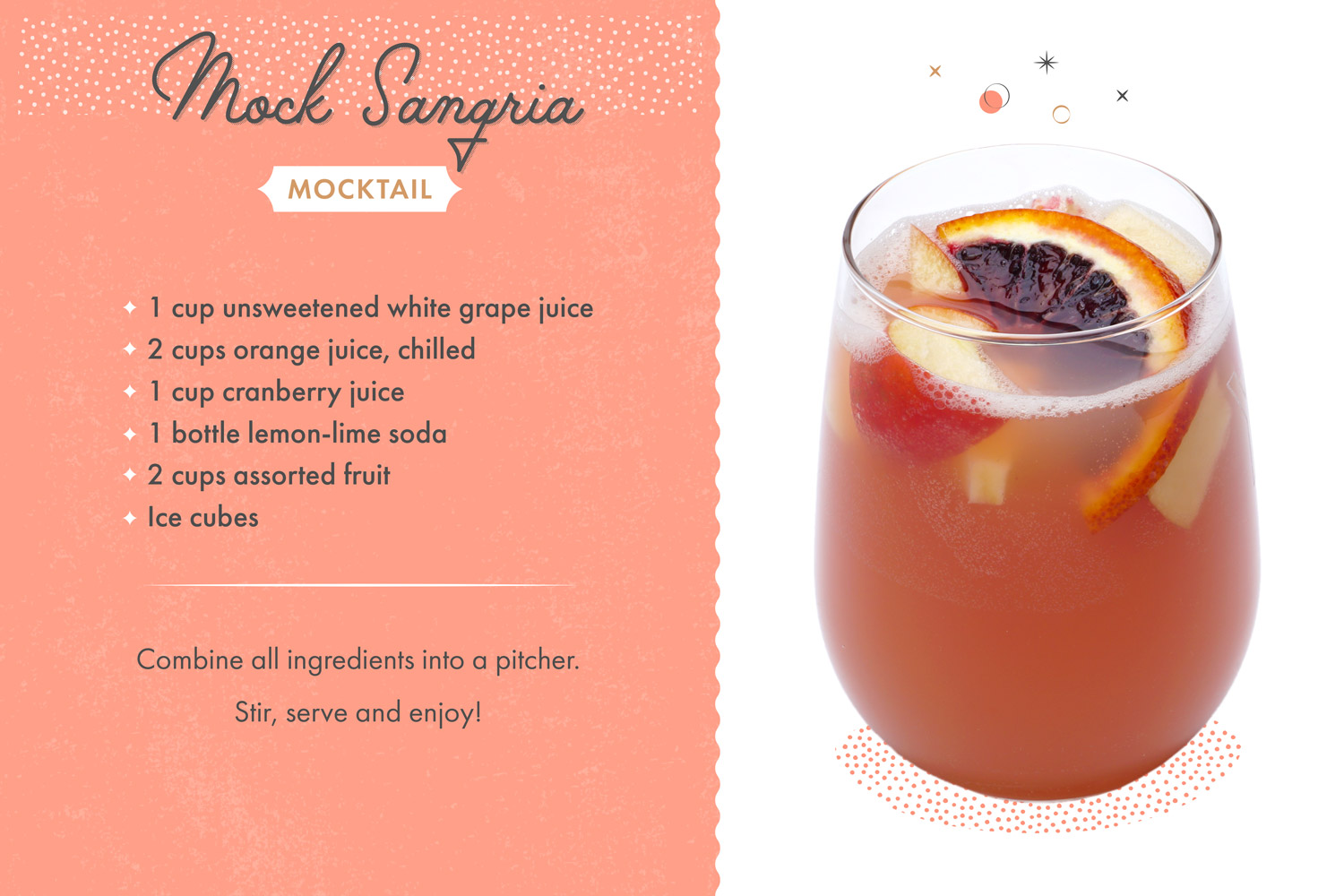 Serves: 10
Ingredients:
1 cup unsweetened white grape juice2 cups orange juice, chilled1 cup cranberry juice1 bottle lemon-lime soda2 cups assorted fruitIce cubes
Directions:
Combine all ingredients into a pitcher.Stir, serve and enjoy!
Theres no reason that a mock margarita cant be enjoyed in the cooler months, especially one with these flavors. This apple cinnamon mockarita is packed with fall flavor and wont disappoint.
Apple Cinnamon Mockarita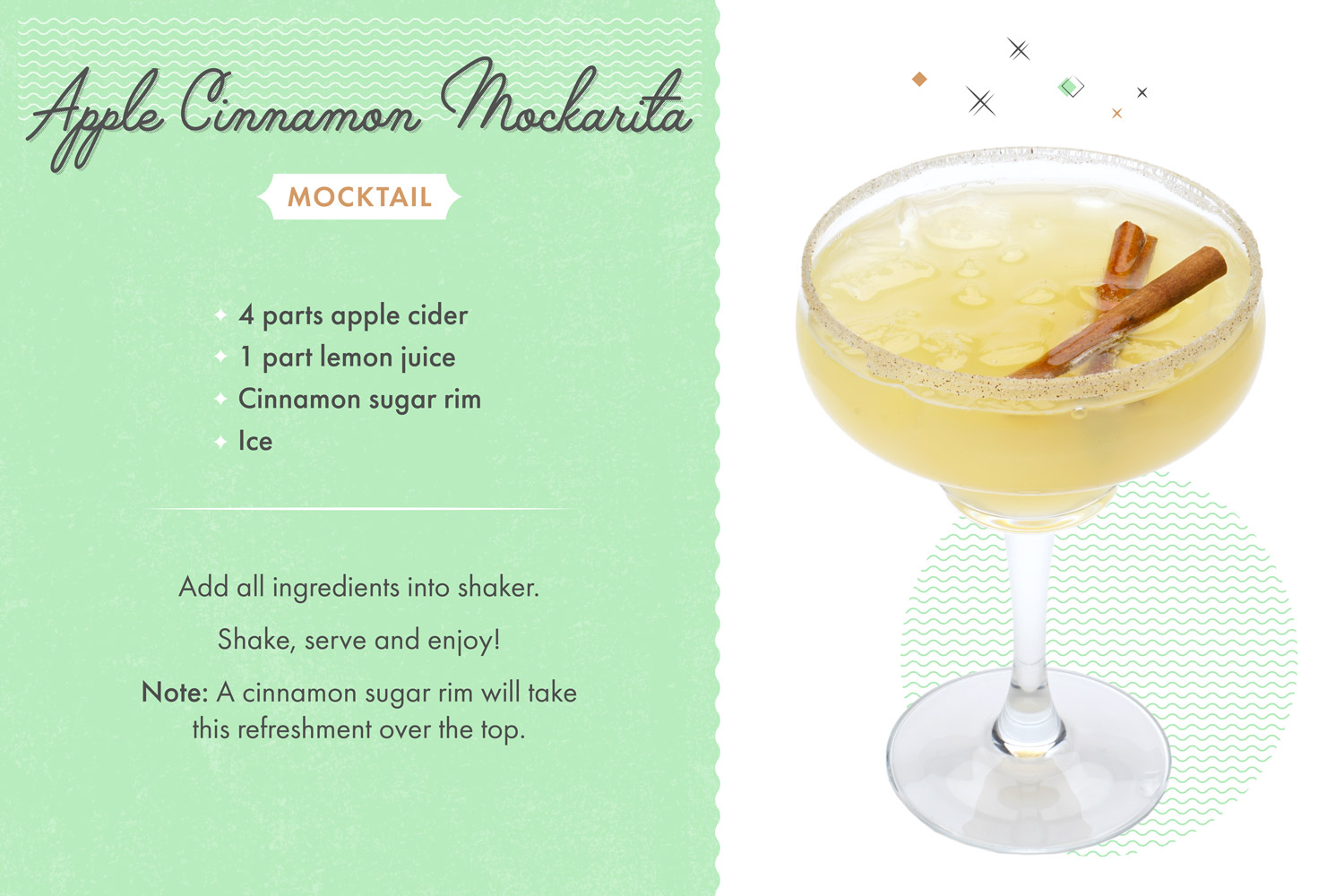 Serves: 1
Ingredients:
4 parts apple cider1 part lemon juiceCinnamon sugar rimIce
Directions:
Combine all ingredients into shaker.Shake, serve and enjoy!Note: A cinnamon sugar rim will take this refreshment over the top.
Mocktail Recipes for Winter
Winter mocktails will help you get into the festive spirit, with iconic holiday flavors and red berries these alcohol-free refreshments can cure your winter blues and be enjoyed all season long.
Sparkling Berry and Pomegranate Mocktail
The Sparkling Berry and Pomegranate mocktail makes for a great drink to sip on at your holiday party. Garnish with blueberries on a swizzle stick to cheers the season.
Serves: 1
Ingredients:
6 ounces berry sparkling water1 ounce pomegranate juice2-3 cranberriesBlueberries for garnish
Directions:
Combine all ingredients into a shaker.Shake lightly and serve.Garnish with blueberries on a swizzle stick and enjoy!
Cran Apple Cider Mocktail
It wouldnt be winter without some apple cider. The Cran-Apple Cider Mocktail is waiting to be enjoyed. Garnish with a sprig of thyme to add a little sophistication to your mocktail.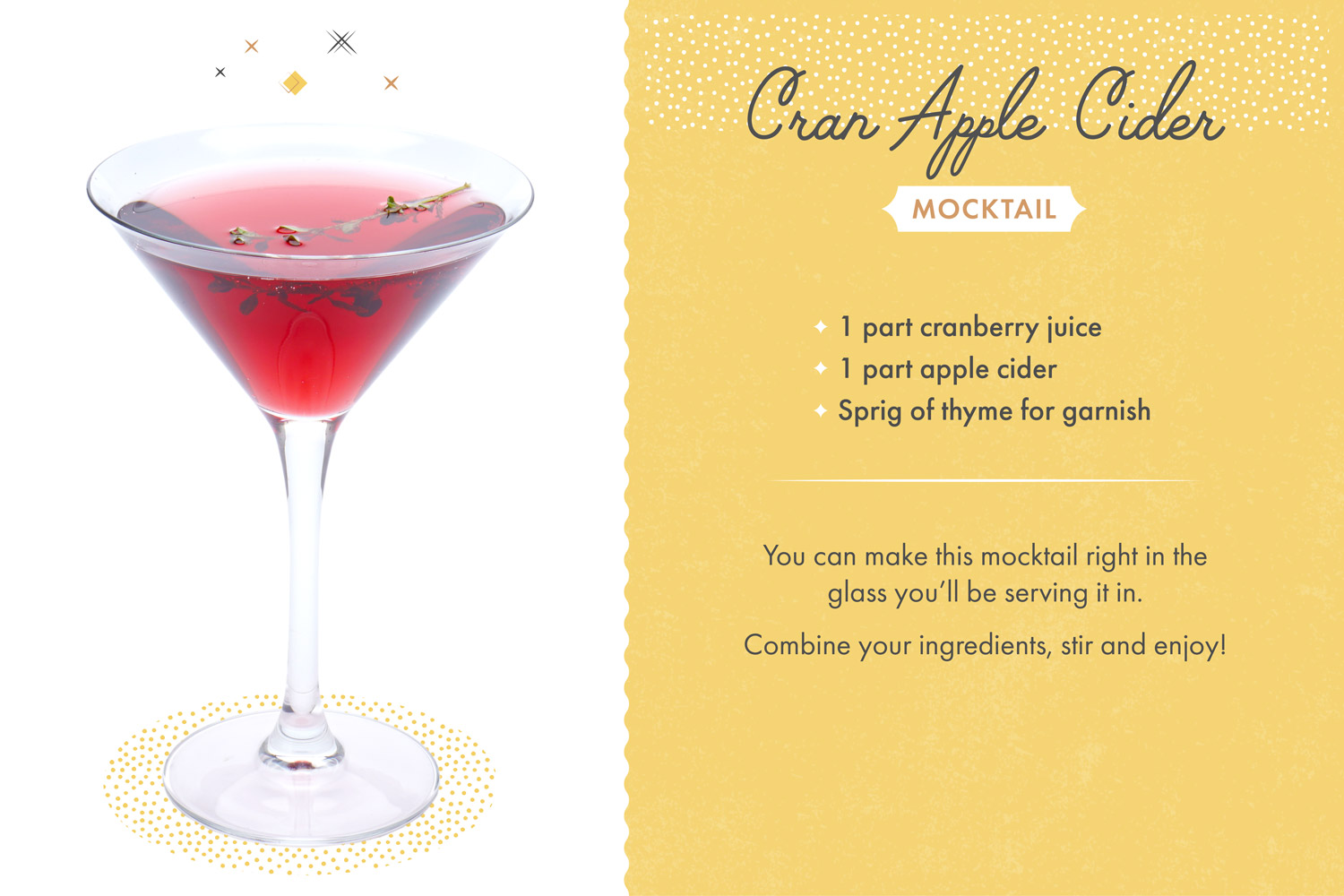 Serves: 1
Ingredients:
1 part cranberry juice1 part apple ciderSprig of thyme for garnish
Directions:
You can make this mocktail right in the glass youll be serving it in.Combine all ingredients, stir and enjoy!

There are many occasions that call for you to raise a glass with friends and family. Now, you can be prepared with a drink in hand no matter the time or circumstance. Save the individual recipe cards above or download the entire collection using the button above.If youre looking for some party planning inspiration to go with your favorite mocktail recipe, check out our guide on how to build your own bruschetta bar or this fun DIY popcorn bar.