37 Halloween Games for Kids and Adults
January 30, 2018
Fall is a wonderful time of year — the leaves change colors, pumpkin spice lattes are back and of course, a favorite holiday for young and old, Halloween! Its the one night a year when you can become anything that you want (like your childhood dream of becoming an astronaut or cowboy) and its perfectly acceptable to eat all the candy you desire.
Its also the perfect holiday to throw a monster bash with your family and friends. If youre looking for a way to throw the best Halloween party with a few tricks and lots of treats, try out some of these Halloween games for kids and adults to ensure everyone has a spooktacular night! ?
Halloween Games for Kids
Scavenger Hunt
Scavenger hunts are a great way to keep the little ones entertained — and theyre super simple to pull off! Just hide the clues around the house, hand the kids the first clue and theyll be on their way. You can choose to have small treats hidden at each clue location, or have one big prize waiting at their final clue!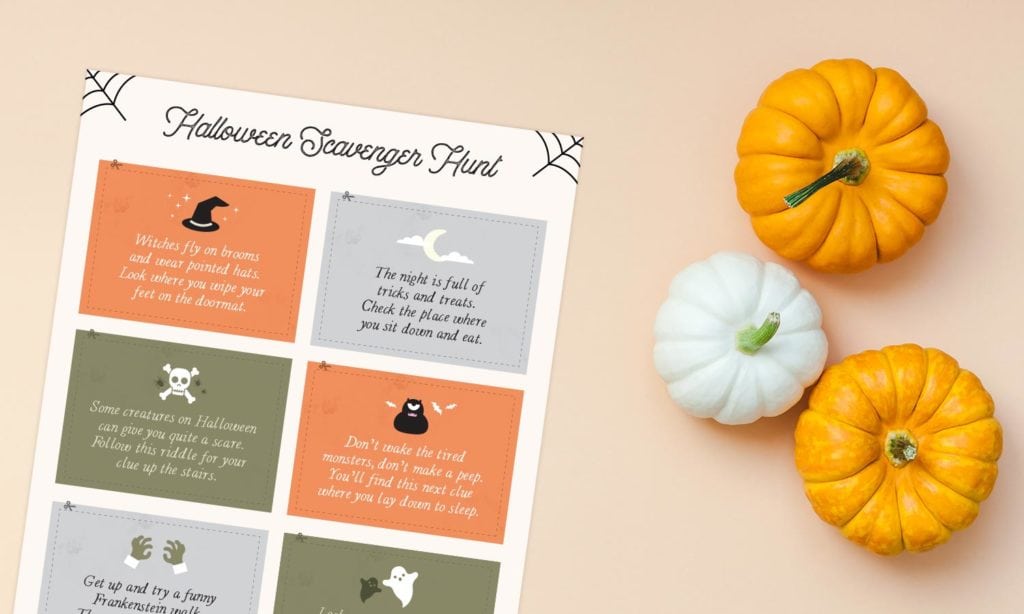 Pin the Spider on the Web
A spooky twist on a classic game! You can easily make this game by printing the spider web background on several sheets of standard paper and taping them together. Youll also need a blindfold or handkerchief to cover up players eyes. Spin each player around three times, and whoever pins their spider closest to the middle of the web wins!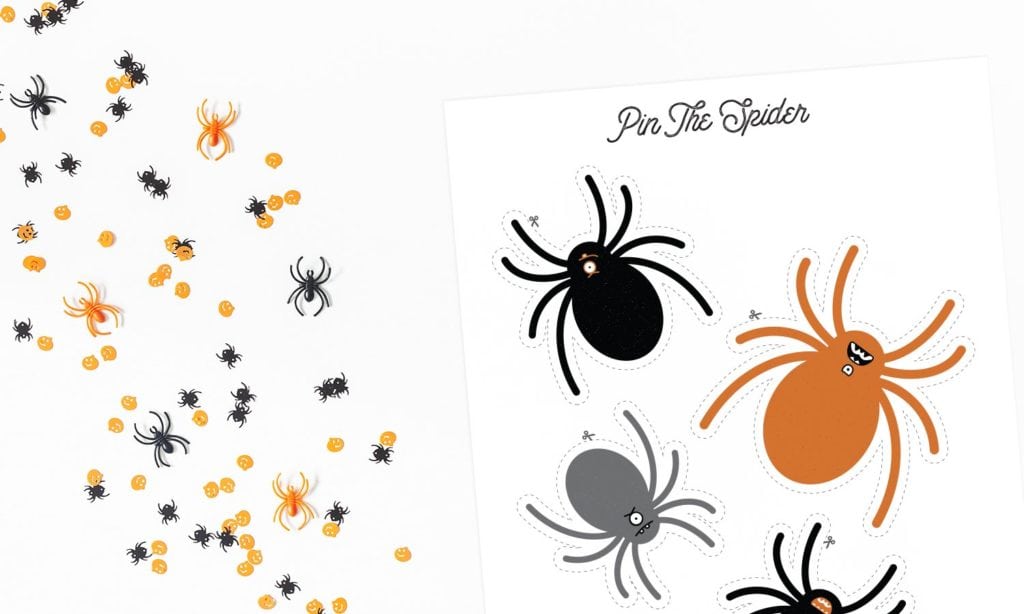 Halloween Bingo
For the younger guests at your party, Halloween bingo is a great way to keep them entertained! If youre hosting Halloween festivities at school, this is a great game to get the whole class involved. You can use themed objects to mark your squares too, such as candy corn or small chocolates!
On the last page of this printable, you'll find the bingo callout cards that you can draw from a hat (or a witches cauldron for extra spooky fun!)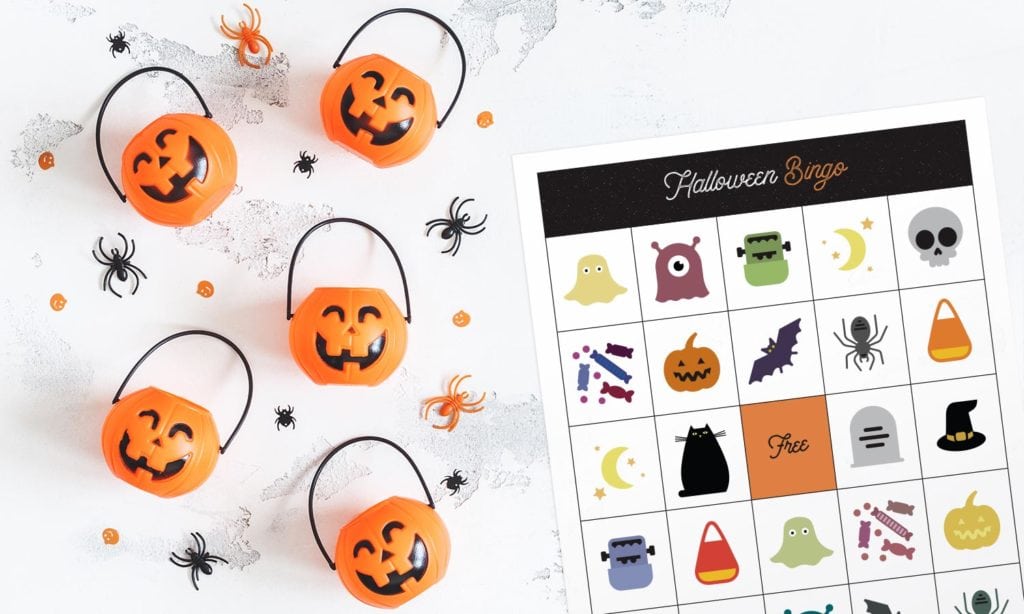 Halloween Games for Adults
Spooky Charades
Everybodys favorite party game with a frightening twist! This can be played with teens and young adults as well. Cut out these printables, put them into a witches hat and have each player take turns drawing cards. Dividing into teams, each person has 30-60 seconds to act out whatever is on their card. But remember, no using words!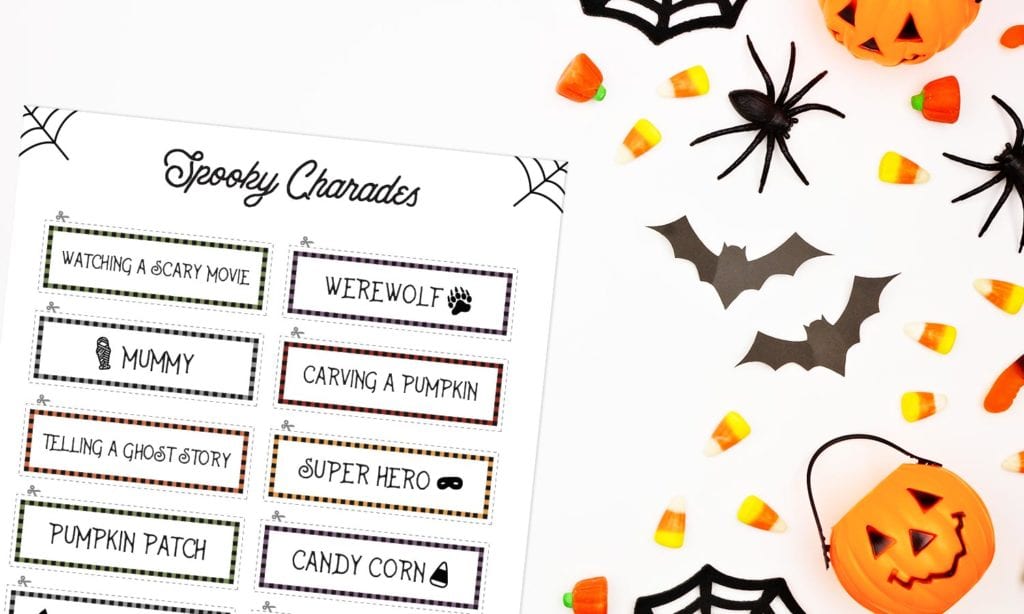 Don't Say the Word!
Known as the game of unspeakable fun, this twist on the classic game is sure to get your guests in the Halloween spirit. Divide the group into teams, and each player will take turns giving clues to get their teammates to guess the word on the card. If you hear them use one of the forbidden words, give them the bone-chilling buzzer! Whichever team is able to guess the most amount of cards, wins!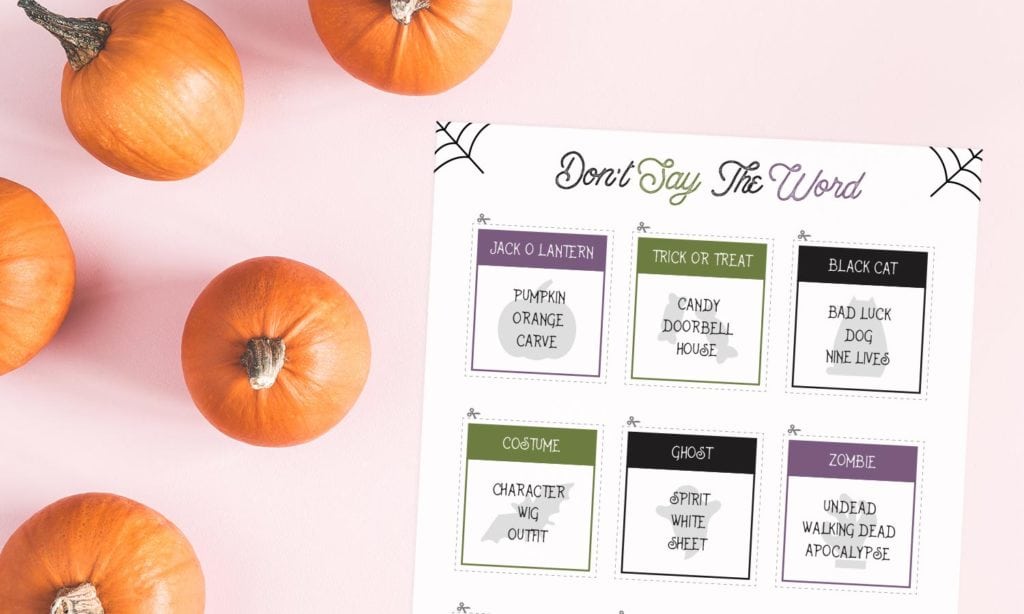 Would You Rather
You know the rules – pick this or that. Weve come up with Halloween-themed would you rather questions that are so hard to answer its scary! ?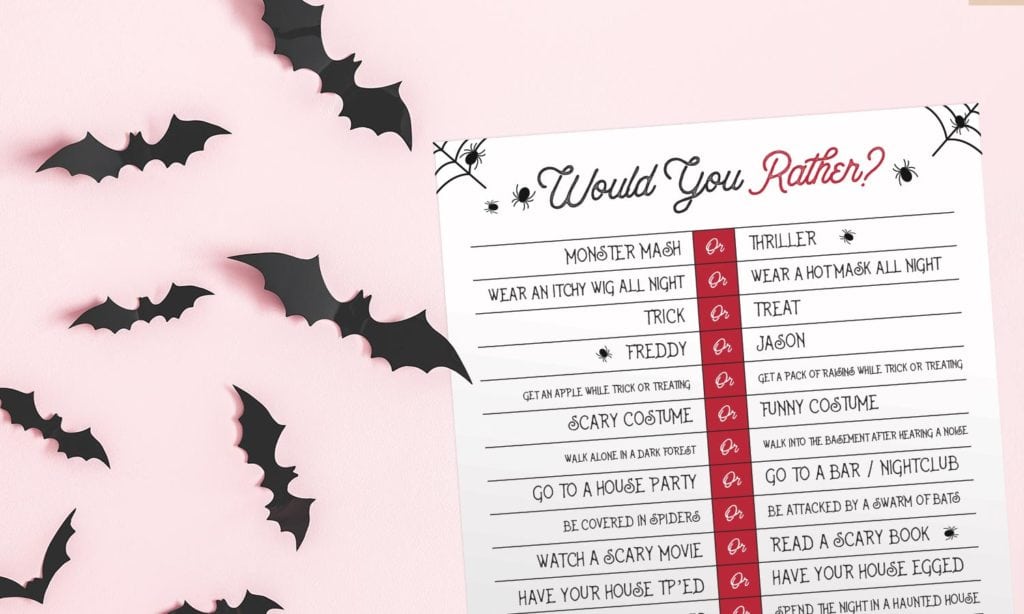 More Halloween Fun & Games
Still looking for more fun? These party favorites will keep your ghostly guests entertained all night long, and are easy to throw together! Dont forget classics like bobbing for apples or a costume contest too.
Mummy Wrap
by Family Maven
Guess How Many with Candy Corn
by Dating Divas
Pumpkin Ring Toss
by Kid Friendly Things To Do
Ghost Bowling
by Confessions of a Semi-Domesticated Mama
Pop Goes the Pumpkin
by Martha Stewart
Musical Monster Mash
by Kids Play Smarter
Tin Can Bowling
by Red Ted Art
Spider Web Walking
by No Time For Flashcards
Eyeball Pong
by Joy In The Works
Spider Races
by Kid Friendly Things To Do
Life-Size Pumpkin Memory
by Simple Play Ideas
Murder Mystery Scavenger Hunt
by Party Games Plus
Pumpkin Mini Golf
by A Girl & A Glue Gun
Pumpkin Patch Stomp
by Delia Creates
Skeleton Scavenger Hunt
by Happy Go Lucky
Witch Pitch
by Chica and Jo
Donuts on a String
by Small Fry
Pumpkin Hunt
by Crystal & Co
Murder in the Dark
by What Culture
Chalk Outlines
by Ghoul Friday
Pumpkin Bocce
by Party Games Etc.
Feed the Monster
by Tried And True
Flying Spider Bean Bag Toss
by Bombshell Bling
Boo-Loon Pop
by Carnival Savers
Mystery Touch & Feel Game
by KC Edventures
Roll A Pumpkin
by Creations by Kara
Dont Jiggle the Spiders
by Childhood 101
Halloween Party Scoot
by Teachers Pay Teachers
Kids Halloween Masks
by Its Always Autumn
Building Structures with Candy Pumpkins
by Lemon Lime Adventures
Halloween Fear Factor

by Kid Friendly Things To Do

Halloween Lunchbox Jokes by My Mommy Style

No need to be horrified at the idea of throwing a Halloween party! Whether youre catering for an older or younger crowd, everyone is sure to have a spooktacular night with games, costumes and of course, delicious treats! Happy haunting!