Home
/
Engagement
/ 22 Bridal Shower Favor Ideas That Guests Will Love
22 Bridal Shower Favor Ideas That Guests Will Love
August 08, 2017
A significant amount of time is spent planning wedding festivities, from the engagement party to the honeymoon. Luckily, the brides family and closest friends help plan many of the celebrations, including the bridal shower!
A bridal shower is meant to celebrate the bride-to-be and gather all of her favorite ladies. Because recipients typically bring gifts specifically for this event, it is nice to send them home with a favor to remember the day and thank them for their attendance.
Bridal shower favors can be big or small depending on the size, budget and style of the shower. Weve put together 20 bridal shower favor ideas to show your attendees just how much they mean to you (and the bride)!
Hair Ties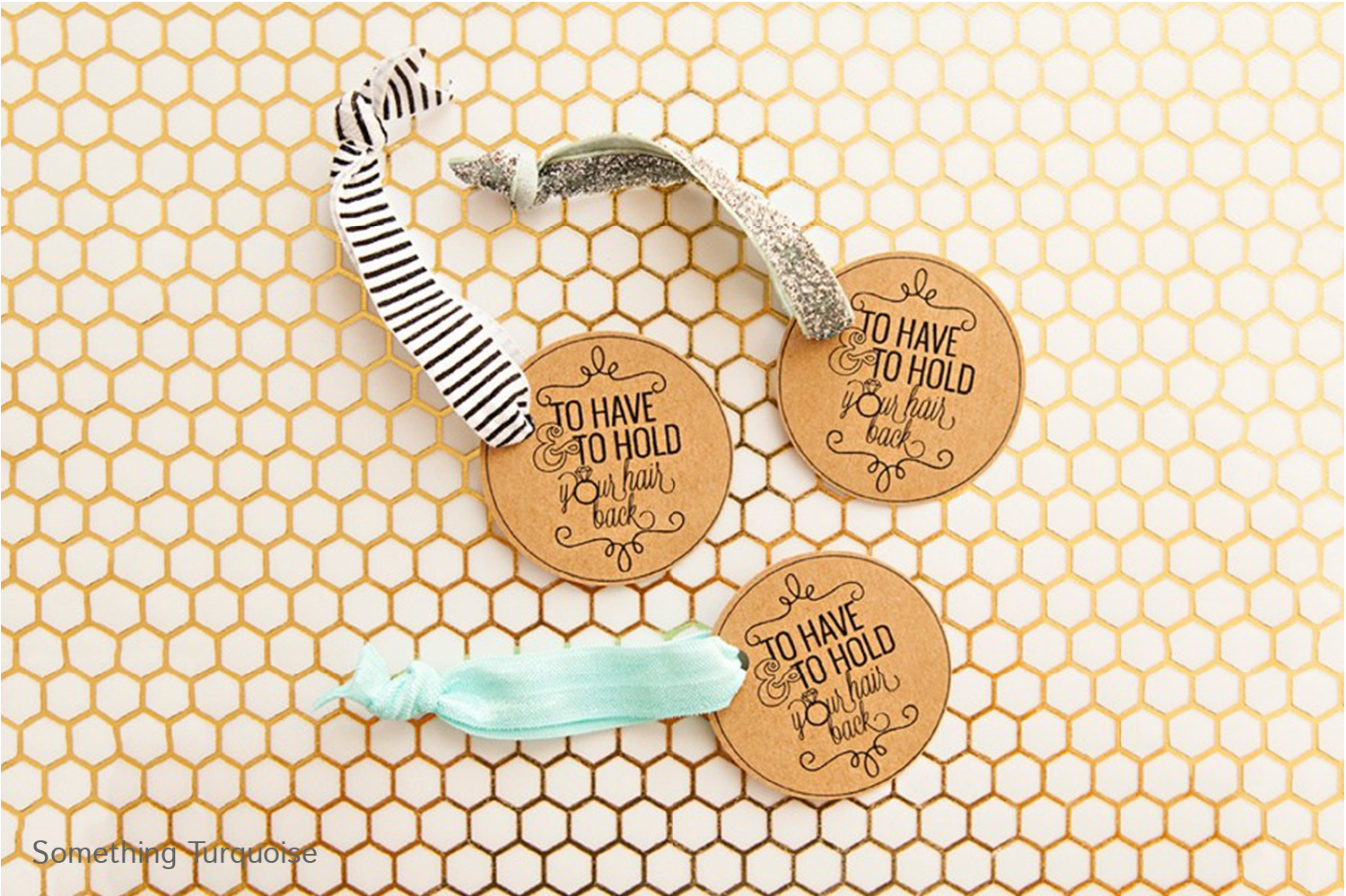 Can you ever have too many hair ties? This cute favor will put a smile on your guests face and a sparkle in their hair. These unique hair ties by Something Turquoise and photographed by Jen Carreiro is an accessory that they can use far into the future. Both thoughtful and useful, these favors will be a hit!
Spa Day in a Jar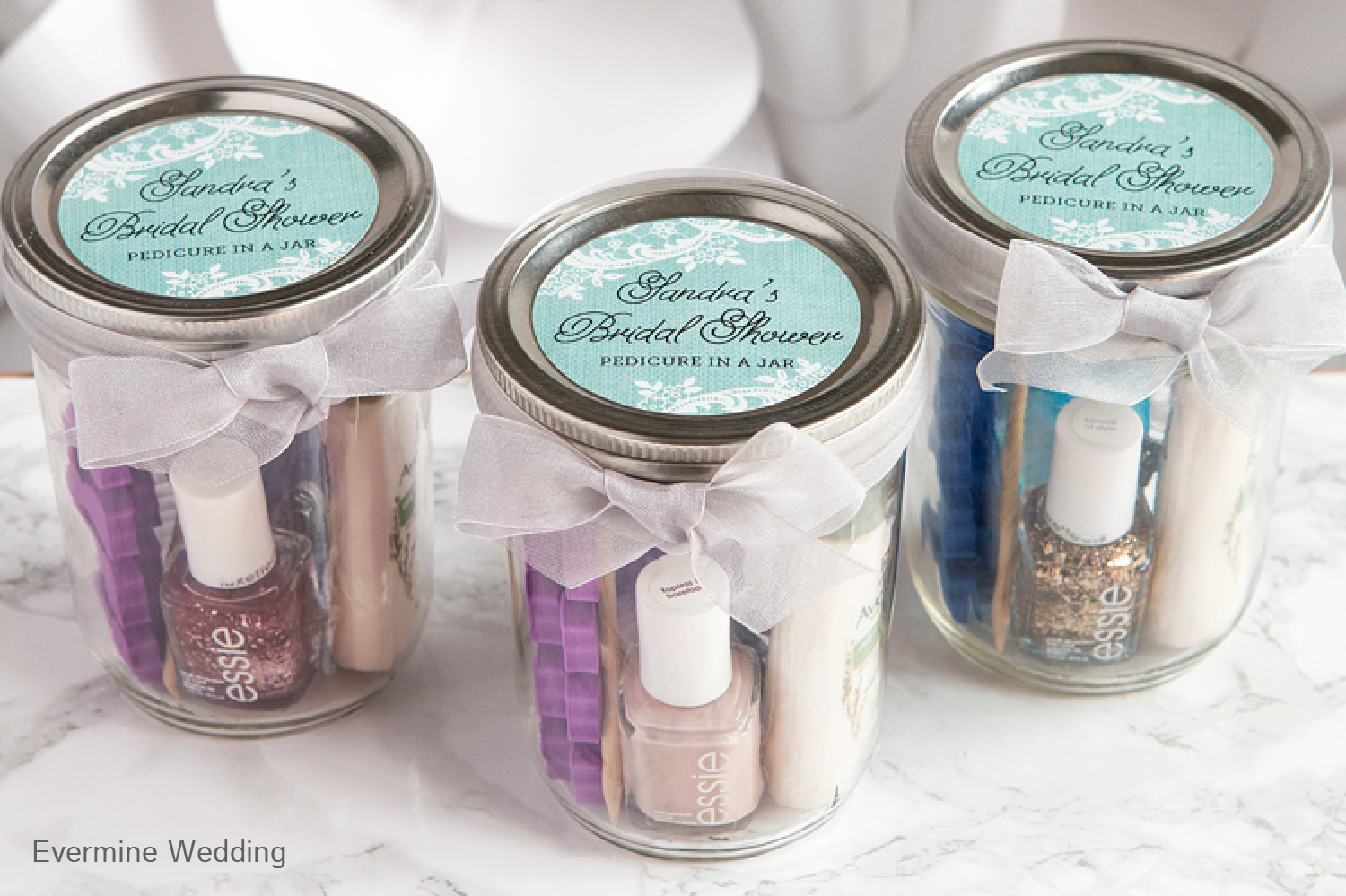 Give your friends a well-deserved spa vacation in a jar. This compact manicure set by Evermine Wedding will do just the trick. Make sure to include a fun nail polish color, nail manicure supplies and a sweet smelling lotion so that all the guests can have a spa day at home.
Personalized Candles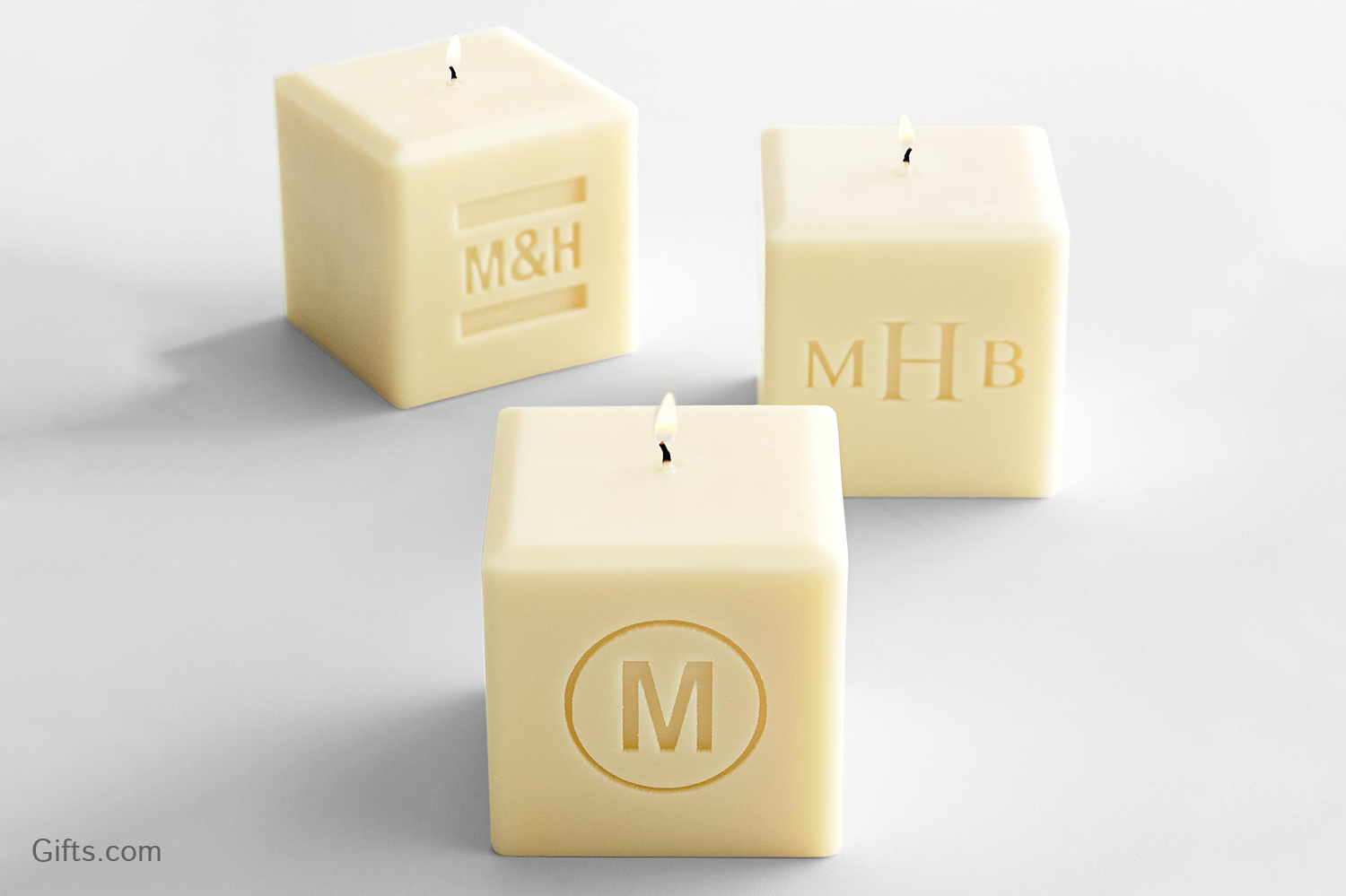 Candles are a gift that anyone would love! If you're having a smaller shower, personalize the candles to show the guests how much you appreciate them, especially if they played a role in planning the wedding. These cubed artisan candles will shine bright in everyones homes, reminding them of the amazing day they spent with you.
Kitchen Accessories
Love is in the air and it smells like cookies! Give your guests some supplies for the kitchen so that they can whip up some goodies of their own. This hand towel, whisk and recipe card inspired by Kate Aspen does just the trick. Add a "thank you" tag for the finishing touch.
Mug and Tea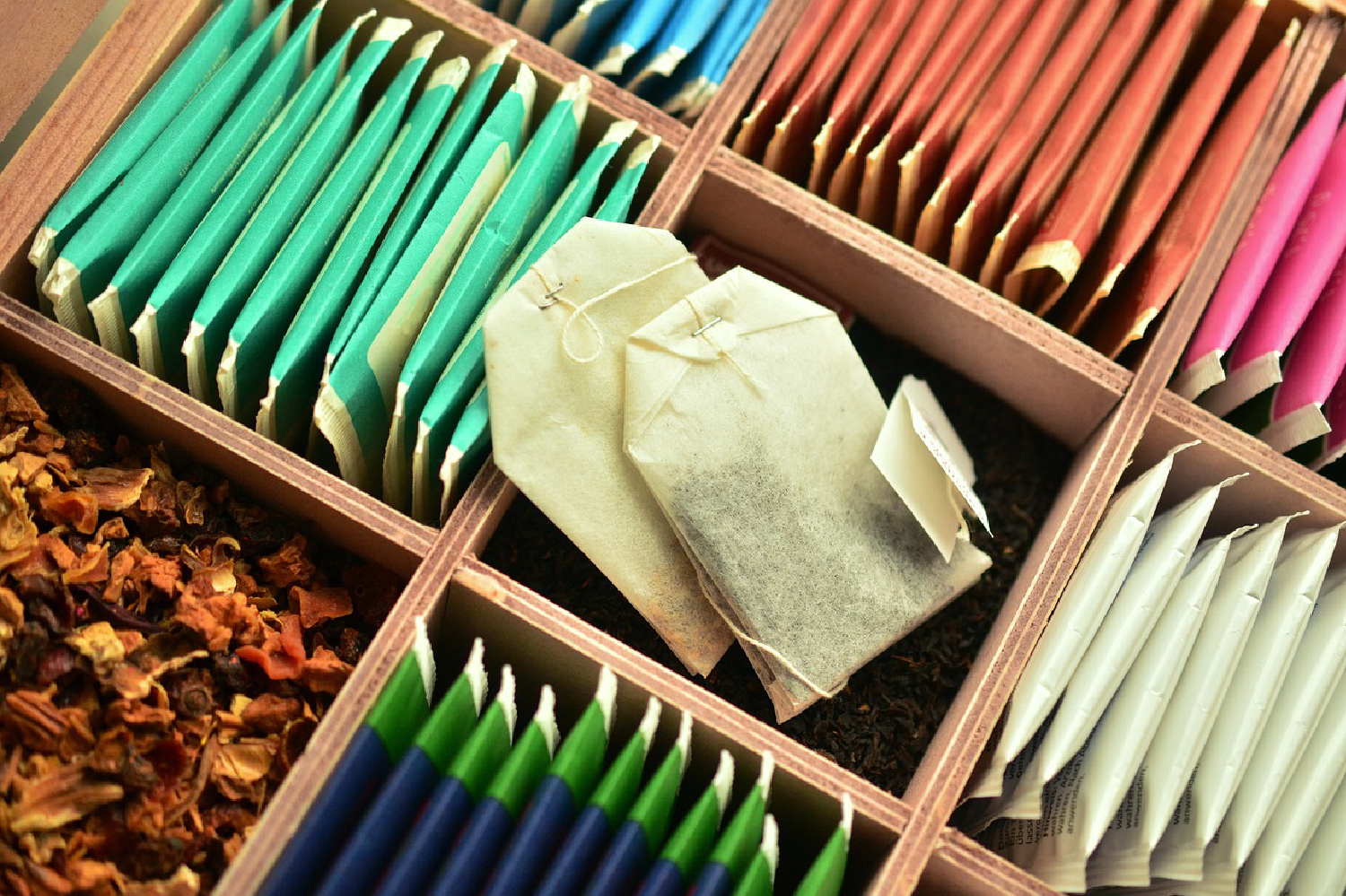 Give the guests cute mug filled with sweet tea to keep them feeling warm and happy. Both the bride and the guests could use some relaxing before all the wedding festivities commence! Bonus points if the tags share a cute message.
Cosmetic Bags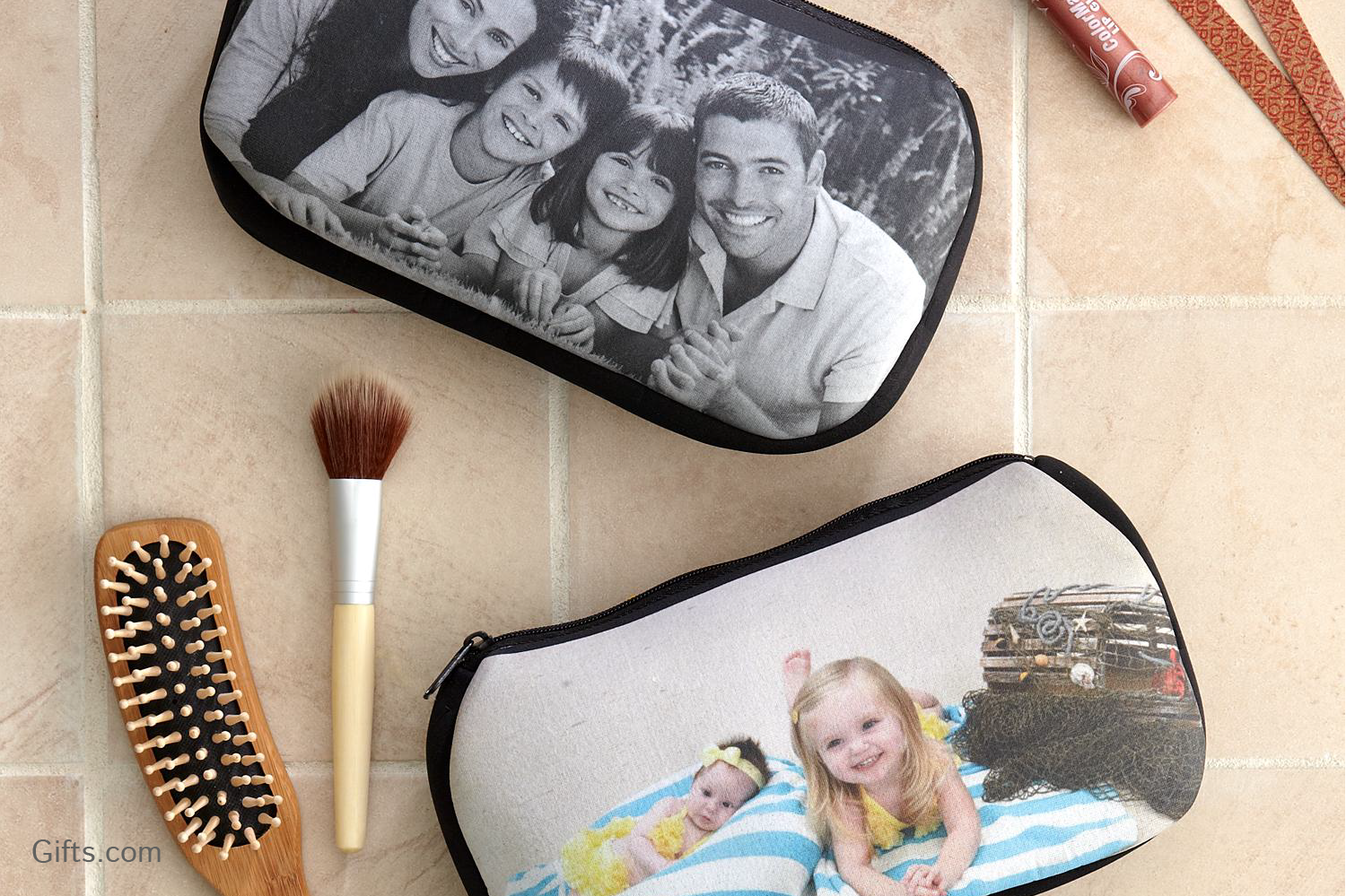 If the bridal shower is a small group of close friends, you may want to give out personalized cosmetic bags from a trip you all took together. This makeup bag allows you upload your high quality image onto the bag so that your high quality memory wont be forgotten.
Fortune Cookies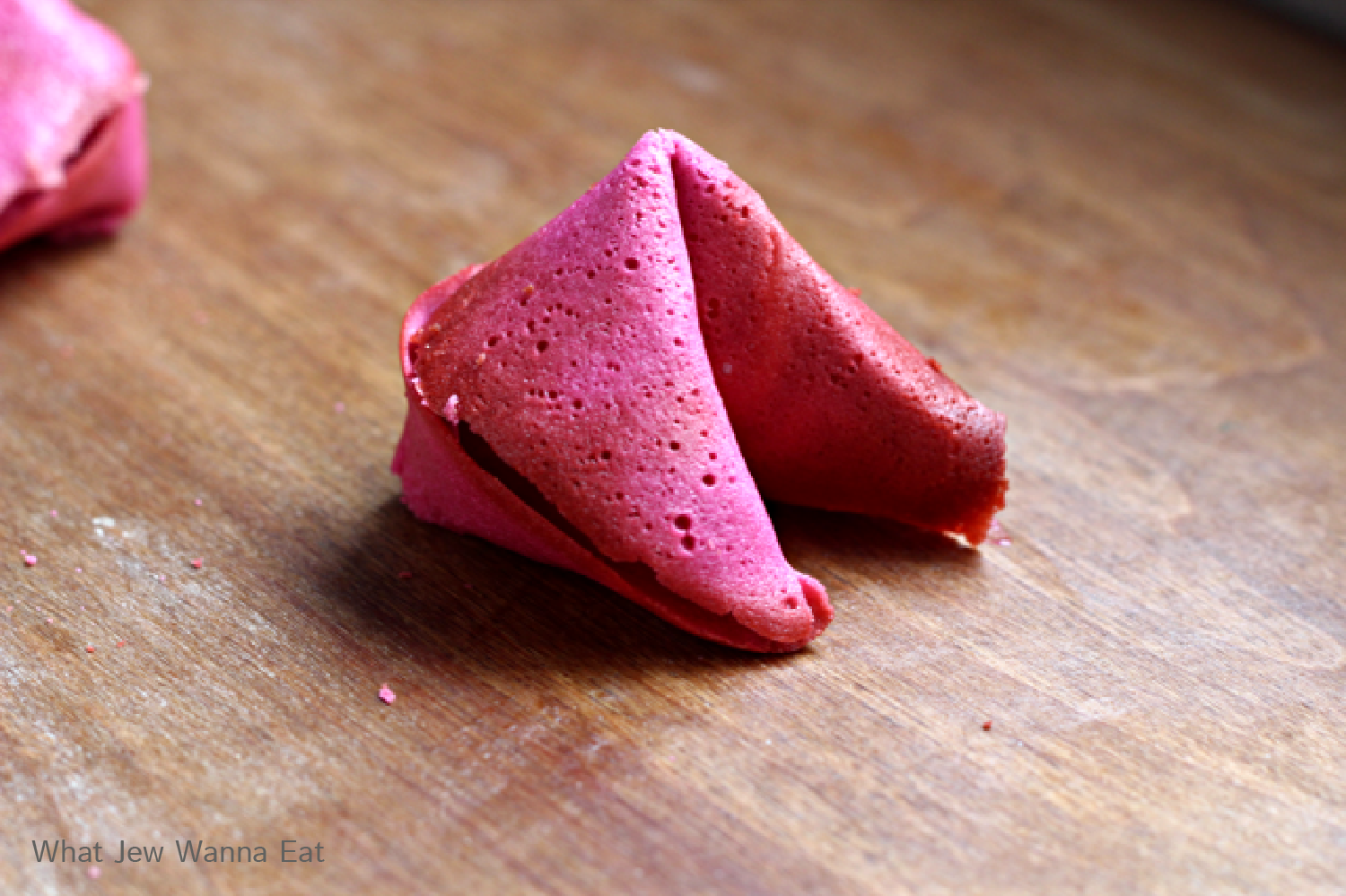 Make your guests wishes come true with fun fortune cookies. Messages like "Sarah and John will get married on October 10th" will amp up the cute factor. This pomegranate fortune cookie recipe by What Jew Wanna Eat adds a pop of color to the table and has a unique flavor as well.
Mint to Be Mints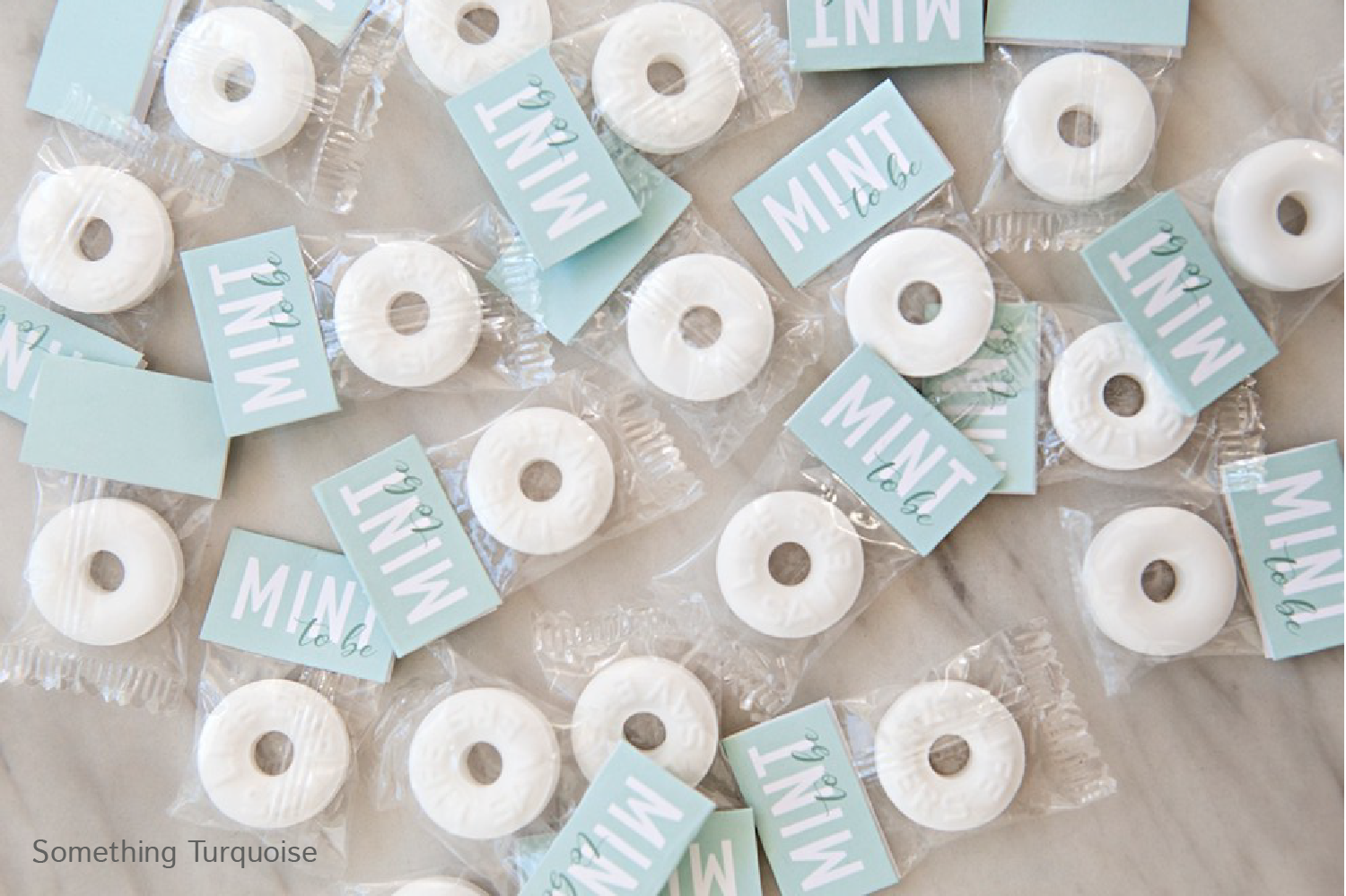 Is it mint to be? These candy printables created by?Something Turquoise and photographed by Jen Carreiro serve as cute gift bag favors. Plus, they will come in handy when your guests are trying to find a love of their own.
Succulents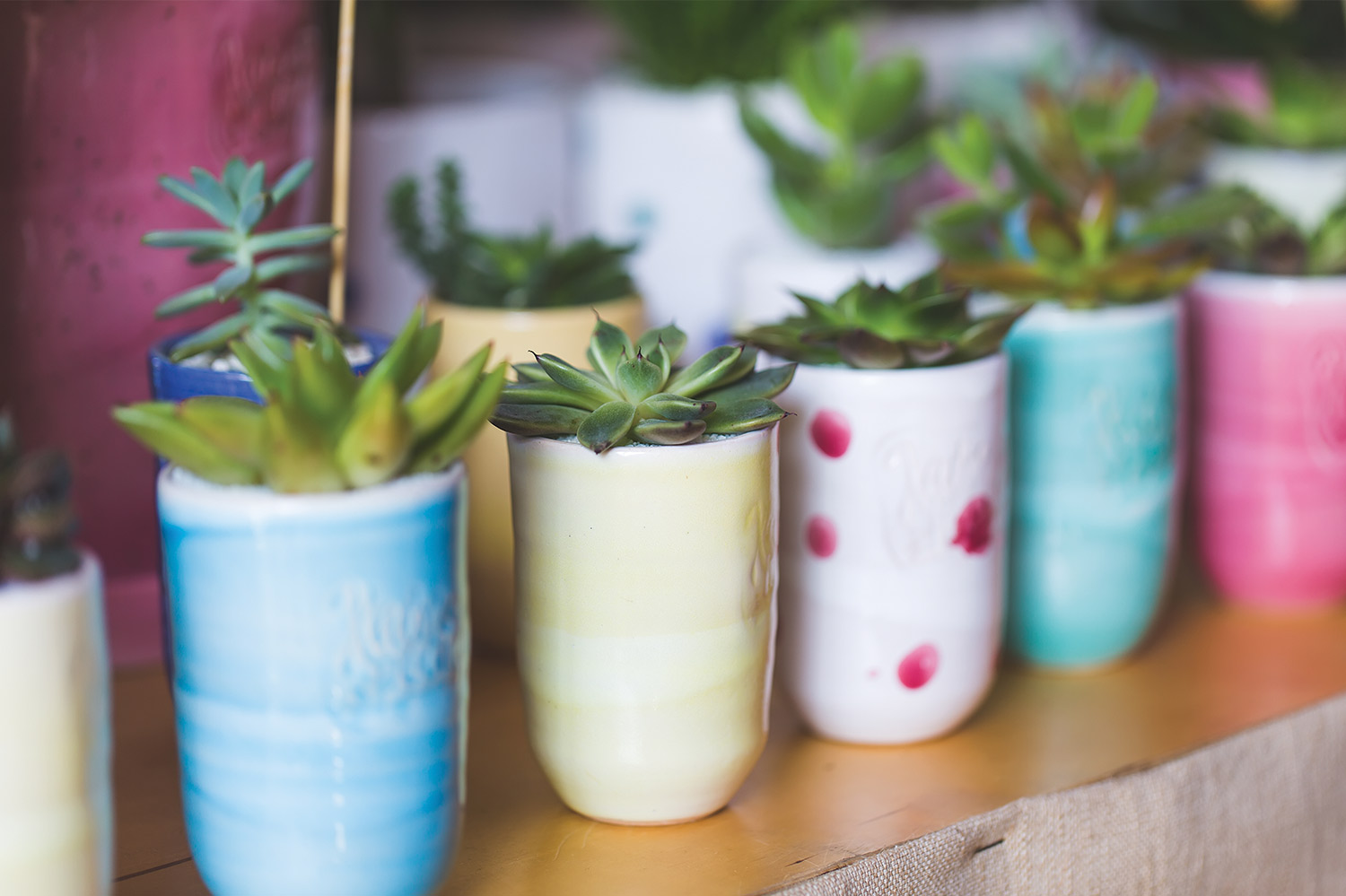 Who doesnt want another plant in the house? Especially when they are as cute and low-maintenance as these ones! Succulents are the perfect way to thank your friends and family for all of their support. Dress them up in different pots to fit your guests personalities.
Customized Awards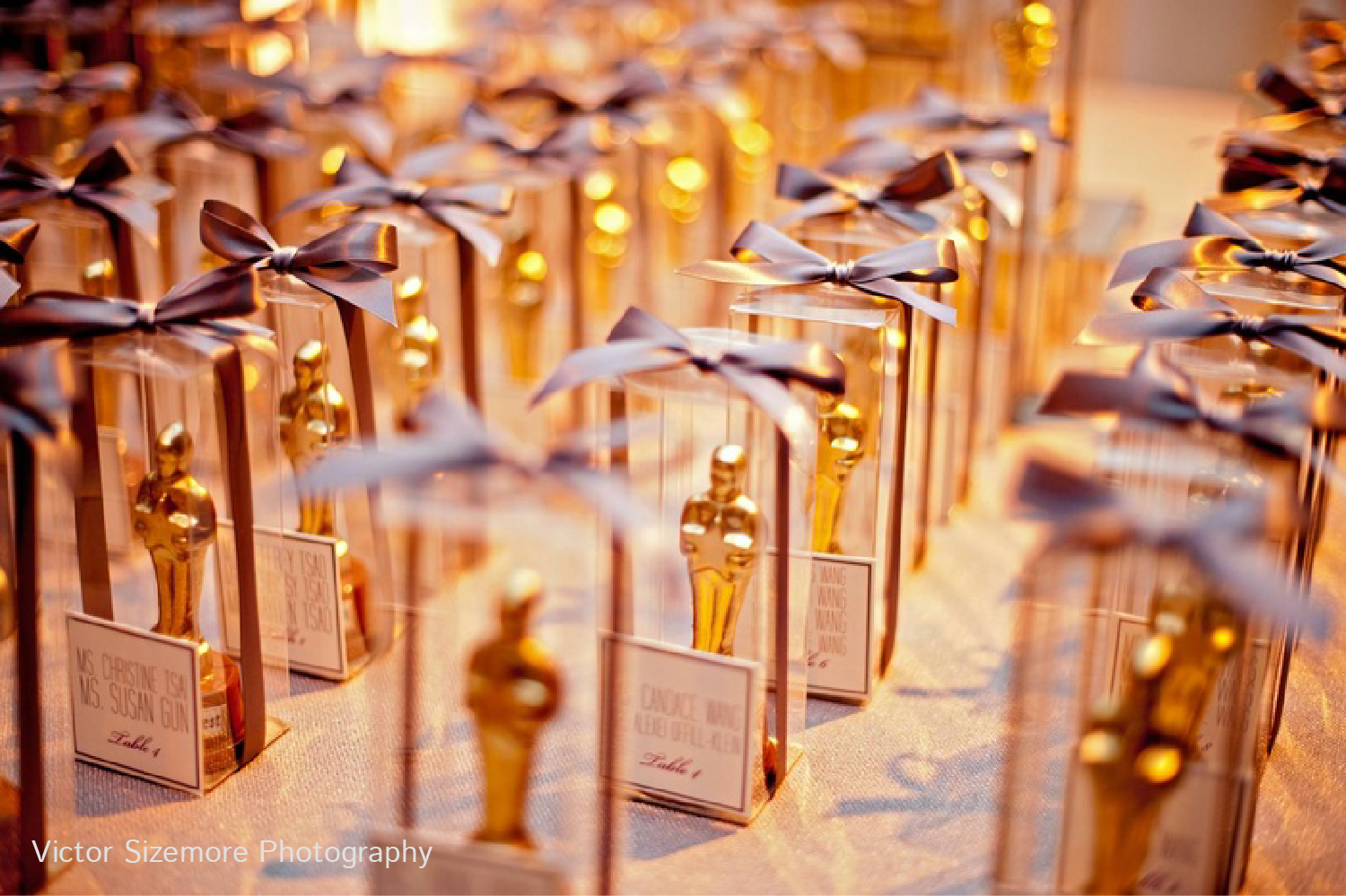 Award your bridal party with chocolate Oscars. These table cards, shot by?Victor Sizemore Photography, can easily be transformed into placecards for a bridal shower. This is a classy way to honor all those who have been helping and supporting the bride — write special notes on them to highlight the amazing qualities that your guests' posses.
Personalized Coasters
These drink coasters photographed by Brooke Courtney will be a cute addition to any coffee table. Every time they are put to use, their owners will fondly remember what a great time they had with you. Create a few different variations including the date of the bridal shower or wedding and a favorite quote or lyrics.
Luggage Tags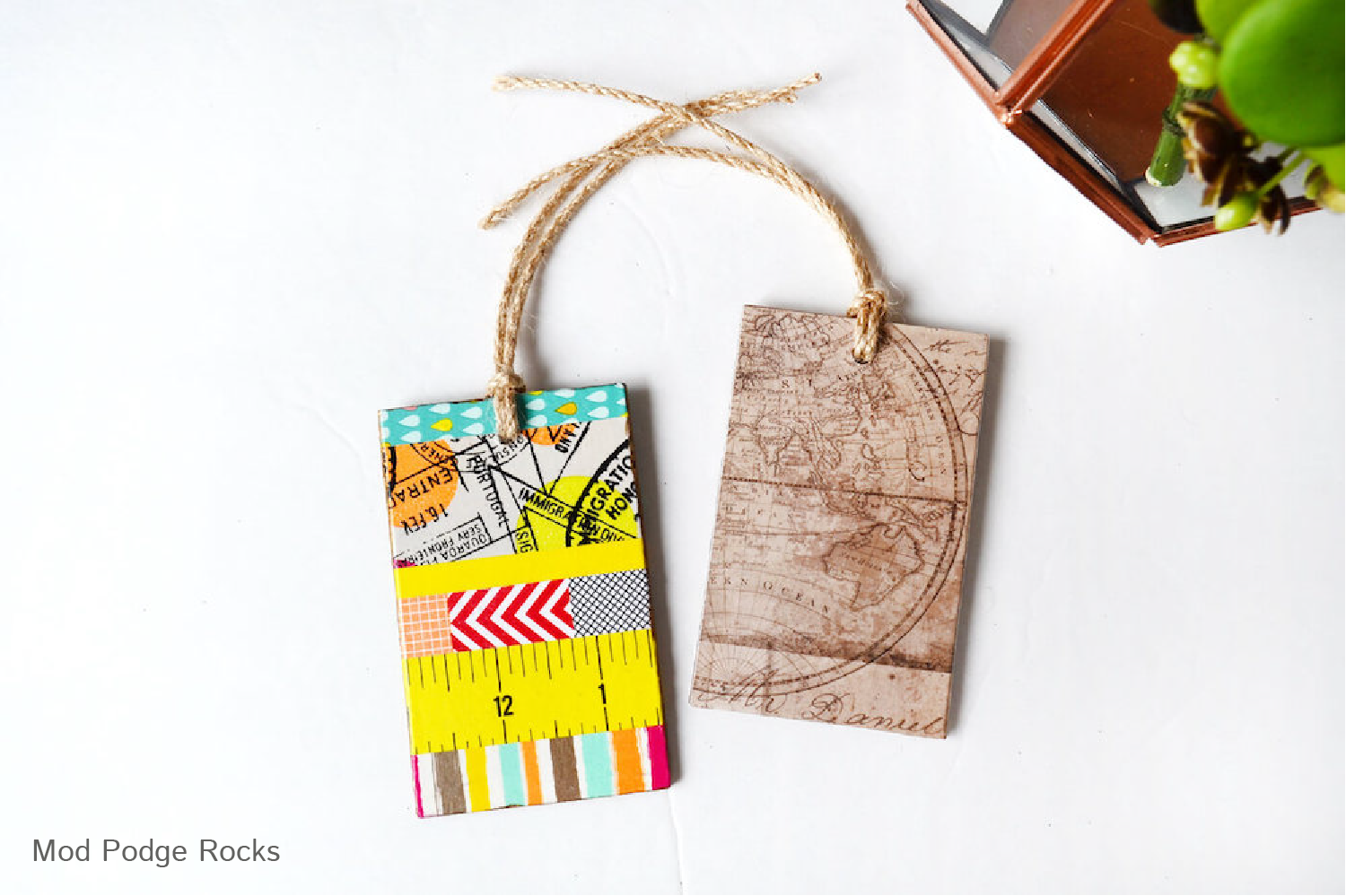 Now that your guests have helped you get ready for your next adventure, help them get ready for theirs. These luggage tags by Mod Podge Rocks are the perfect favor to help your friends and family keep track of their bags on their next trip (who knows, they might even want to bring you along).
Jewelry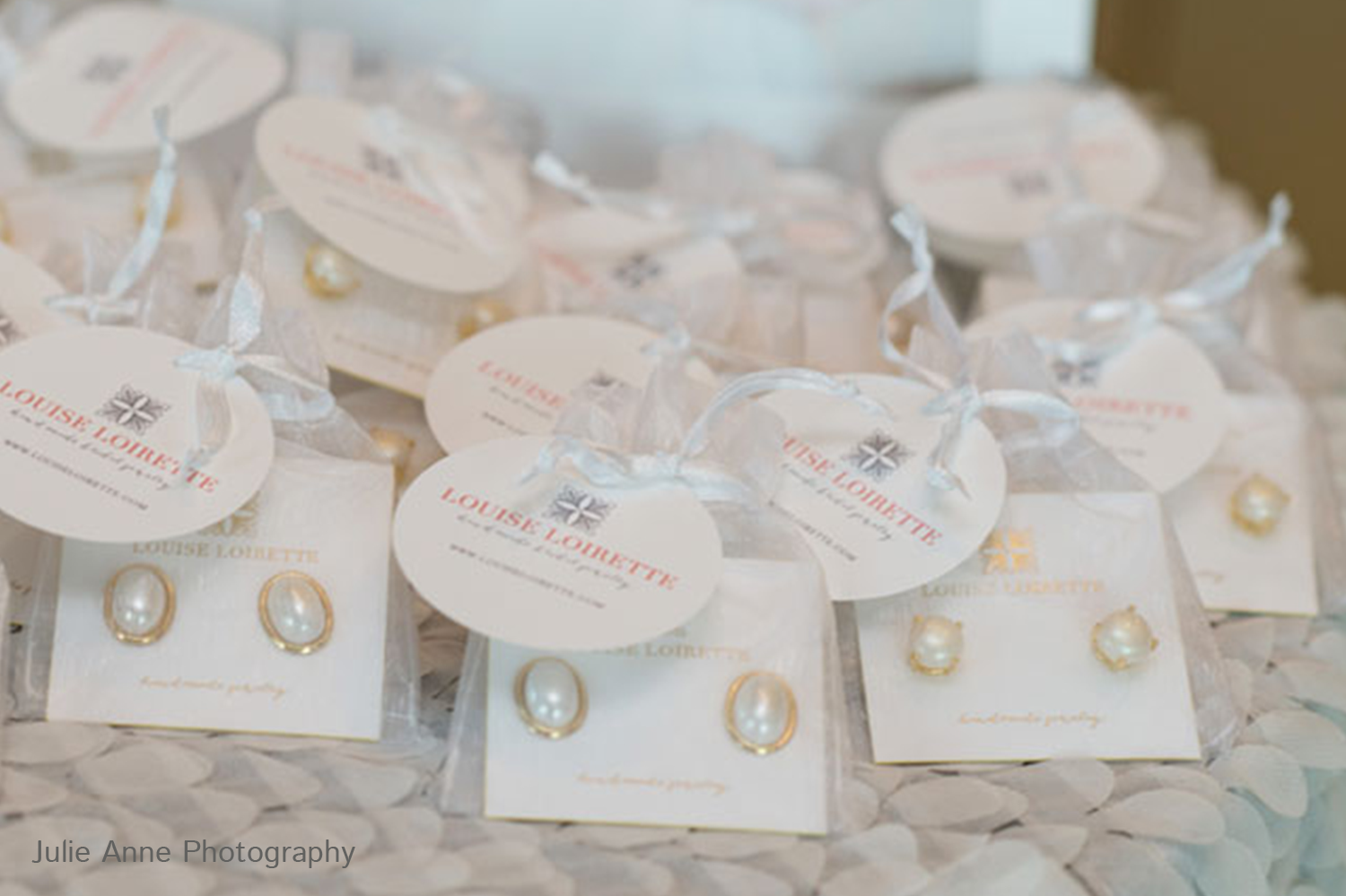 A gesture of jewelry will be well-received. Earring favors like theses ones shot by Julie Anne Photography will leave your guests feeling extra glamorous. They will be a reminder of their special time with you for years to come.
Bright Lipstick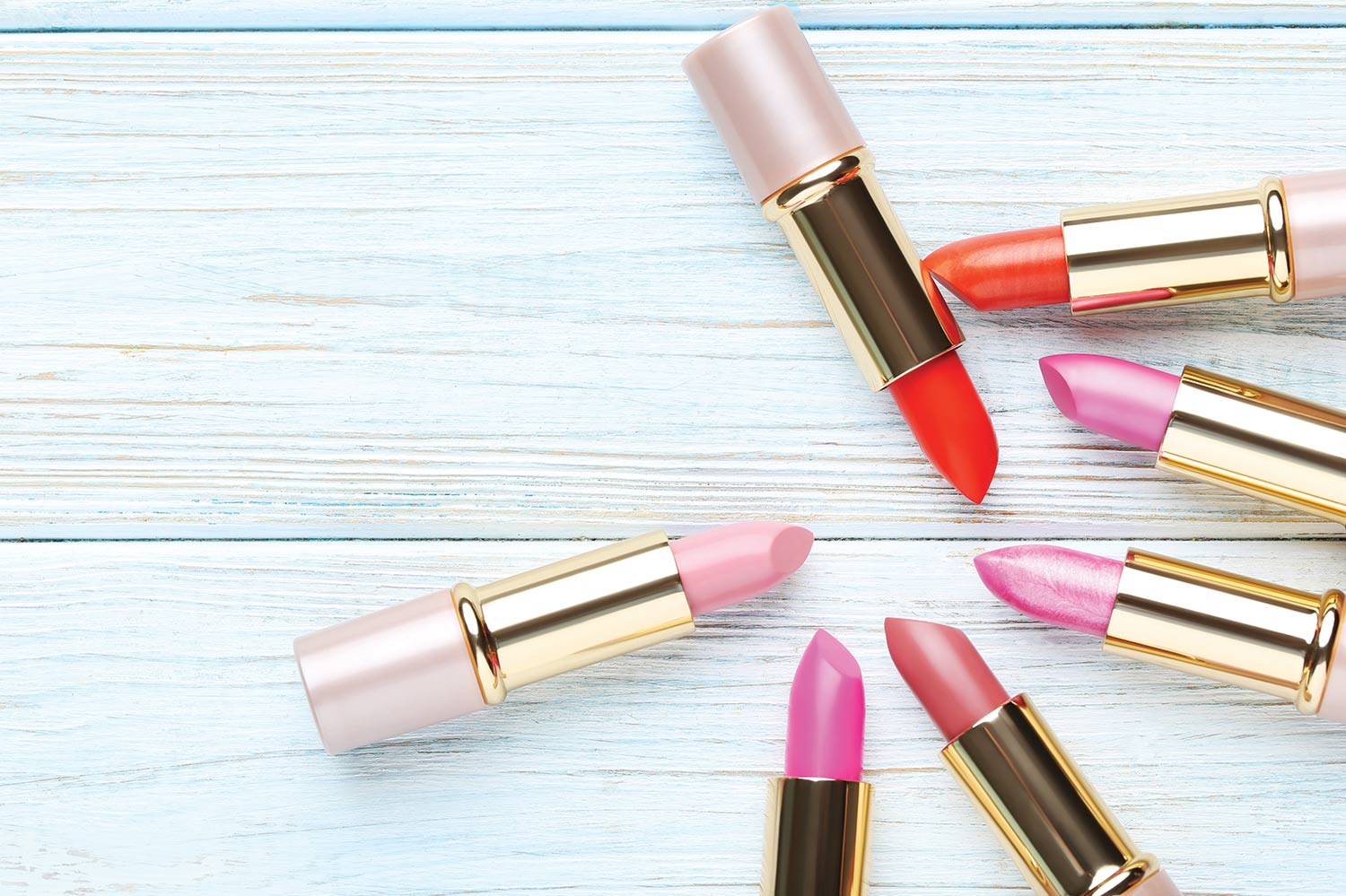 Just because the bride is kissing single life goodbye, doesnt mean your guests need to. Give them a fresh color to pucker up with. A new lipstick or lip balm is the way to any girls heart. Even better, have ladies kiss the guest book and write a sweet note next to their lips.
Personalized Wine Glasses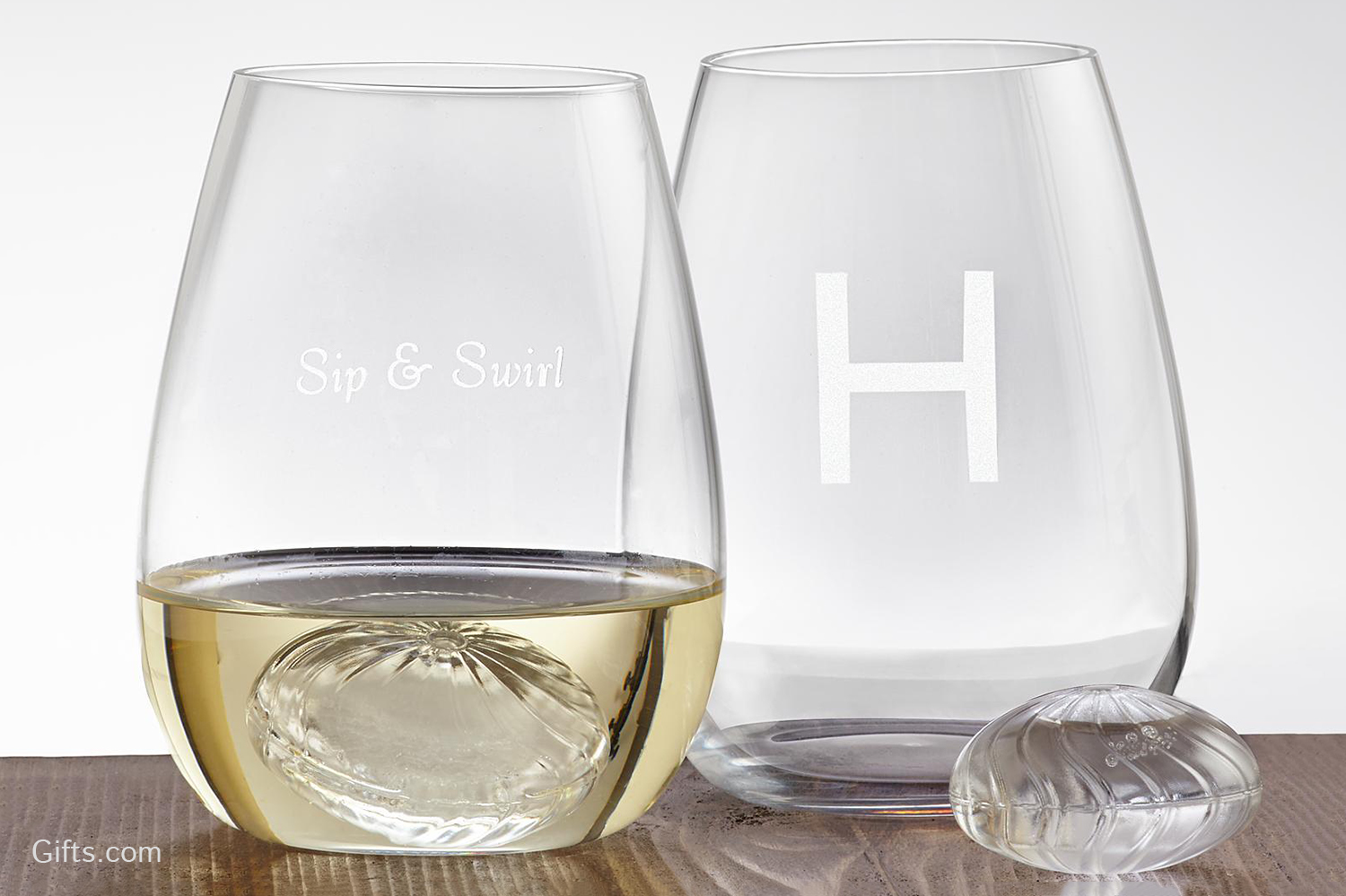 If the bridal shower consists of the bridal party and close friends, treat them to?personalized wine glasses. If you prefer chilled wine, these come with "wine twirls"?that keep your wine cold for longer. These would be perfect for a summer bridal shower favor!
Sunglasses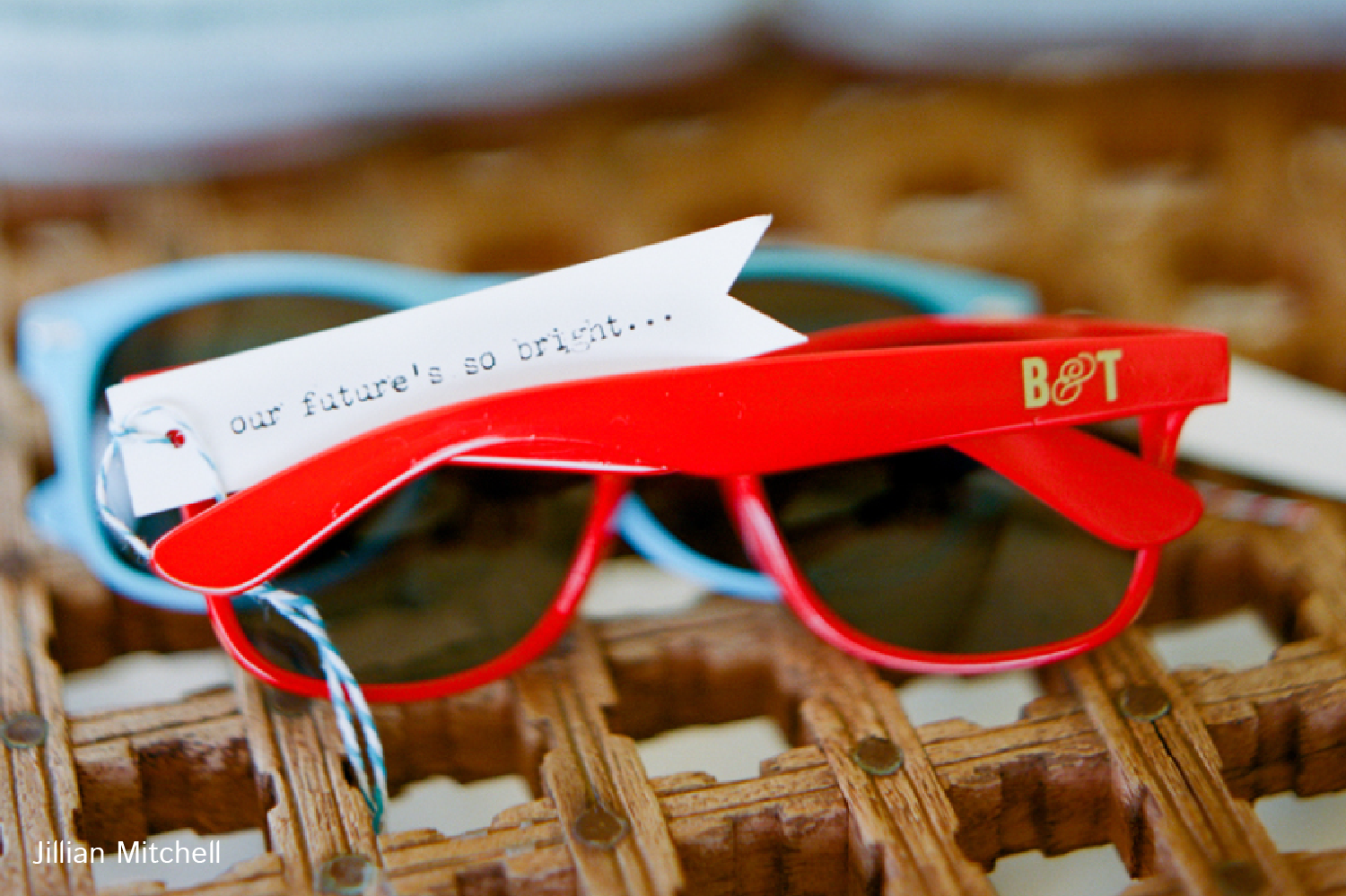 Dont let your guest be blinded by how bright the bride's future is. Its always nice to have an extra pair of glasses around, and these ones by Jillian Mitchell are no exception. Get your whole bridal party rocking these cool shades!
Candy Bar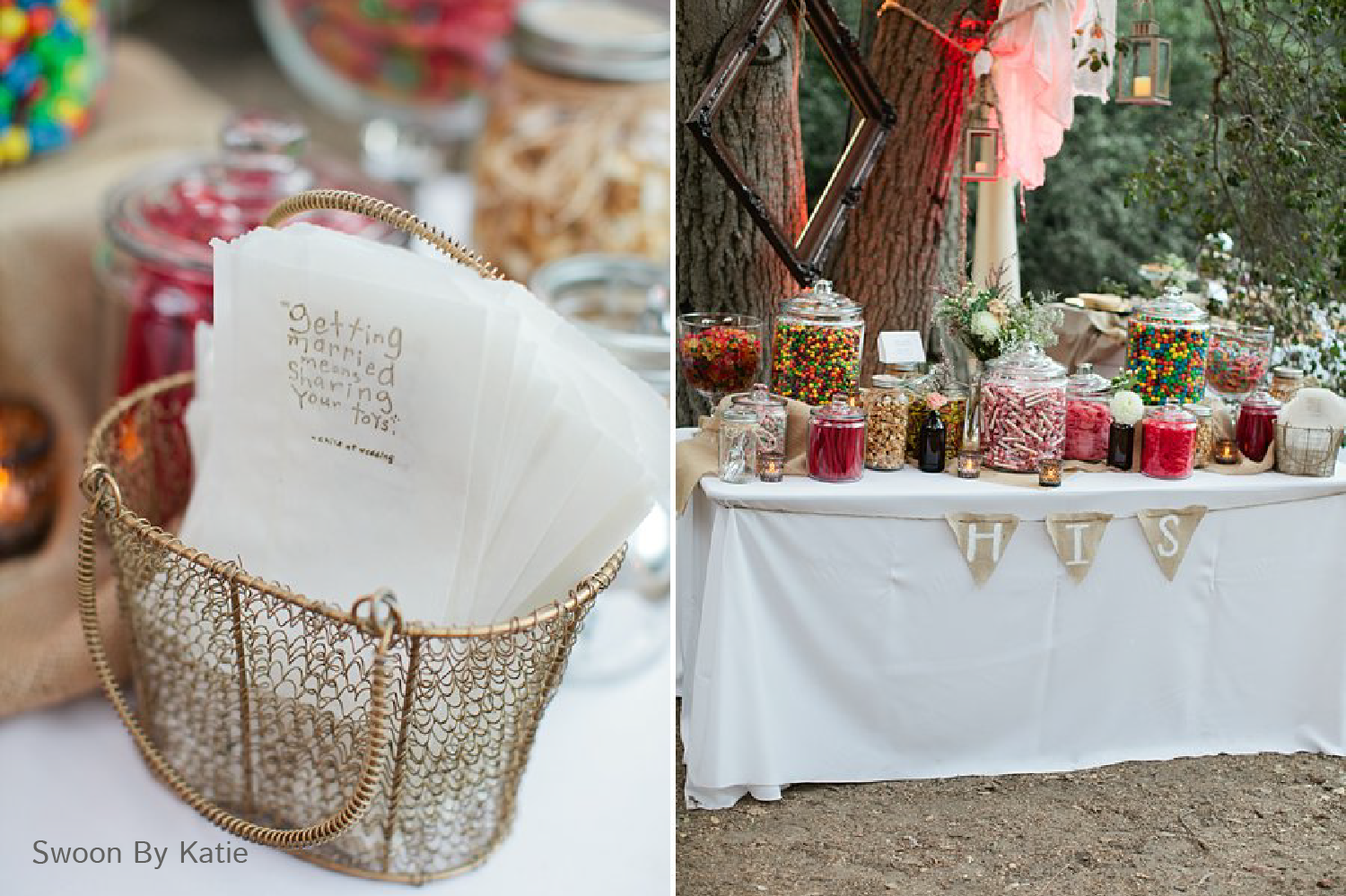 Let your guests know just how sweet you think they are. Create a candy bar and invite people to fill up a goody bag. Add a personal touch to the bags like these ones shot by Swoon By Katie. They read, Getting married means sharing your toys. Learn the basics of creating a DIY candy buffet here.
Blankets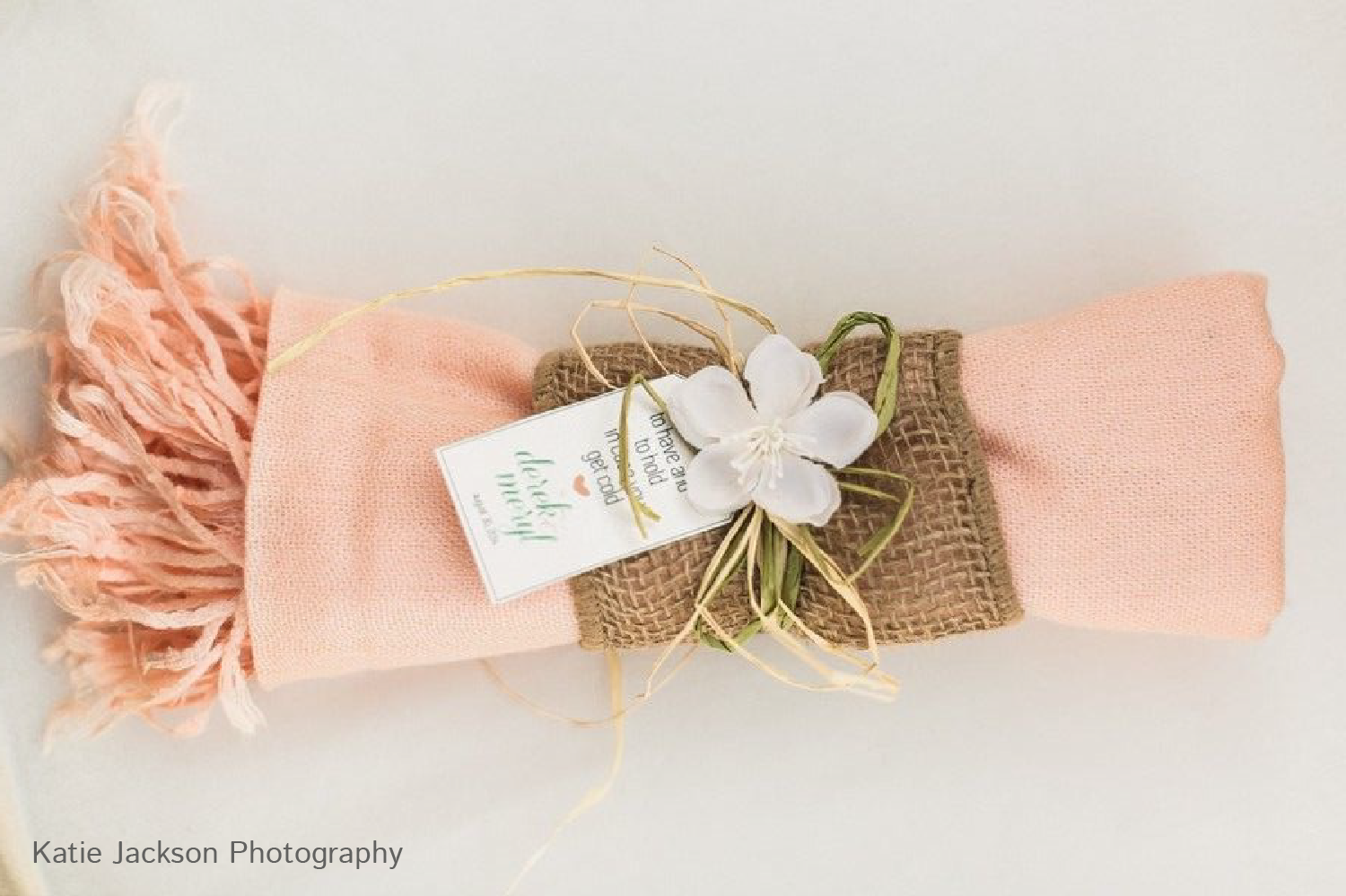 Make sure your friends and family are given something to have and to hold. A blanket like this one photographed by Katie Jackson Photography is a favor that will keep them warm in the colder months. These could also be great additions to a winter wedding!
Rock Candy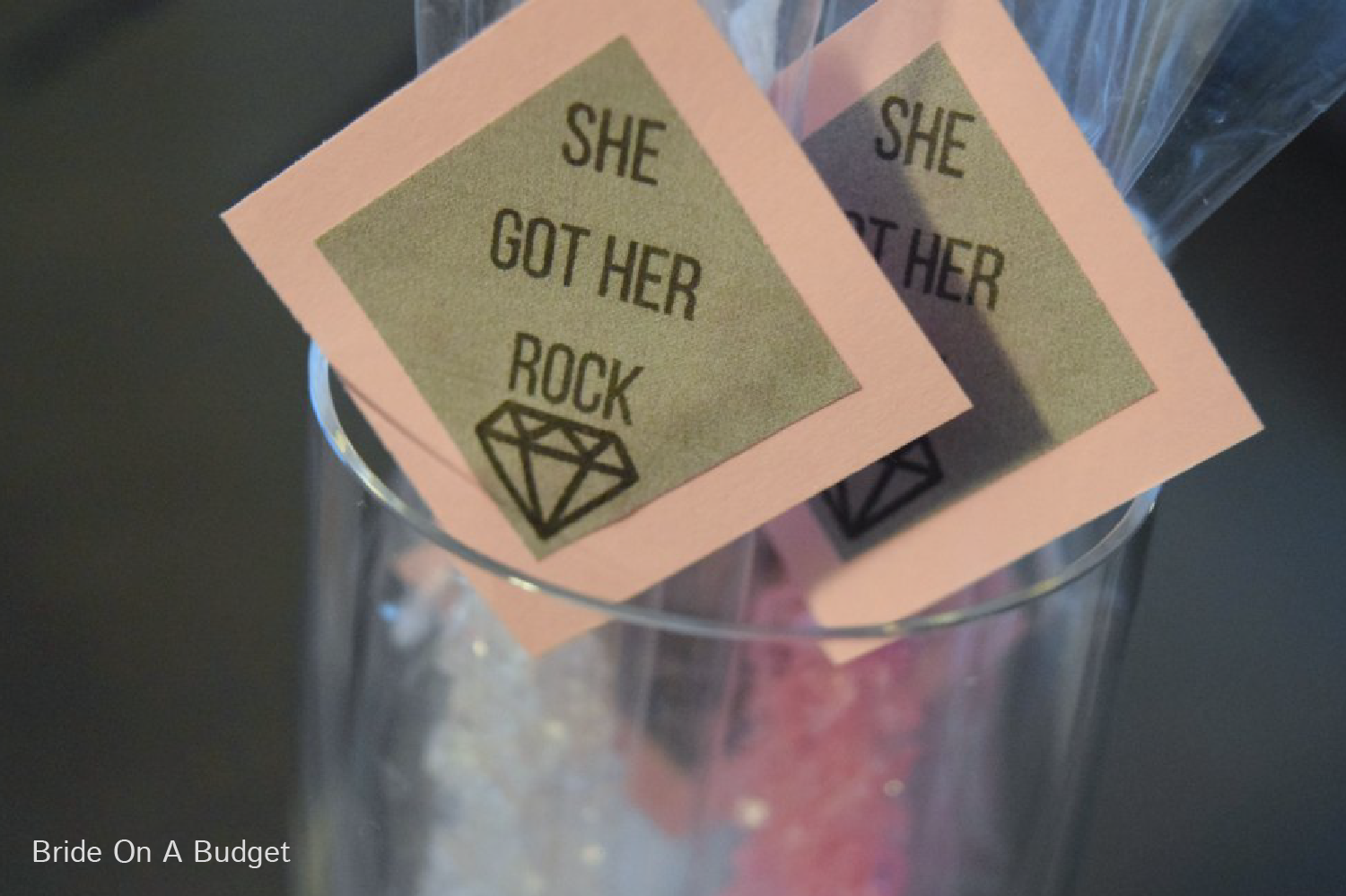 Now that the bride has a rock, make sure your guests get theirs as well! This creative use of rock candy by Bride On A Budget is a sweet way to thank the people you care about.
Flower Crowns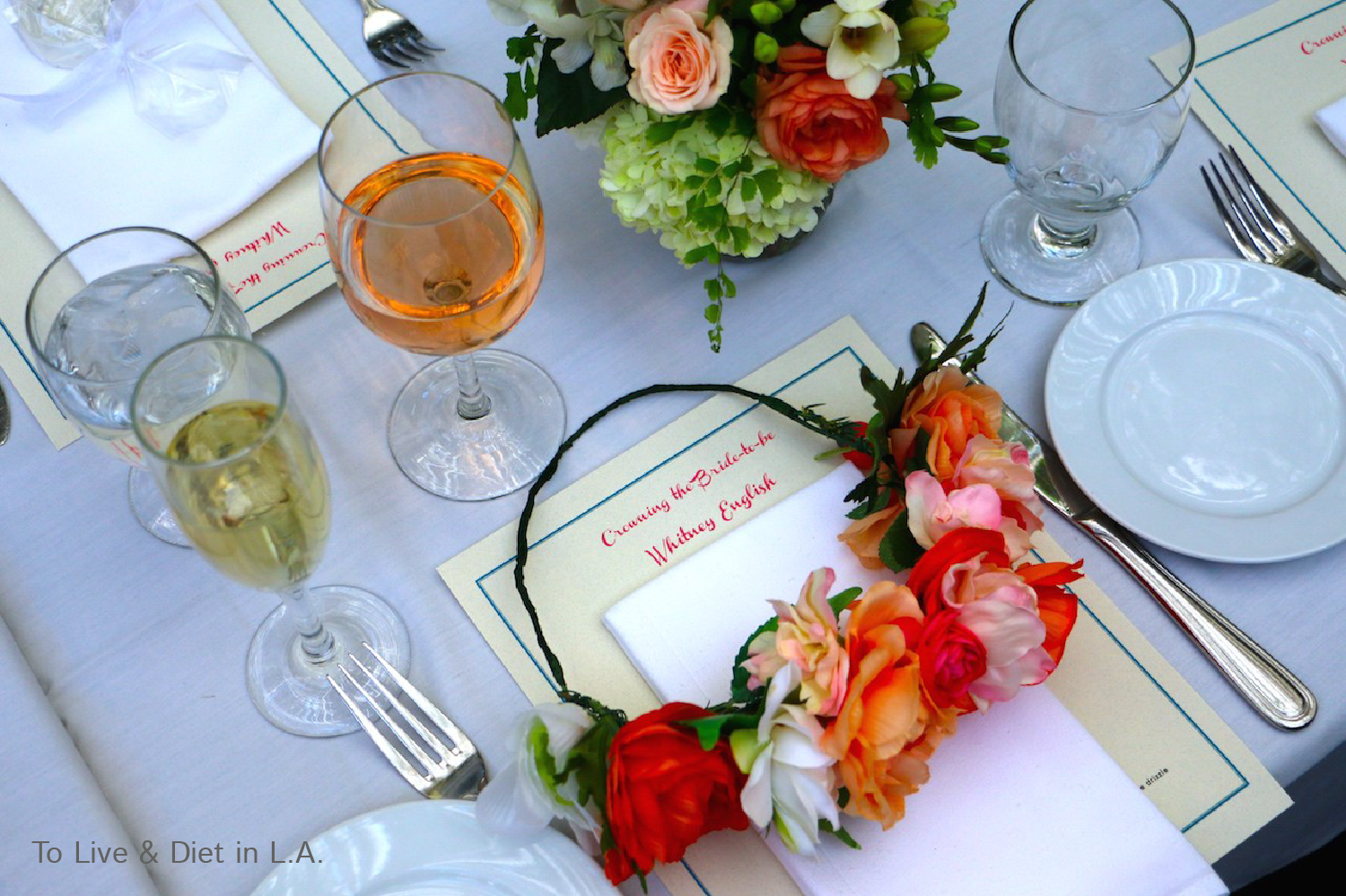 Flowers liven up any party. Place a flower crown at each spot at the table like To Live & Diet In L.A. did. These crowns will be a fun prop to take photos with and the guests will also have them as a favor to take home. You can even make them with artificial flowers so guests can cherish them forever.
Dessert in a Jar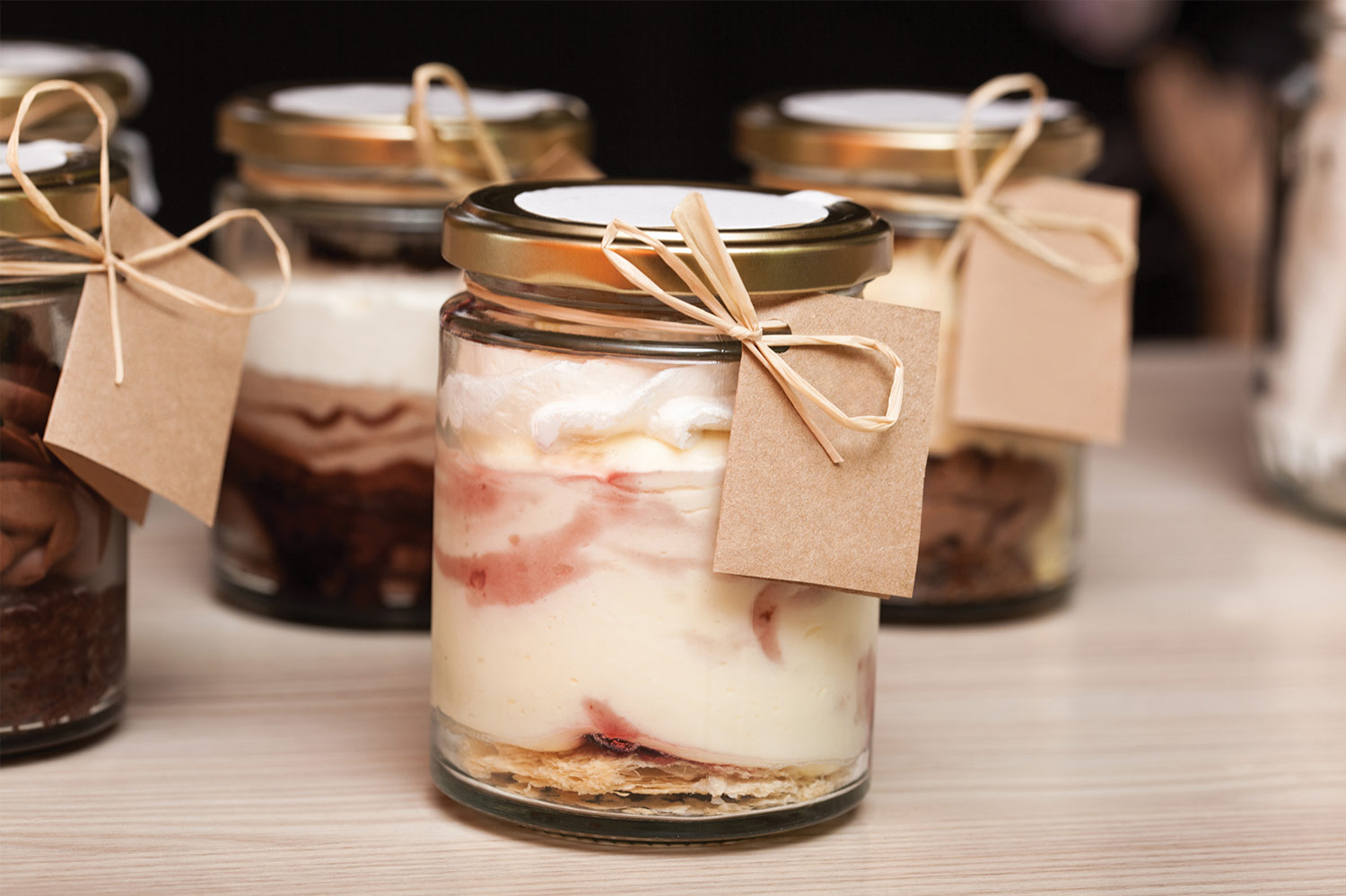 If your guests have a sweet tooth, this is a great bridal shower favor! Create to-go desserts in a jar. Mason jar desserts?are great if you want to layer cake or custard. Or you can opt to put ingredients to make cookies in the jar. Don't forget to add a fun tag or sticker!
Relaxing Soap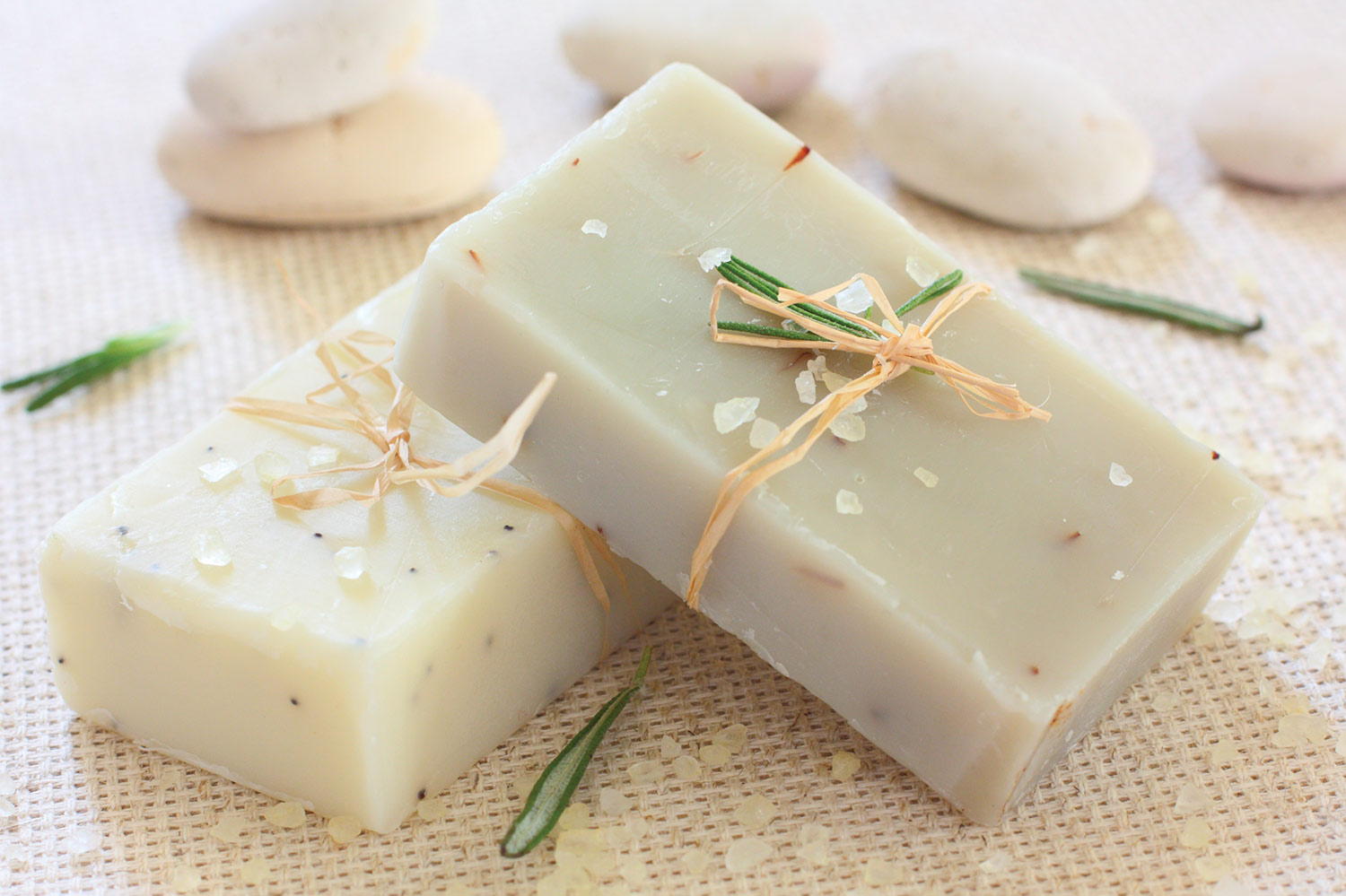 Encourage your guests to treat themselves to a relaxing bath or spa day at home! Choose scents like lavender that encourage relaxation and pampering. Even better, add a tag that says something like "We're soap glad you could make it."
So which bridal shower favor idea will you choose? Whichever it is, make sure to personalize it to the bride's personality and the theme of the shower. Most important of all, have fun celebrating her special day in style!