20 DIY Christmas Card Ideas
November 15, 2018
Every winter, our mailboxes fill with envelopes containing joyful wishes and happy holiday messages. From ugly sweaters to matching flannel pajamas, the annual Christmas cards we receive can sometimes lack originality. If youre looking for a way to craft homemade Christmas cheer, weve gathered some of the best DIY Christmas cards that are sure to impress your friends and family this season.
1. Artistic Ornaments Card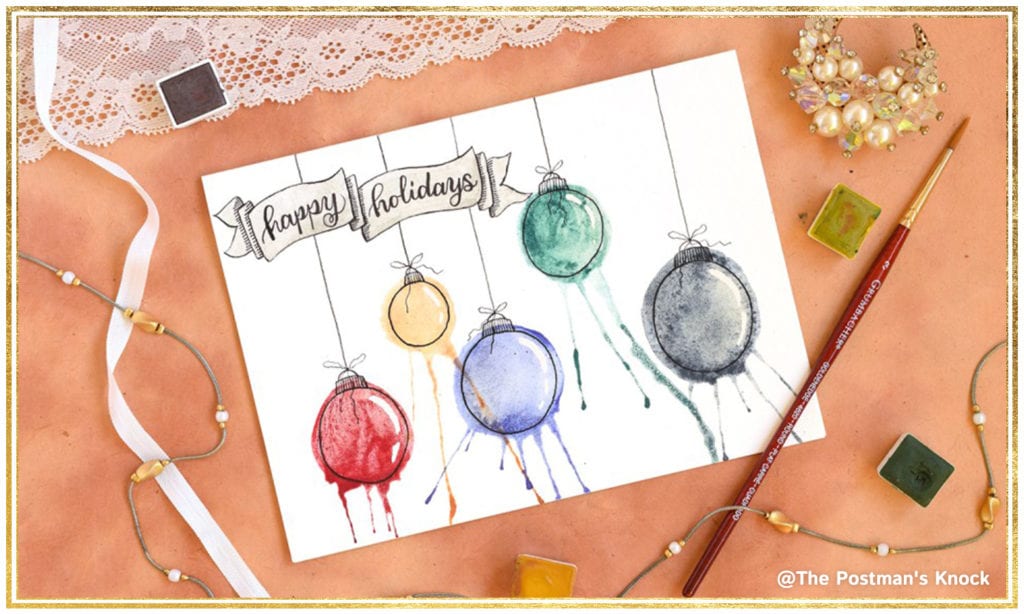 Photo by The Postmans Knock
These perfectly imperfect ornaments made with art masking fluid make for a gorgeous handmade card. The best part? No worries if you make a mistake! The masking fluid comes off with an eraser.
2. Button Wreath Card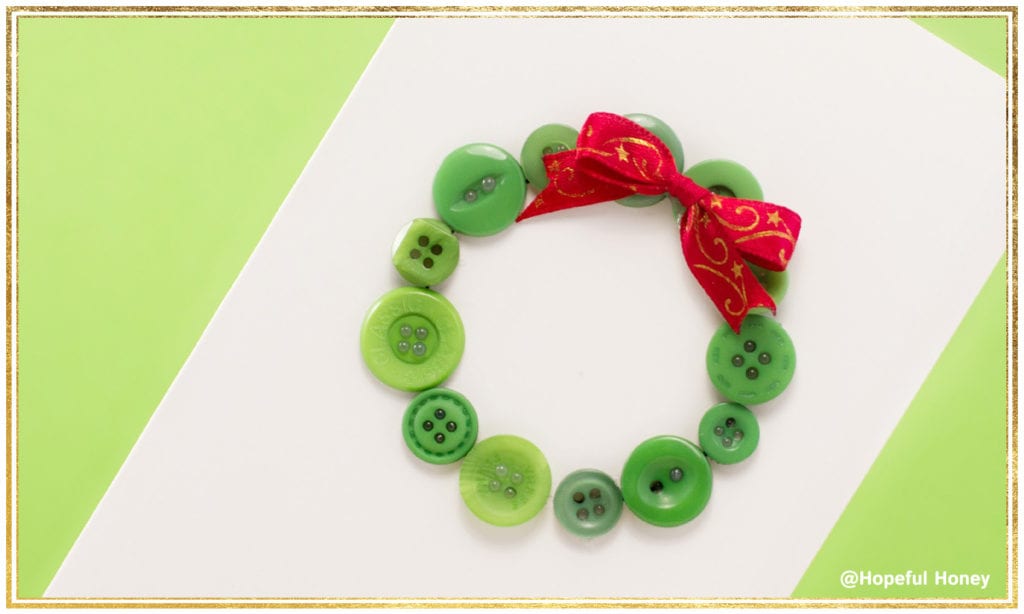 Photo by Hopeful Honey
Have extra buttons at the bottom of your craft bin? This adorable wreath card is the perfect way to use them up! Whether you opt for classic green or a variety of colors, youll be able to create this DIY card in no time.
3. Stamped Snowflakes Card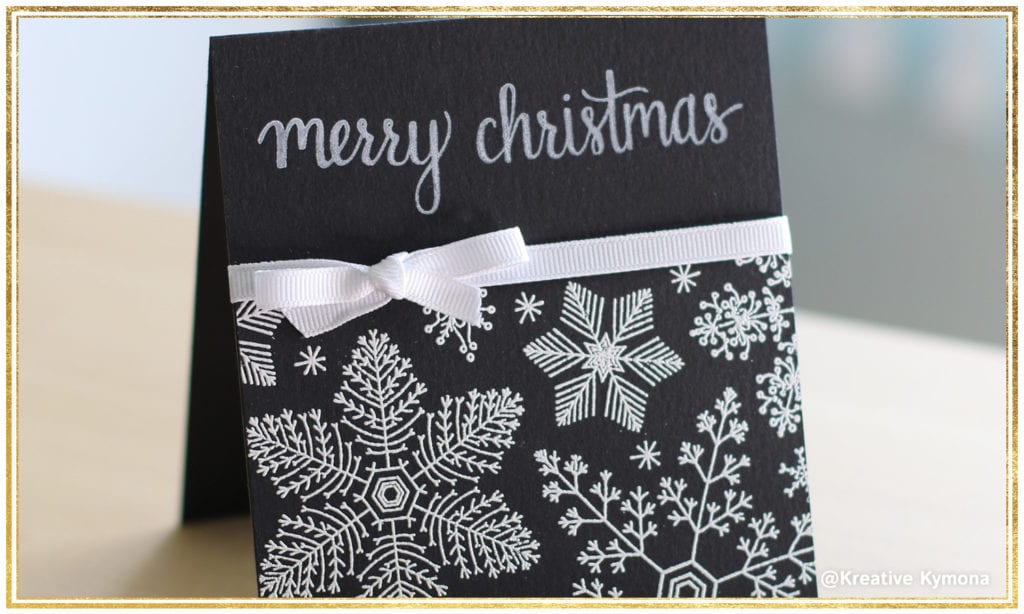 Photo by Kreative Kymona
While the intricate design of these snowflakes may look difficult, all you need is the right stamping set and some embossing powder! This design is perfect for anyone wanting a more elegant Christmas card.
4. Handprint Snowman Card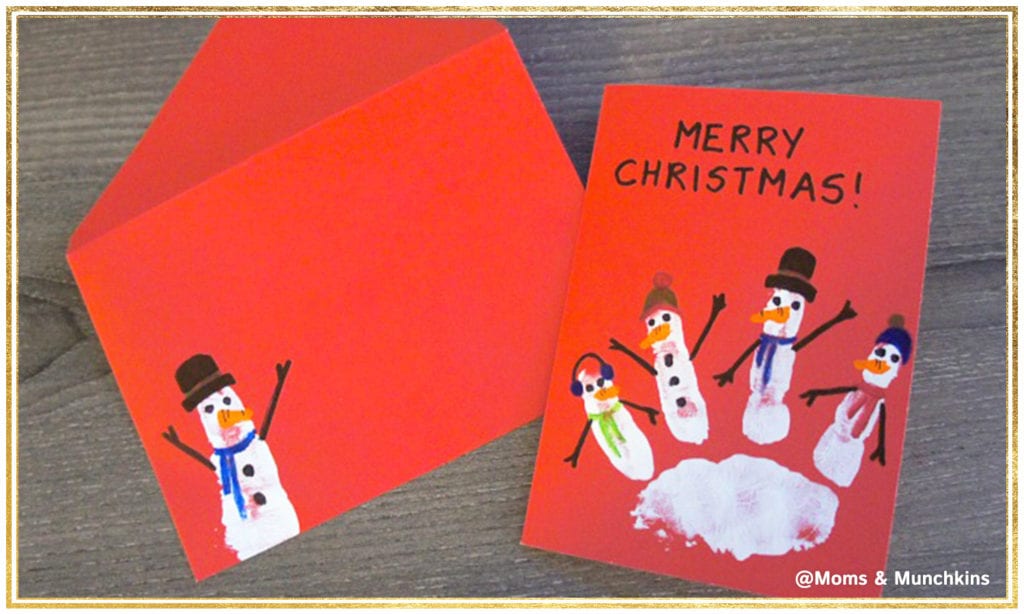 Photo by Moms & Munchkins
This Christmas card is perfect for any kids who love to get a bit messy. If you dont have time to take a family photo this year, make fingerprint snowmen to represent each member of your family!
5. Washi Tape Christmas Card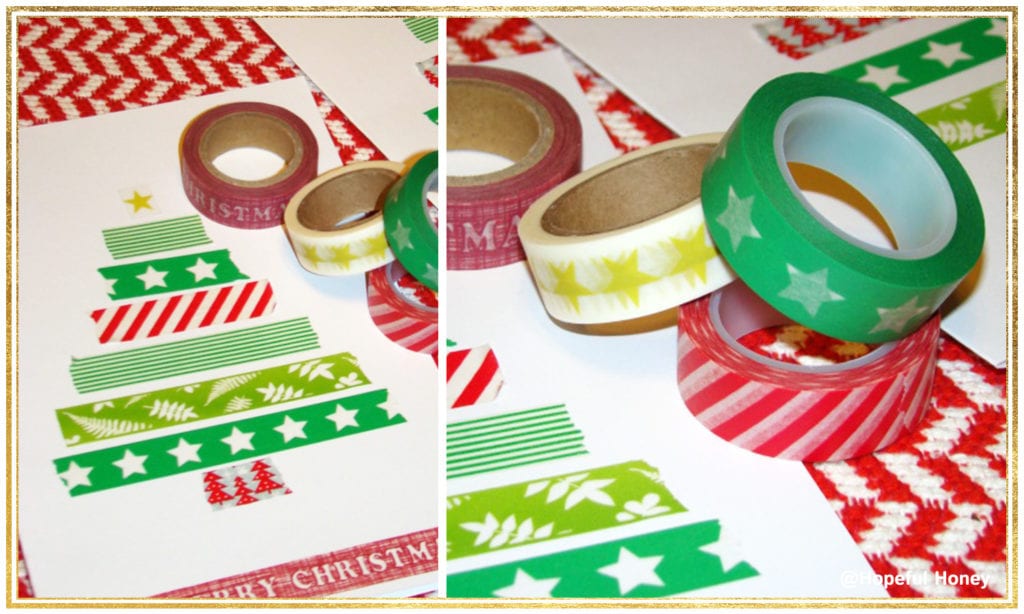 Photo by About A Mom
There are so many creative ways to use washi tape, this Christmas tree is just one example! Washi tape comes in an array of colors and designs pick whichever fits your style to make your personalized tree!
6. Santa Hat Card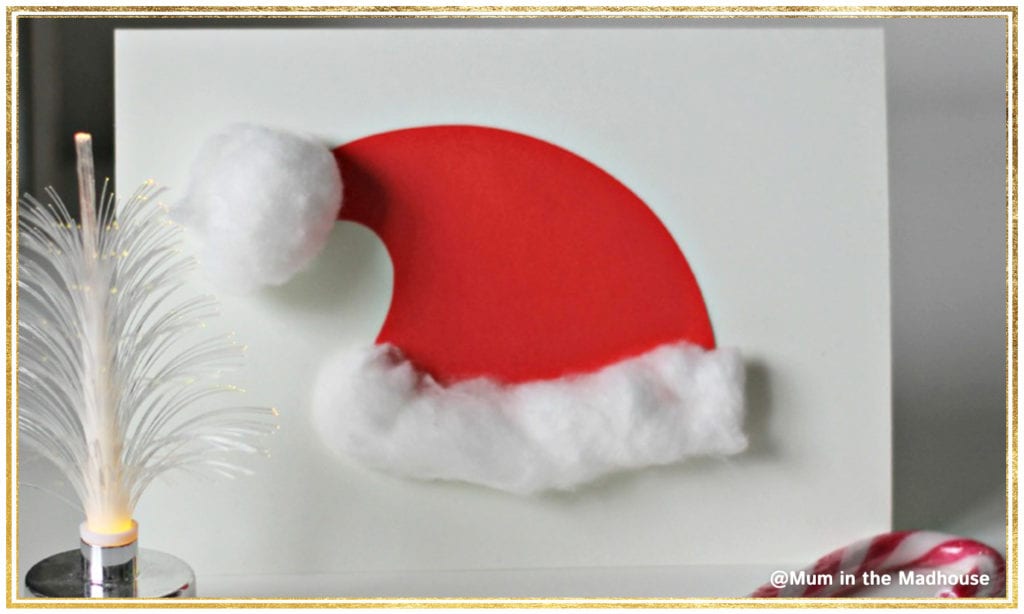 Photo by Mum in the Madhouse
Made with just three different materials, you likely already have everything you need on hand to make these adorable Santa hats. You can add glitter to give them some extra glam!
7. Cotton Swab Christmas Tree Card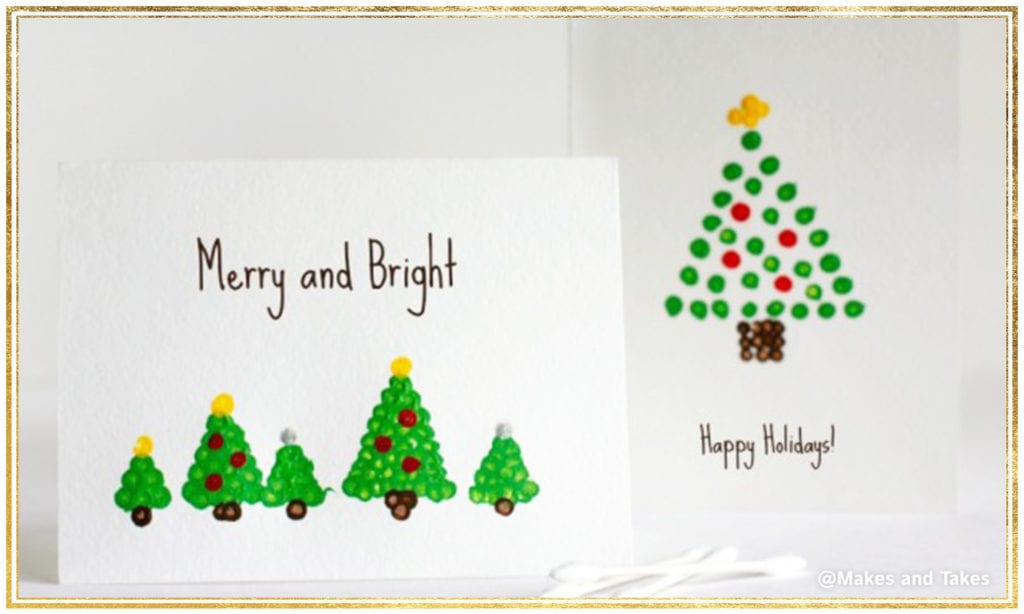 Photo by Make and Takes
Looking to make a card that your little ones can put their personal stamp on? These cotton swab Christmas trees are perfect for arts and crafts time! Your kiddos can get creative with colors and shapes too.
8. 3D Tree Card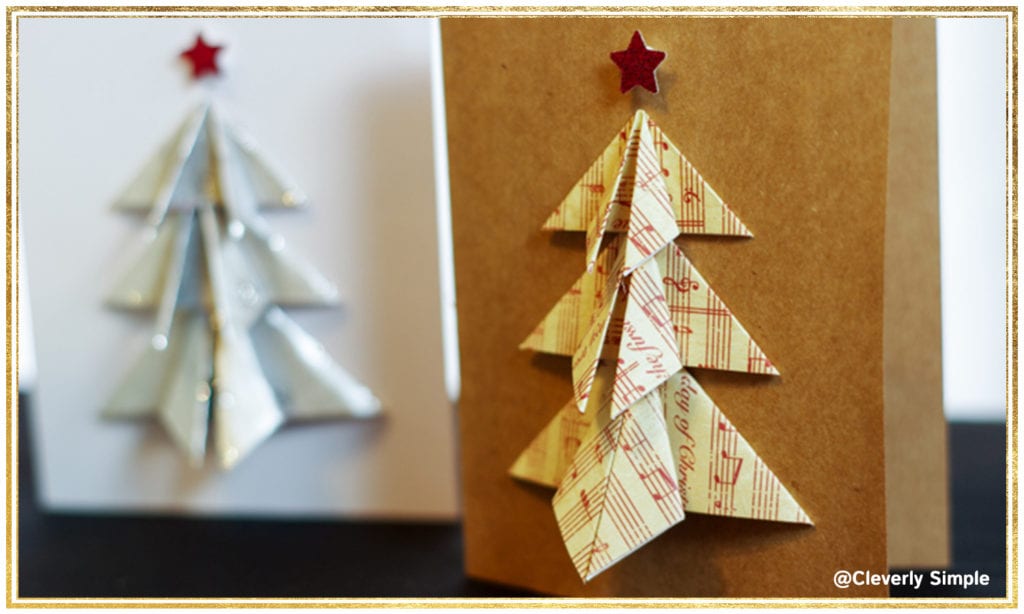 Photo by Cleverly Simple
These gorgeous 3D paper tree cards come together with some simple folding and hot glue. You can purchase Christmas-themed scrapbook paper or use whatever you have at home! Using a variety of patterns and colors will make every card unique.
9. Cricut Filigree Card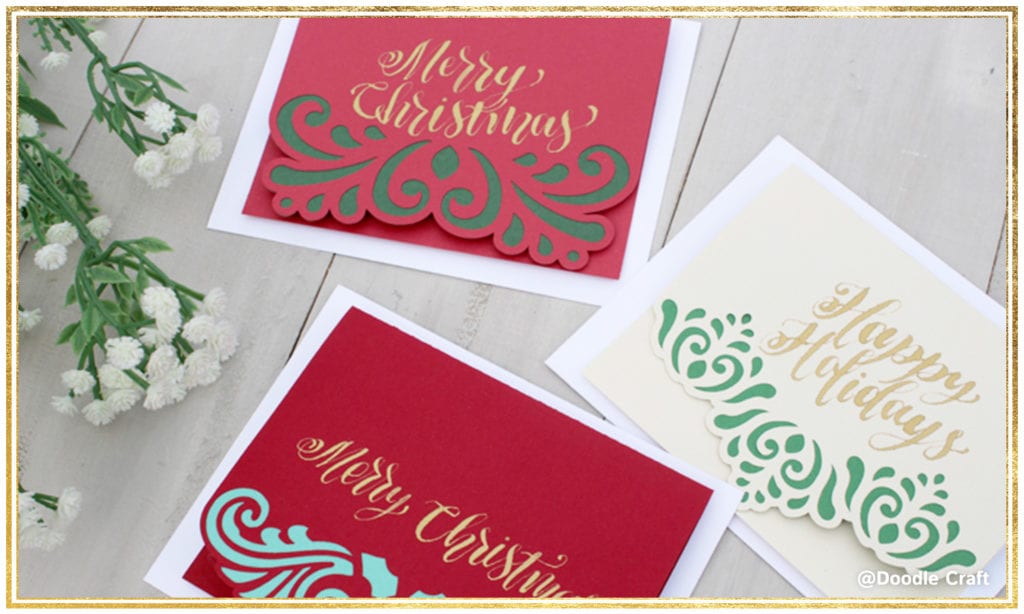 Photo by Doodle Craft
If you have a Cricut machine at home, you can create these beautiful filigree cards with just a few simple steps. Use a paint pen to add a personal message for the perfect final touch!
10. Eraser Stamp Card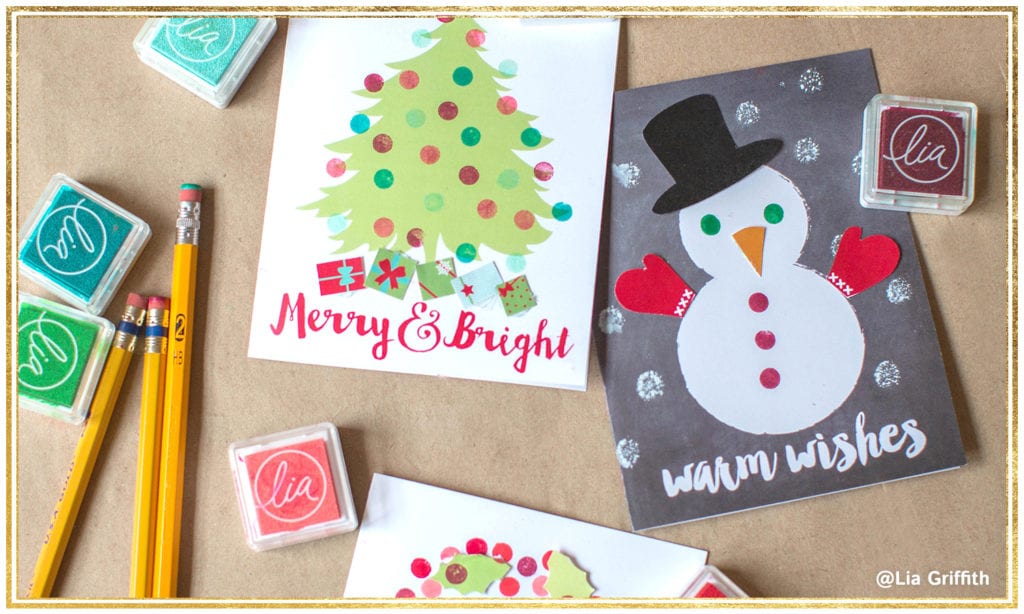 Photo by Lia Griffith
Who would have thought that a plain pencil top eraser would be the perfect material for creating a Christmas card! Kids can stamp cheer onto a snowman or Christmas tree using the eraser and some holiday-colored ink!
11. Snowflake Lacing Card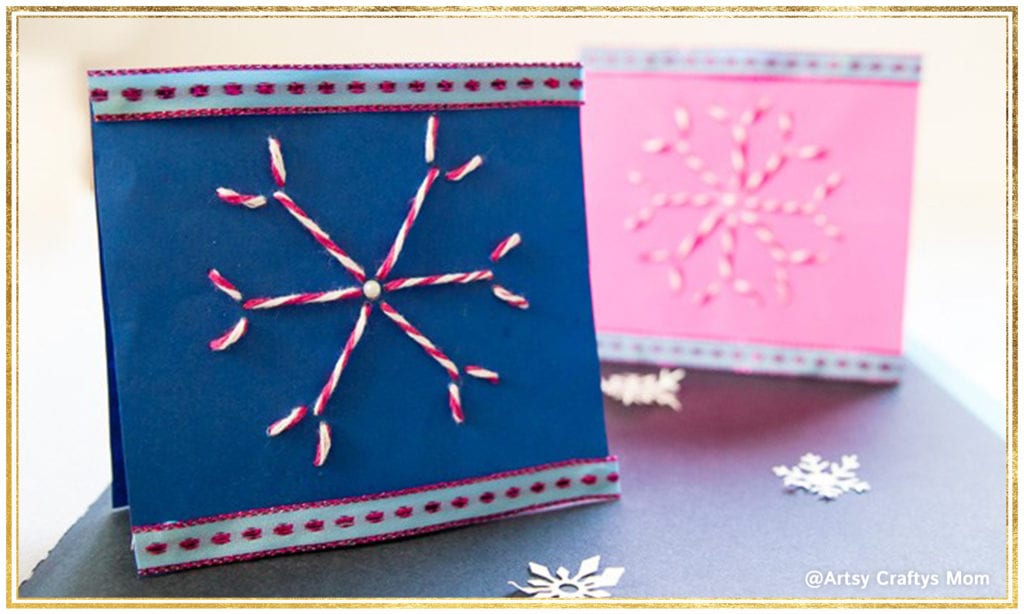 Photo by Artsy Craftsy Mom
Add an extra creative element to your DIY Christmas cards by stitching yarn right onto your card stock! Its a great way for kids to begin learning how to sew too. ?
12. Dinosaur Christmas Card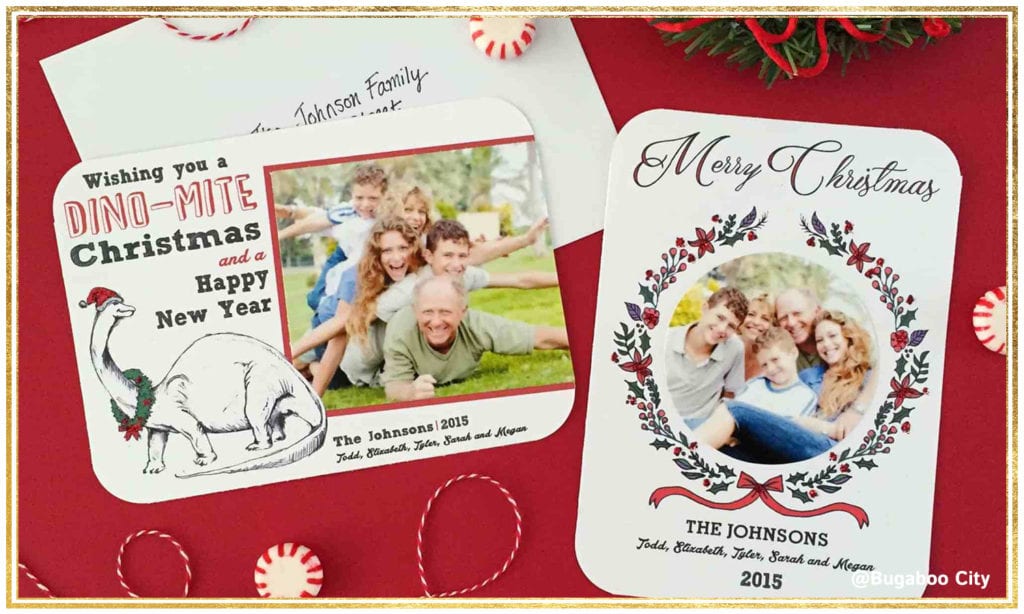 Photo by Bugaboo City
If youre a fan of a good pun, try these dino-mite Christmas cards! Take the theme a step further and get the family to wear prehistoric costumes. Or if you prefer something a little more traditional, theres a lovely DIY family wreath card too.
13. Whimsical Family Portrait Card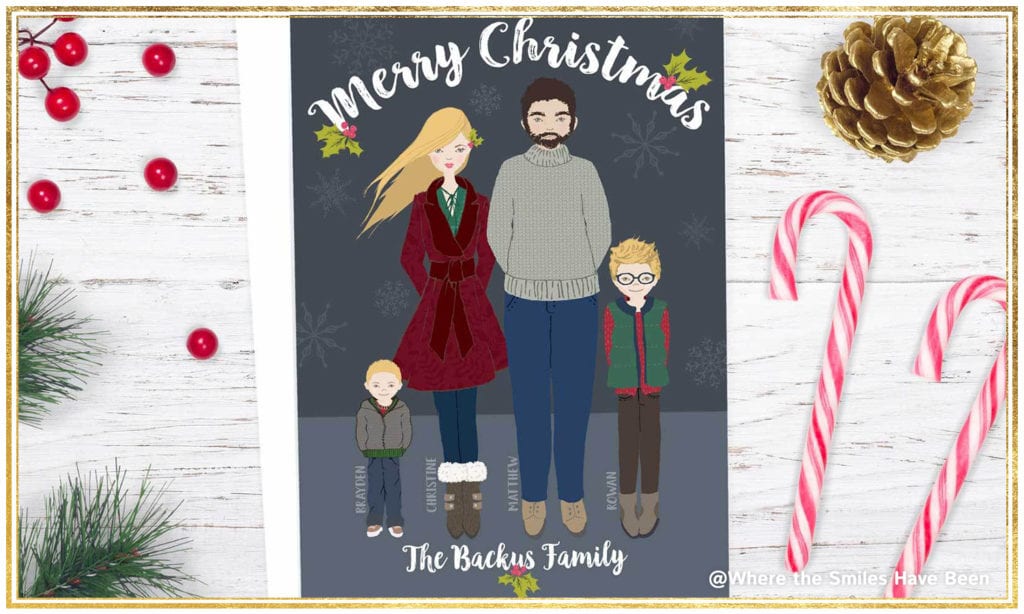 Photo by Where The Smiles Have Been
If your holiday to-do list is never-ending and you just dont have the time to coordinate matching outfits for the family Christmas card, these digital illustrated versions are a great alternative!
14. Snowflake Stitching Card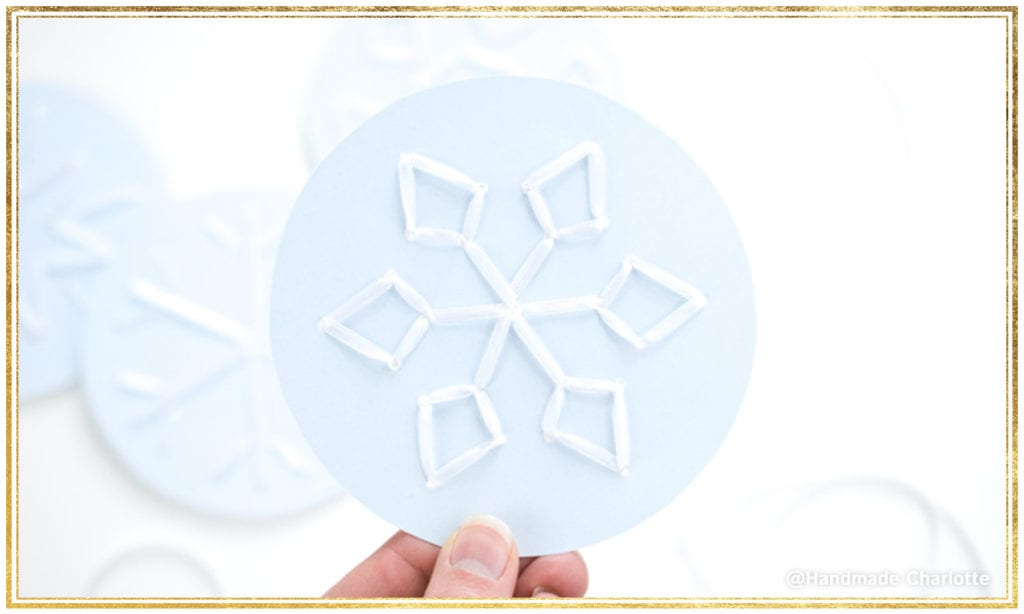 Photo by Handmade Charlotte
Dont worry about these beautiful snowflakes melting away! These gorgeous cards are a cross between lacing cards and ribbon embroidery, and can also double as winter decor.
15. Happy Christmas Stamp Card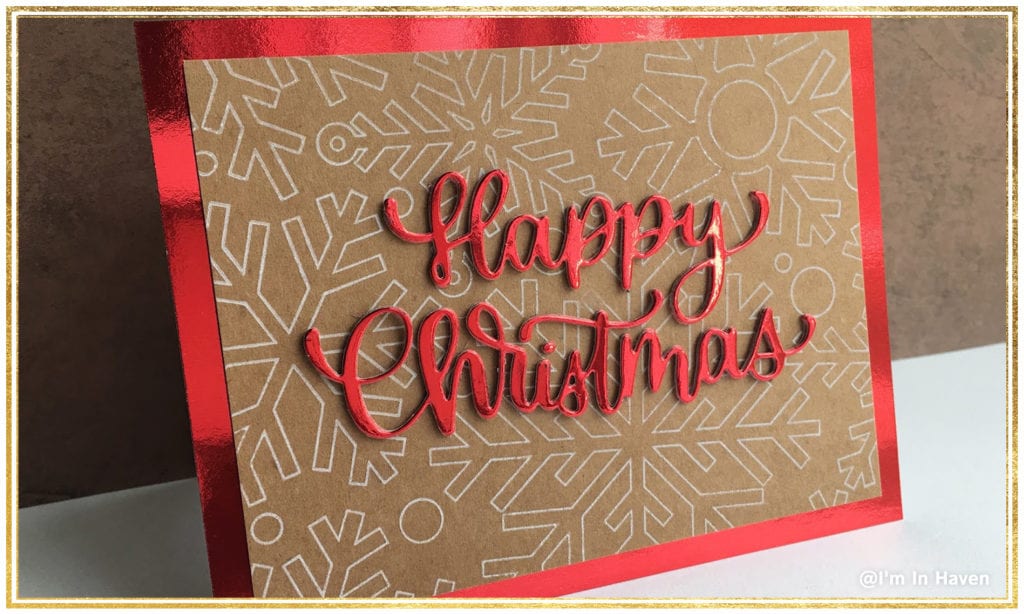 Photo by Im in Haven
Put a British spin on your holiday cards this year and wish someone a Happy Christmas! Whether you use bright colors or more traditional holiday tones, these wafer dies make it easy to make professional-looking cards.
16. Joy Bunting Christmas Card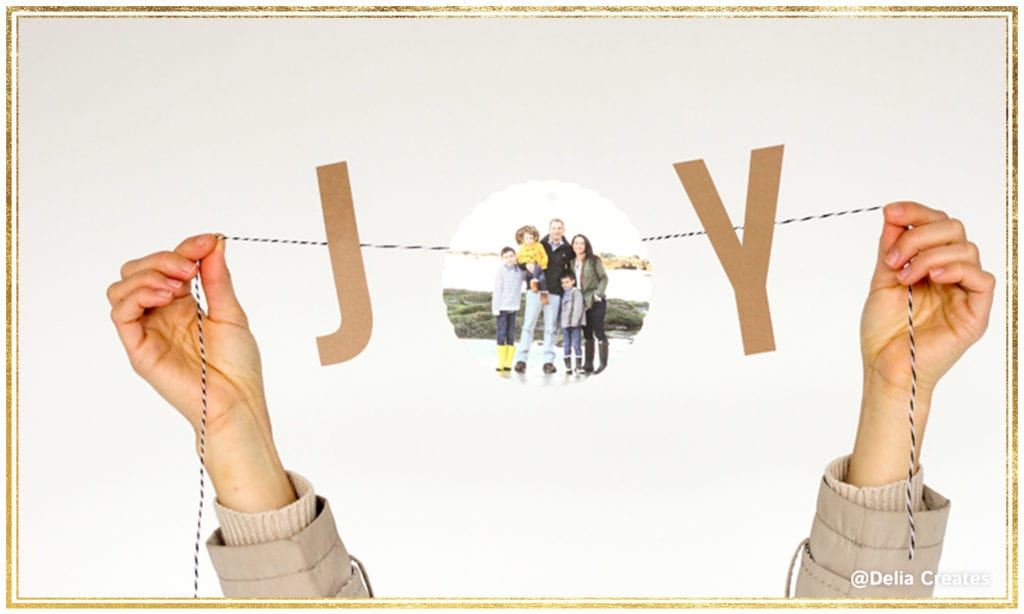 Photo by Delia Creates
If you want a card that doubles as bunting, look no further than this joyful idea! Its a simple way to add a little something extra to your family Christmas card. Have the little ones help you cut out letters to make it a fun crafting activity!
17. Artsy Watercolor Card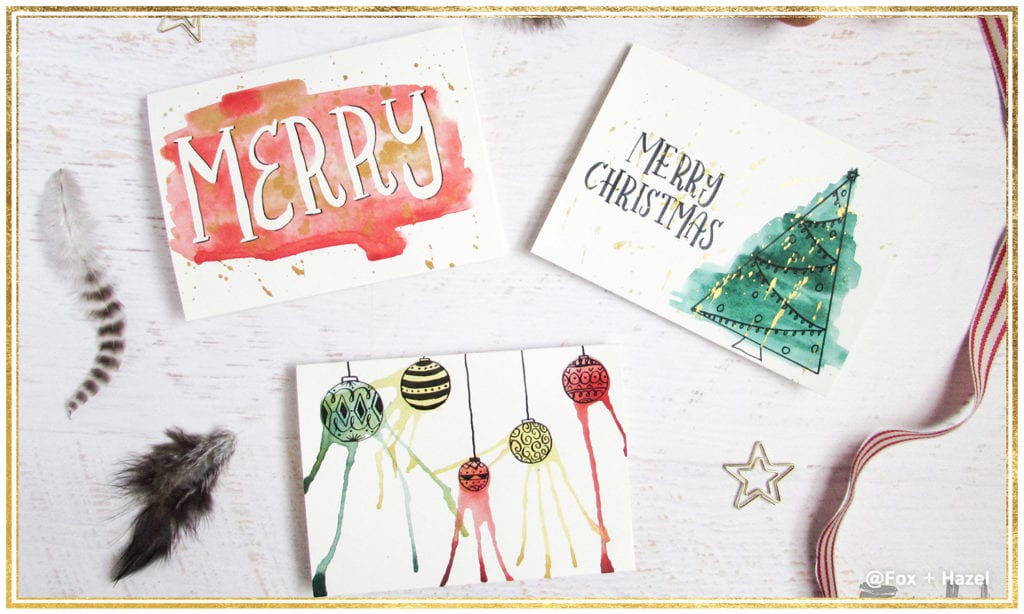 Photo by Fox + Hazel
These gorgeous watercolors are perfect for those looking for an artistic, non-traditional approach to annual Christmas cards. Whether you choose to decorate the whole card or smaller elements like a tree or ornaments, your friends and family will surely be impressed with your skills.
18. Thumbprint Reindeer Card
Photo by Stay and Roam
Add an extra personal touch to your Christmas card with these thumbprint reindeers! With little cleanup and a small materials list, this idea is perfect for anyone who happens to wait until the last minute.
19. Geometric Christmas Tree Card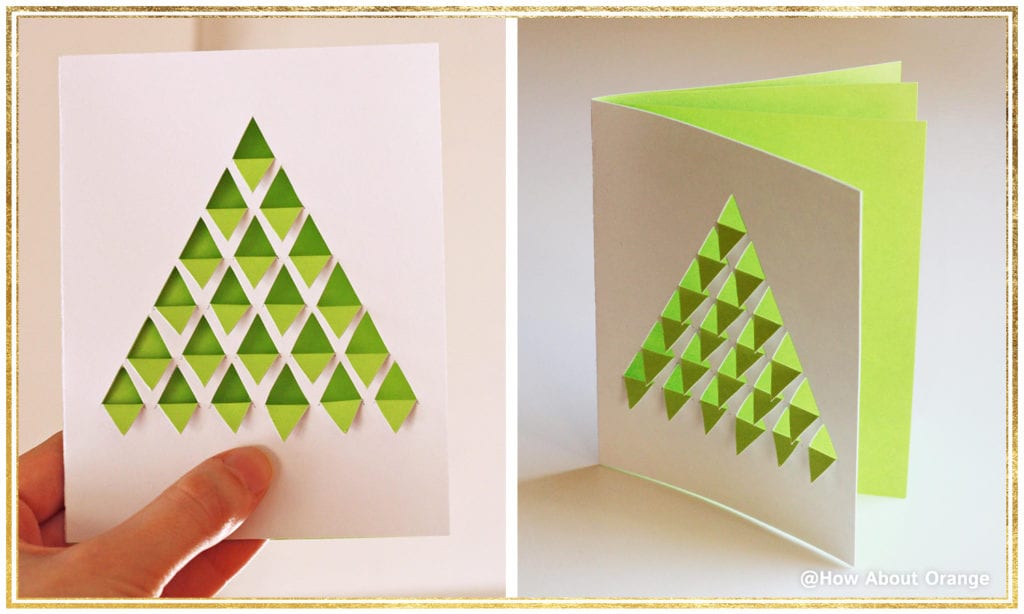 Photo by How About Orange
For a clean and modern card, opt for this geometric Christmas tree. This craft does require the use of a sharp crafting knife, so its best to keep little hands away from the project.
20. 3D Reindeer Card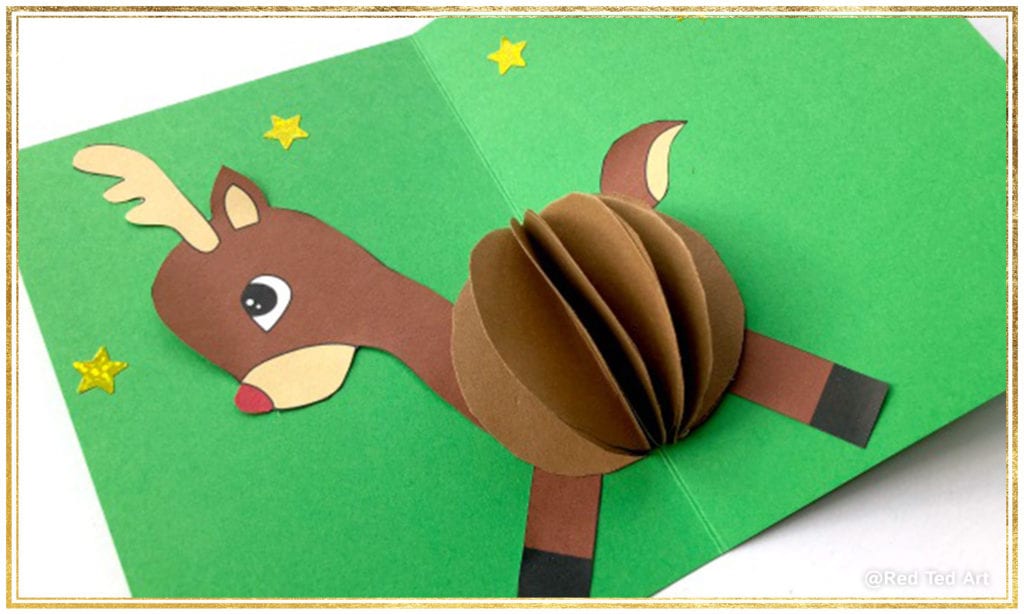 Photo by Red Ted Art
This 3D pop-up card is a simple paper craft that is perfect for a classroom activity. Plus, you can get creative with the background elements opt for a snowy night or a star-filled sky!
Whichever DIY Christmas card you choose to make this year, your friends and family will appreciate the homemade touch you put into it. Pair your beautifully crafted card with a personalized gift and?unique gift wrapping style to really blow people away this holiday season.